In the last few years, more and more drivers are abandoning their diesel and petrol-powered vehicles and making the switch to pure-electric alternatives that are becoming increasingly available. If you're thinking about making this switch, here are the best electric cars you can buy now on the US market.
The History of How Electric Vehicles Came to Be Is Very Interesting
Ever since 2008, when Tesla introduced their first electric vehicle (EV), the number of these vehicles continued to grow on famous American routes. Since then, many other automobile companies have released their EVs, but Tesla has become almost synonymous with electric vehicles. However, did you know that the first vehicle of this kind was made all the way back in the 19th century?
The First Self-Powered Electric Vehicle Was Made Over a Hundred Years Ago
William Morrison, a chemist with a particular interest in storage batteries, attached an electric motor to a common horse-drawn carriage, which was powered by 24 batteries. This electric carriage was a complete sensation, and this is considered to be the first practical self-powered electric carriage in the US. And that's the story of how an invention from more than a hundred years ago paved the way for the hybrid electric vehicles we know today.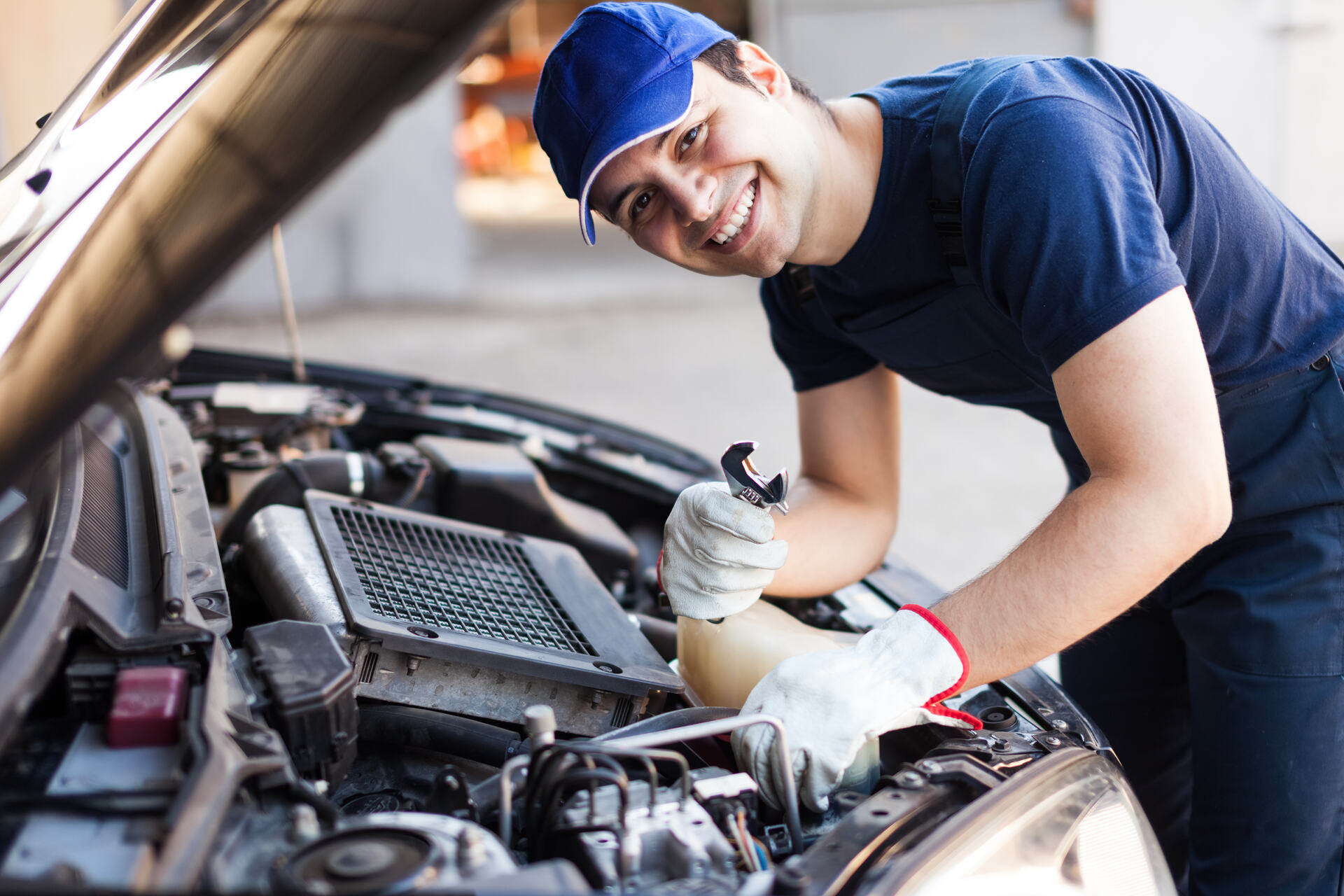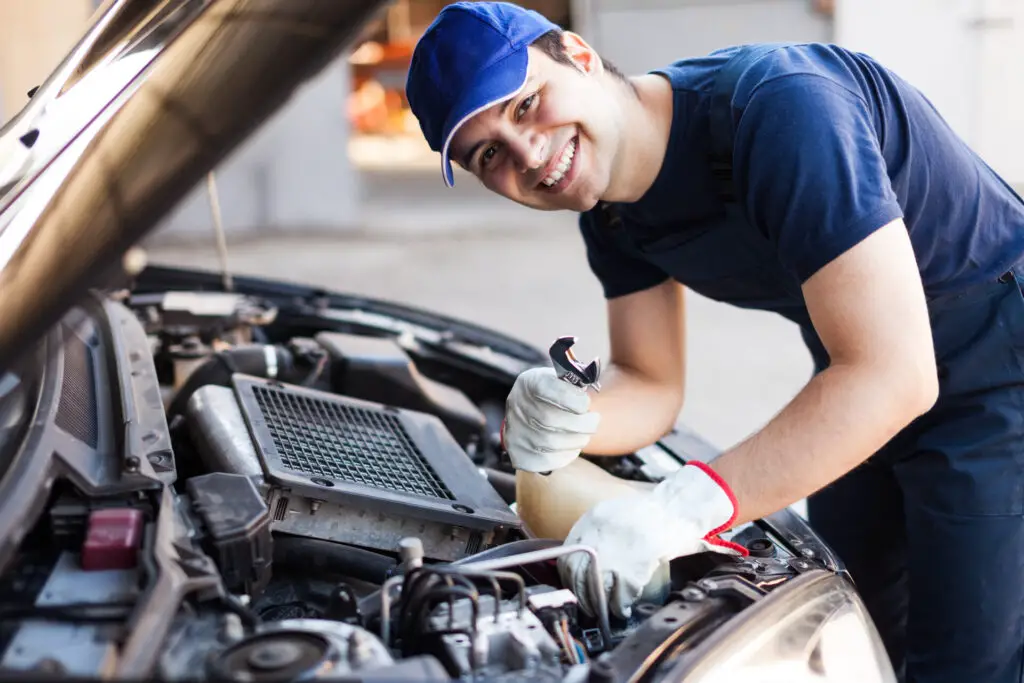 This Is an Eco-Friendly Alternative That's Changing How We View Our Day-To-Day Transport
The availability of EVs on the market will surely continue to grow as more manufacturers get on board with the new technology in preparation for tightening regulations around gas-powered vehicles and their emissions. That means that there is also increasing availability of EV chargers in public and private spaces, and nowadays, you can switch to this eco-friendly alternative with relatively little inconvenience. 
How Exactly Do EVs Work?
EVs run on rechargeable batteries, so they need to be regularly charged at a charging point. These batteries power the electric motor, which then turns the wheels, and that's how the whole vehicle moves. Since they don't run on fuel, they do not emit any exhaust gases and are, therefore, eco-friendly. So, finally, there's no need to worry about putting the wrong gas in your car.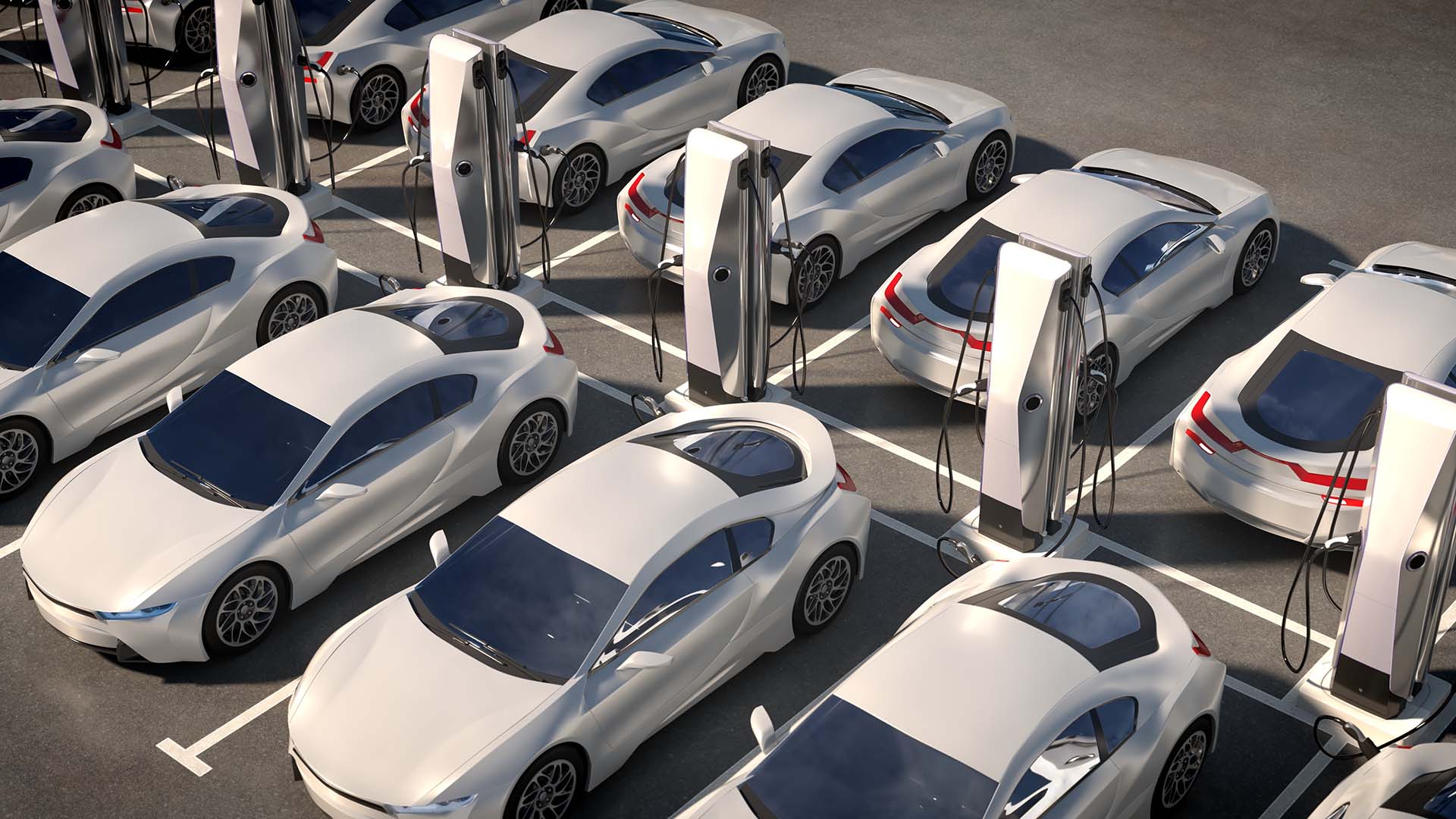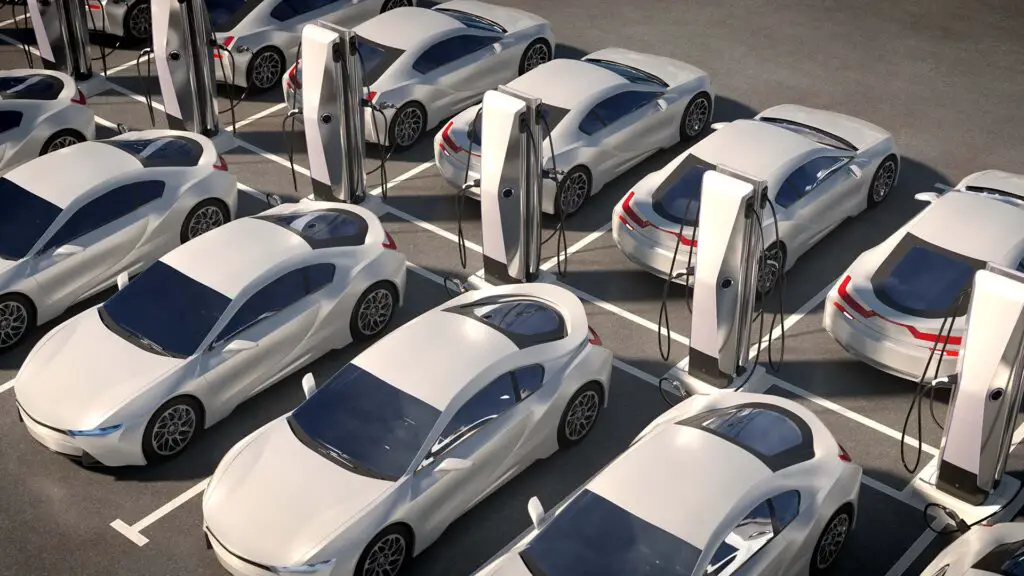 There Are a Few Different Types of Electric Vehicles
Did you know that not all the available models run solely on electricity? There are actually a few different types of these vehicles according to how they're powered, so here's an overview:
Battery Electric Vehicles (BEVs)

More frequently called simply EVs, these are fully electric vehicles with rechargeable batteries that power the vehicle to run. This is a zero-emission option as they don't generate any harmful emissions or air pollution hazards. Besides being eco-friendly, these models have excellent acceleration and range – on average, their range is from 80 to 100 miles, but some luxury models can go up to 250 miles.
Plug-in Hybrid Electric Vehicles (PHEVs)

Sometimes known as extended-range vehicles (EREVs), they have both an engine and an electric motor – it's basically the best of both worlds. It runs on electricity the same way as BEVs, but it has a much shorter range of no more than 40 miles. After that, you switch to its internal combustion engine and continue the ride.
Hybrid Electric Vehicles (HEVs)

HEVs have both a gas-powered engine and an electric motor to run the vehicle. However, you can't plug these vehicles into the grid to recharge. All the energy for the battery is created through regenerative braking, and that's how energy that would otherwise be lost as heat in the brake pads and rotors is reused to power the electric motor.
So, What Are the Best Electric Cars to Buy In 2023?
Whether you're buying a used car, a vehicle with a salvage title, or a brand-new one, there's a lot to consider when deciding on the exact model. That's why it's important to get familiar with the specifications of each of your top picks, and you will surely land the option that's the right fit for you. 
Here's an overview of the EVs I'll be covering in greater detail and their main specifications:
| | | | | |
| --- | --- | --- | --- | --- |
| Model | Battery | Driving Range | Drive Type | Price |
| Tesla Model 3 | 50/70 kWh | 272-360 mi | RWD, AWD | $46,990 – $62,990 |
| Nissan Ariya | 63/87 kWh | 265-304 mi | FWD, AWD | $44,485 – $61,485 |
| MG 4 | 51/64 kWh | 218-281 mi | RWD | $35,000 – $40,000 |
| Hyundai KONA | 64 kWh | 278 mi | FWD | $34,000 – $42,500 |
| Fiat 500 EV | 24/42 kWh | 184-100 mi | FWD | $30,000 – $32,000 |
#1 Tesla Model 3 – One of the Most Popular EVs on the Market
Let's start with the most obvious one – the highly in-demand Tesla Model 3, the most affordable option from this famous company. The Tesla Model 3 has been in production since 2018, and this company is constantly updating its models, so it can be a bit hard to follow all features and updates since they don't do it on a yearly basis like other brands. With all that it offers, it's easy to see why this model became a global standard-setter in the world of EVs.
There Are Multiple Battery Configuration Options
Tesla offers multiple battery configurations to choose from, but all of them can go more than 200 miles after a single charge. I recommend the Standard Range Plus Model, which got updated to a Rear-Wheel Drive (RWD) layout in 2022, and a lithium-ion battery instead of the previous nickel-cobalt battery. This means that the already lengthy range of 263 miles got boosted to 272 miles. 
There are also two All-Wheel Drive (AWD) versions – there's the Long Range Model, which can go up to 360 miles without a single charge. Also, there's the Performance Model, which might sacrifice a few miles of range but has an exhilarating acceleration. But, even if you're a fan of fast driving, the Standard Model works just fine – it accelerates from zero to 60 mph in 5.8 seconds.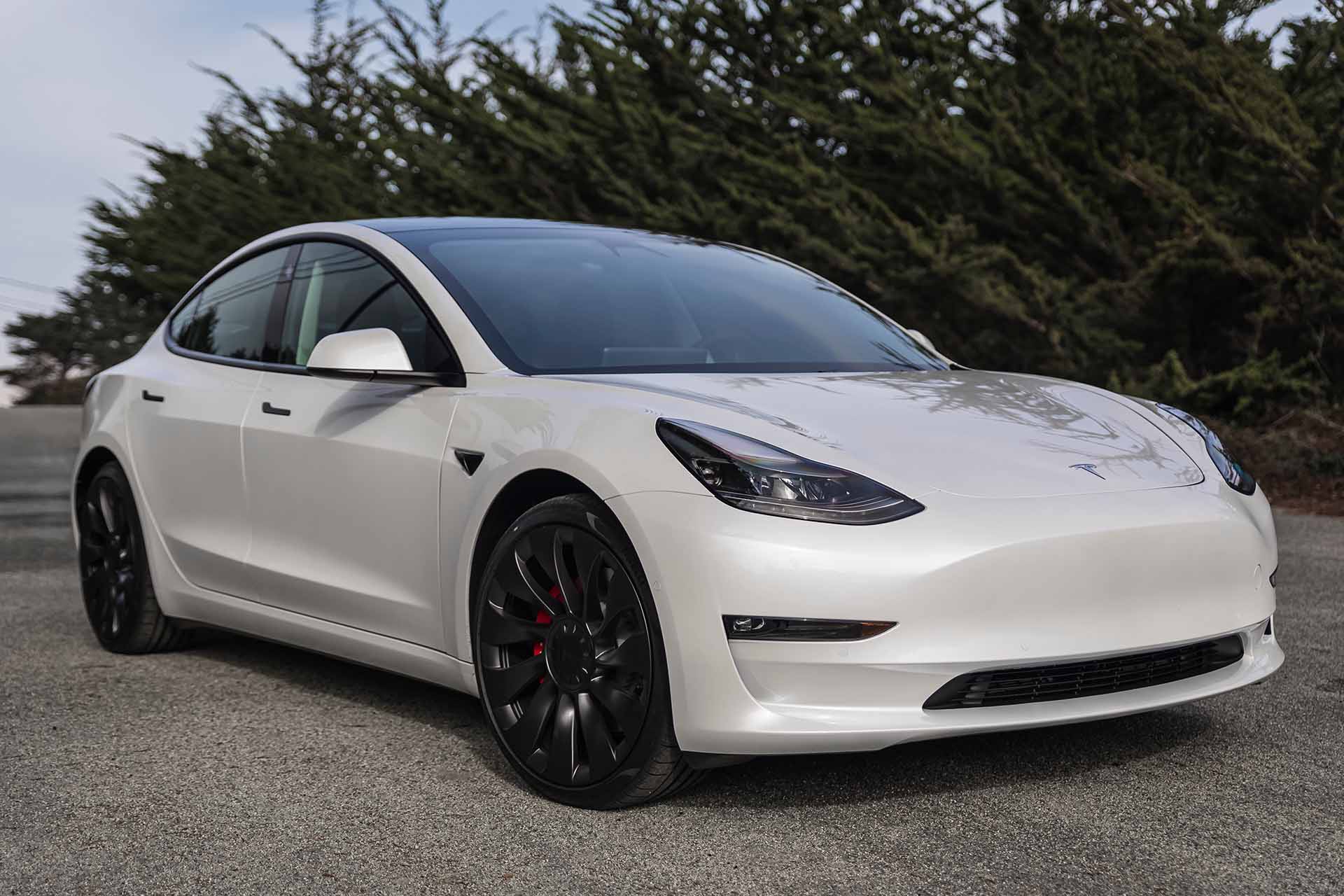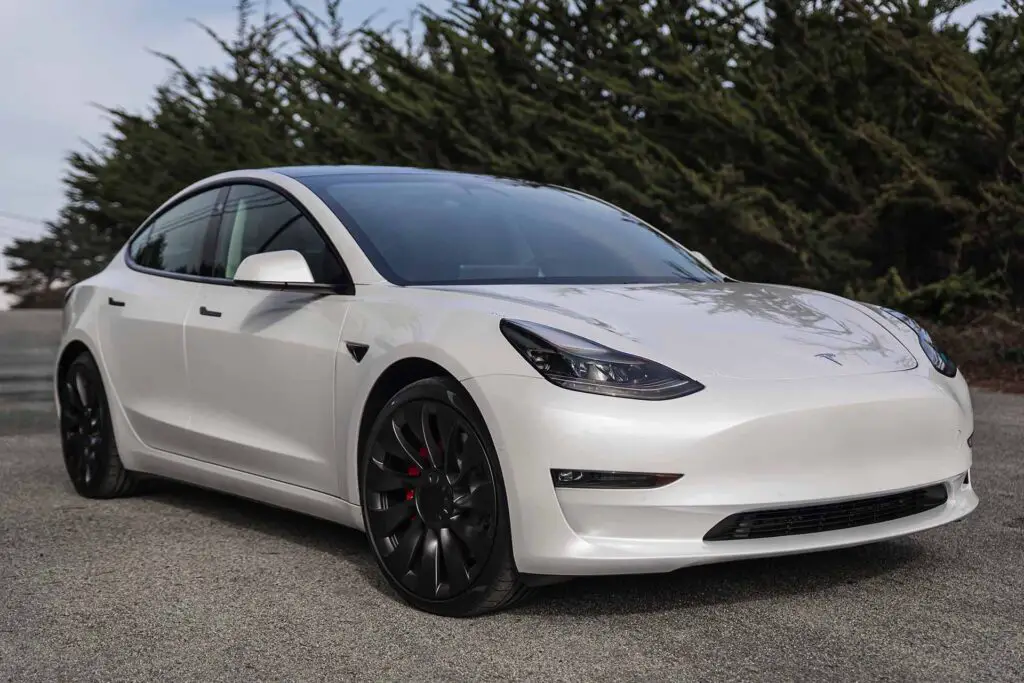 This Electric Sedan Comes With a Few Downsizes You Should Keep In Mind
If you're looking for a family car with lots of room, this shouldn't be your top pick. While the Tesla Model 3 has five seats, the space in the back of the vehicle is on the smaller side, but the trunk is quite big. However, if the size is a concern for you, there's good news! 
The Tesla Model Y is essentially an SUV version of the Tesla Model 3. It has an optional third row of seats, additional cargo room, and a comparable range on a full charge. However, keep in mind that Model Y is the more expensive option. So, the choice between the two is a matter of needs, preference, and budget.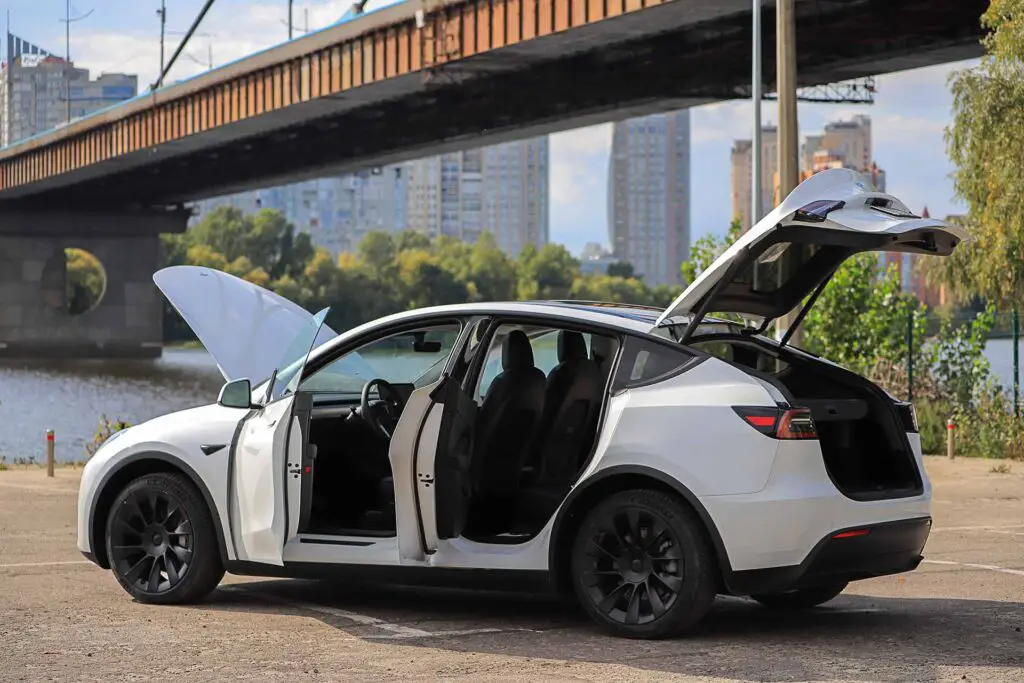 #2 Nissan Ariya – A Perfect All-Electric Family SUV
If you're looking for a perfect EV for your family, look no further! While there's already a pretty good EV model called Nissan Leaf, this company has just come out with a brand-new model called Ariya that further expands its line of EVs. The Ariya features an optional driver-assistance system that's just been updated as ProPilot 2.0 and allows drivers to remove their hands from the wheel in certain situations on the road. 
There Are a Couple of Options, but They All Have Fantastic Ranges
So when it comes to Nissan Arya, there are a lot of options to choose from:
Evolve+,
Empower+,
Platinum+,
Venture+.
All of these options have amazing driving ranges. The Platinum+ range of 265 miles is already a step up from the Nissan Leaf's maximum of 226 miles, and then there's the unbelievable range of 304 miles on a single charge that the Venture+ offers. Whatever you go for, you will surely end up with a reliable and comfortable vehicle that will fit your family's lifestyle perfectly.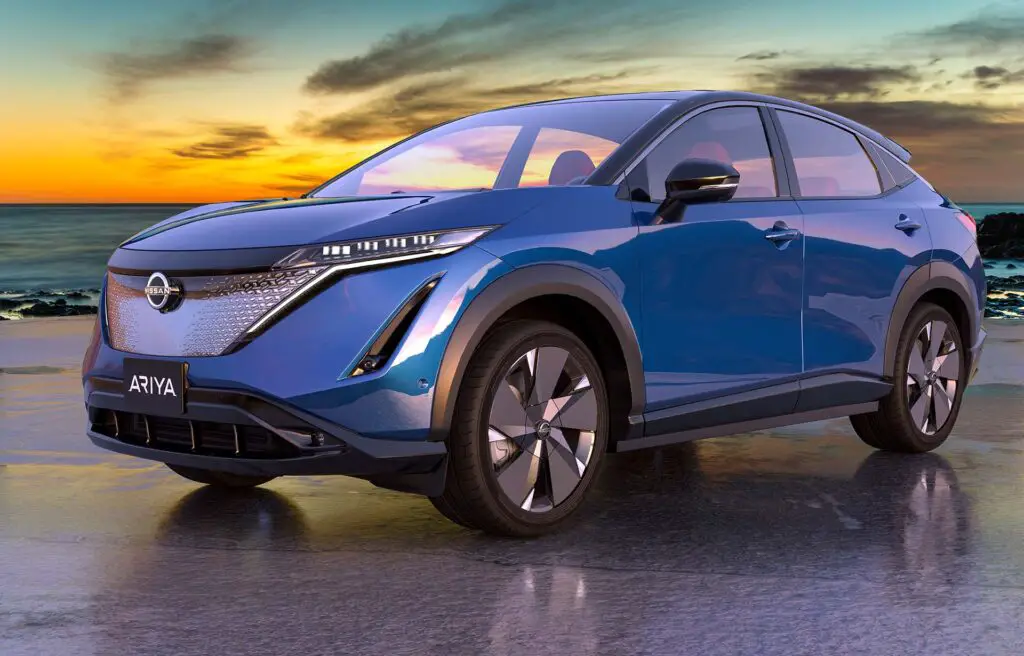 #3 MG 4 – An Affordable Electric Family Hatchback
If you're looking for a cost-effective EV option, the new MG 4 is definitely the right choice for you. It's an electric family hatchback with lots of space, and you can get it for a price that undercuts many of its smaller rivals, and this is something that's hard to ignore. The MG 4 is a sharp new styling direction for this brand that comes with impressive charging abilities. 
There Are Two Powertrain Options
Both of the powertrain options that the MG 4 offers use a rear-mounted motor and provide an impressive driving range. There's the Standard 51 kWh battery option, which provides you with a 218 miles range on a single charge, and the Long Range Model has a 64 kWh battery and can go up to a maximum of 281 miles.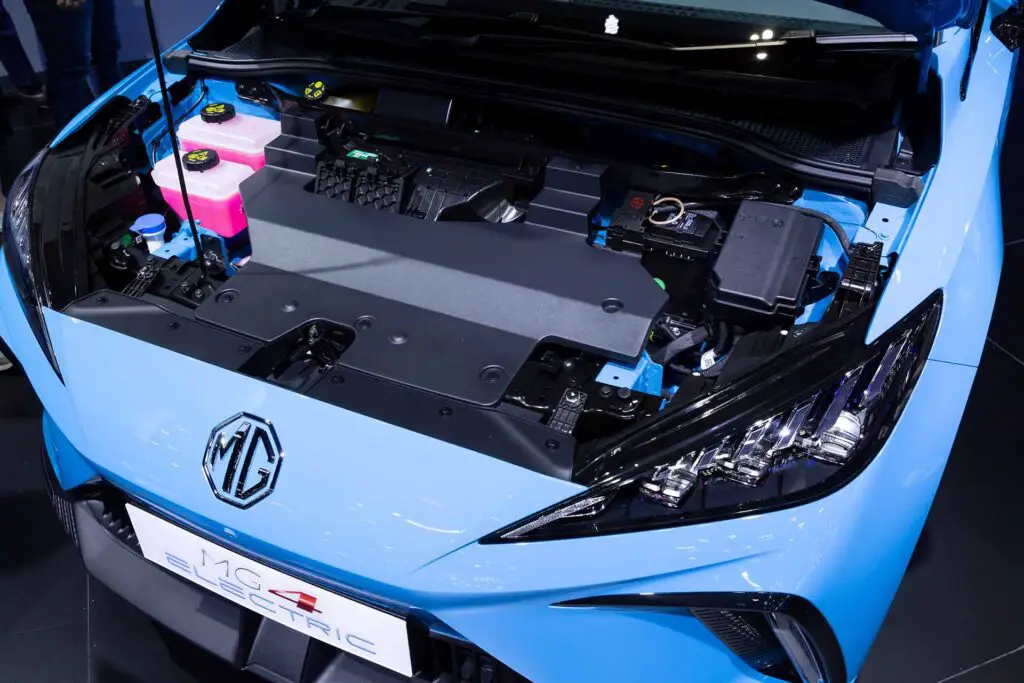 #4 Hyundai KONA EV – A Smaller EV With an Impressive Driving Range
Hyundai has released their small SUV model called KONA in both versions – there's the gas-powered and the electric model. If you're looking for a smaller EV perfect for driving in the city, the Hyundai KONA might be the perfect fit for your needs. 
The Hyundai KONA EV Has One of the Longest Driving Ranges
The redesigned 2022 model offers quick acceleration and one of the longest driving ranges available, so it's one of the most popular picks at the moment. Also, the brand-new 2023 model is just about to go on sale and will come with a few more updates. 
With a driving range of 278 miles on a single drive, this is a comfortable option with many standard driver assistance features which make cruising down the city streets much easier. Just keep in mind that this model has a somewhat small cargo area and is a bit cramped in the rear seats. But for a smaller family living in the city, it could be the best option available.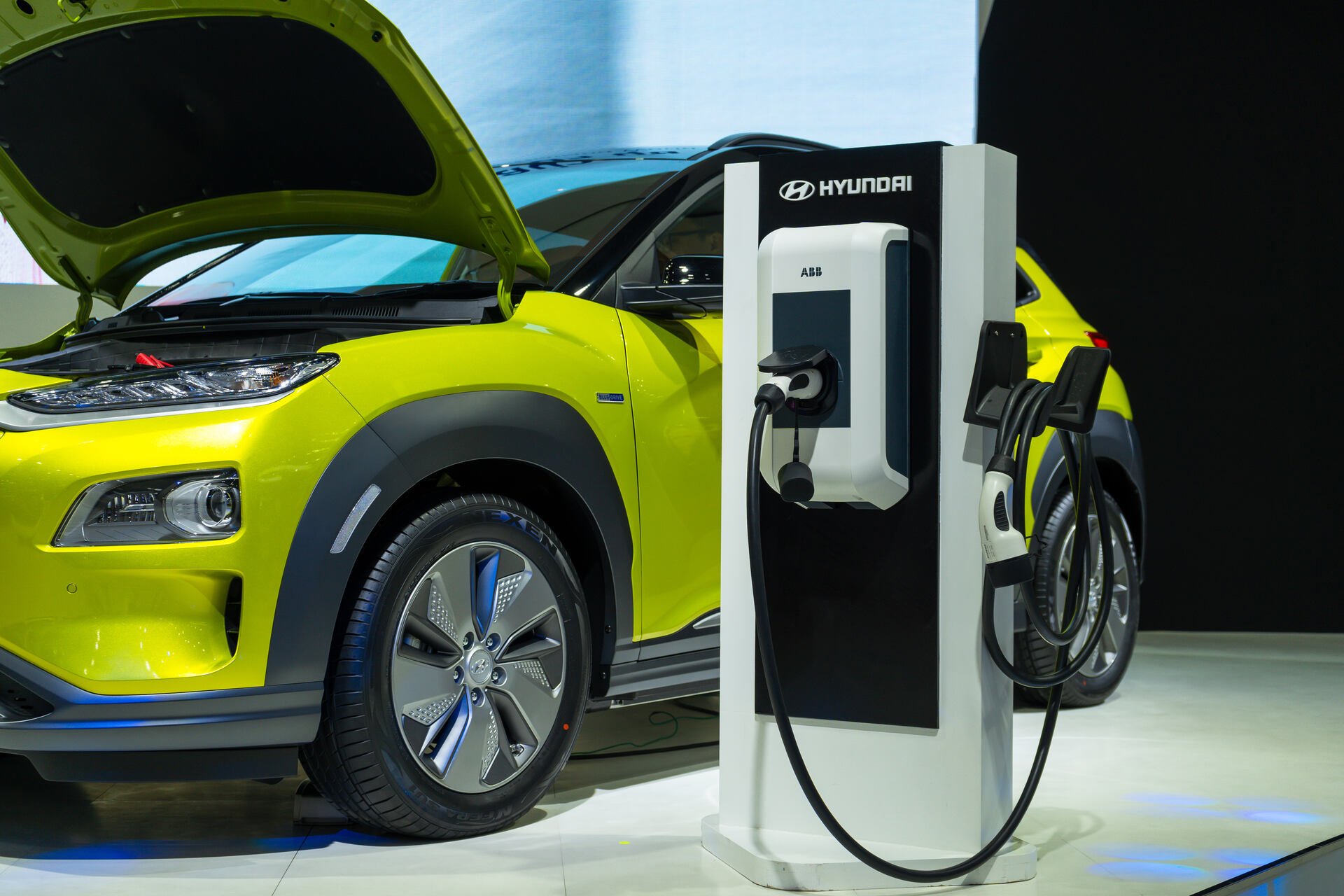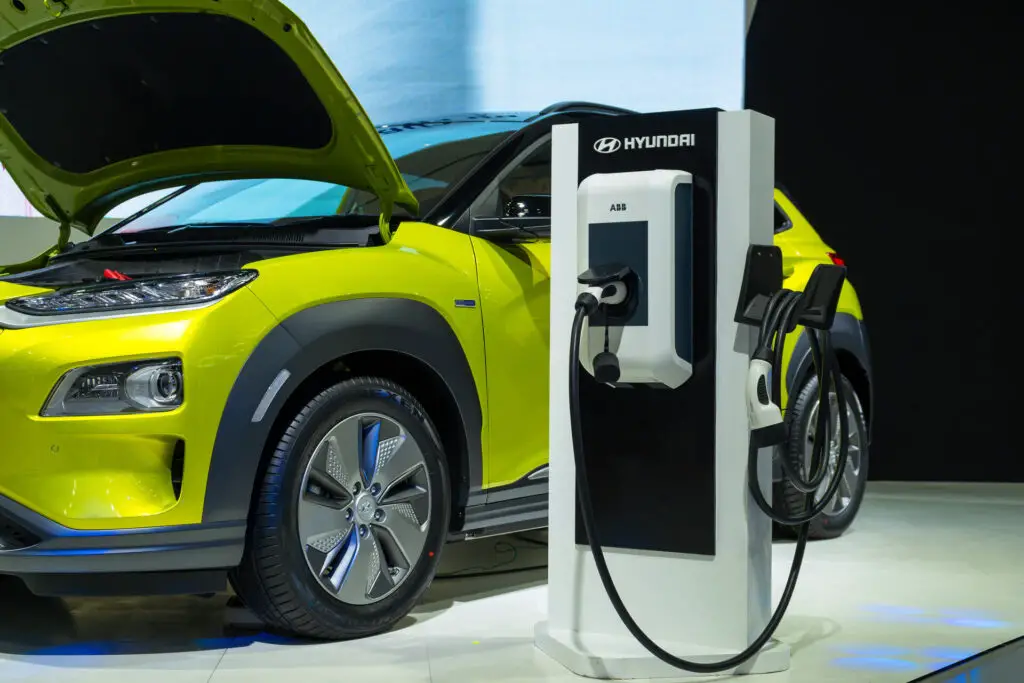 #5 Fiat 500 Electric – A Smaller Model That Will Let You Have a Clear View of the Sky
The re-modernized familiar shape of the Fiat 500 has got its EV counterpart. It's a small car, but if you don't need much space, it's more than enough. With the recognizable design and a quality feel, cruising down the road will be very comfortable. And you get to choose between a hatchback or a convertible version for everyone that enjoys a bit of wind while they drive. 
It definitely looks like the good-old Fiat 500, but you won't find any of its components here. This new electric version is bigger and has a redesigned interior, body, and platform. It comes with either a 24 kWh or a 42 kWh Samsung battery, and while it can't boast the impressive range that the Hyundai KONA EV has, it still performs pretty well in every aspect.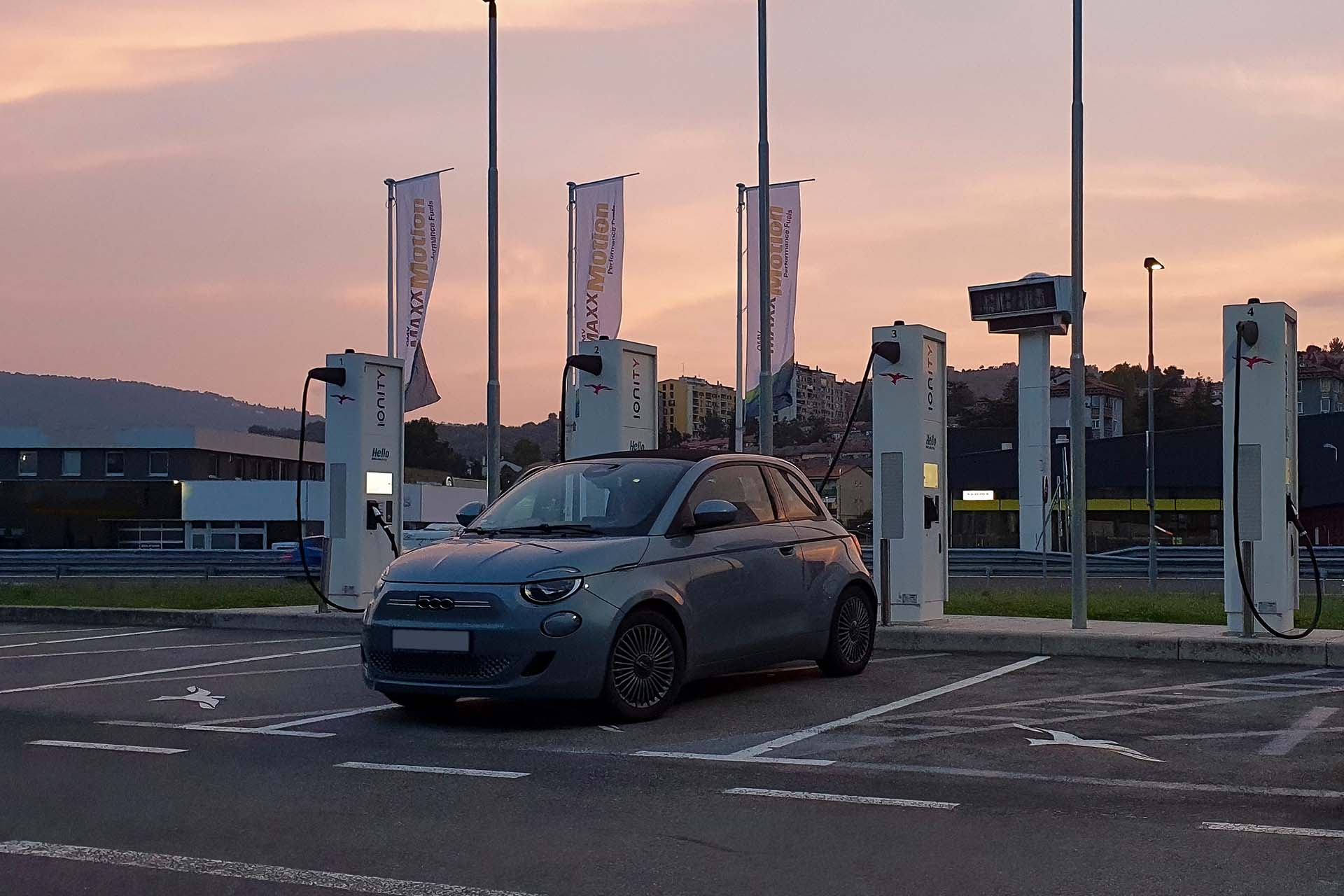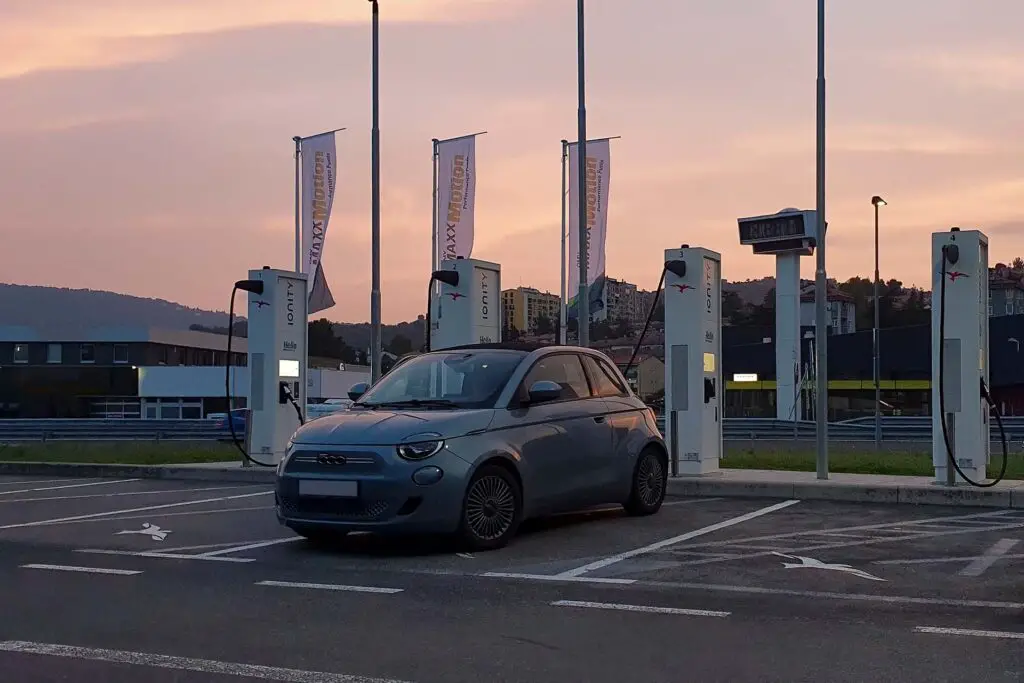 EVs Might Be Expensive, but They Can Be More Affordable in the Long Run
When it comes to EVs, they are still more expensive to buy and maintain than their petrol and diesel-powered counterparts. But, going for an electric vehicle will completely erase your fuel costs, and this is not a small difference that can be overlooked. If both a gas-powered car and an electric vehicle have a 15,000-mile year, filling up the tank would cost $2,700 in total, while charging the battery would be only $600 dollars – that's a $2,100 difference. So, buying an EV is a better option down the road, not only for the environment but also as a personal investment.