In the dynamic world of automobiles, one company stands head and shoulders above the rest, commanding unparalleled dominance and shaping the industry's landscape. This biggest car company in the world is not just a name – it's a symbol of innovation, engineering excellence, and global success. Join me as I uncover fascinating history, groundbreaking achievements, and the indelible mark some of the largest companies have left on the automotive world.
The race for automotive supremacy continues to captivate the industry, with multiple contenders vying for the title of the world's biggest enterprise. Giants such as Tesla, Toyota, Volkswagen, BYD, and Daimer have left an indelible mark on the automotive landscape, each with unique strengths and innovations.
Key Components to Consider When Looking for the Biggest Car Company in the World
When it comes to unveiling the heavyweight champion of the automotive world, we must navigate through a thrilling maze of key components that demand our undivided attention. From the glimmering realms of revenue and market capitalization to the captivating clash between classic cars and their modern counterparts and the undeniable allure of import vehicles reigning supreme in the US market, these factors hold the keys to unlocking profound insights into the pulsating landscape of the automotive industry.
Revenue – It refers to the total amount of money generated by an enterprise from its primary business activities, such as vehicle sales, spare parts, services, and other related sources. A higher revenue typically indicates a larger customer base and market presence.
Market capitalization (market cap) – This is the total value of a company's outstanding shares of stock. It is calculated by multiplying the business's current share price by the number of outstanding shares. Market cap is a significant indicator of its size and overall value in the stock market. A higher market cap suggests a larger valuation and market dominance.
Vehicle production and sales – The number of vehicles produced and sold annually is another critical factor when determining the size of a business. High production and sales volumes are indicative of a company's ability to meet market demand and serve a wide customer base.
Global presence – A multinational corporation with a strong presence in various countries demonstrates its ability to cater to diverse markets and capitalize on international opportunities. This can be measured by the number of manufacturing plants, sales offices, and dealership networks worldwide.
Research and development (R&D) investment – A corporation's commitment to research and development showcases its focus on innovation and staying ahead of the curve. Investing in R&D enables the development of new technologies, advanced features, and sustainable solutions, further solidifying the company's position in the industry.
Brand value and reputation – This plays a crucial role in an enterprise's size and market position. A strong brand with a positive reputation for quality, reliability, and customer satisfaction tends to attract more consumers and maintain a loyal customer base.
So, if you're still in search of your perfect four-wheeler, ensure the preferred vehicle enterprise has the greatest ratings, considering the key features mentioned above.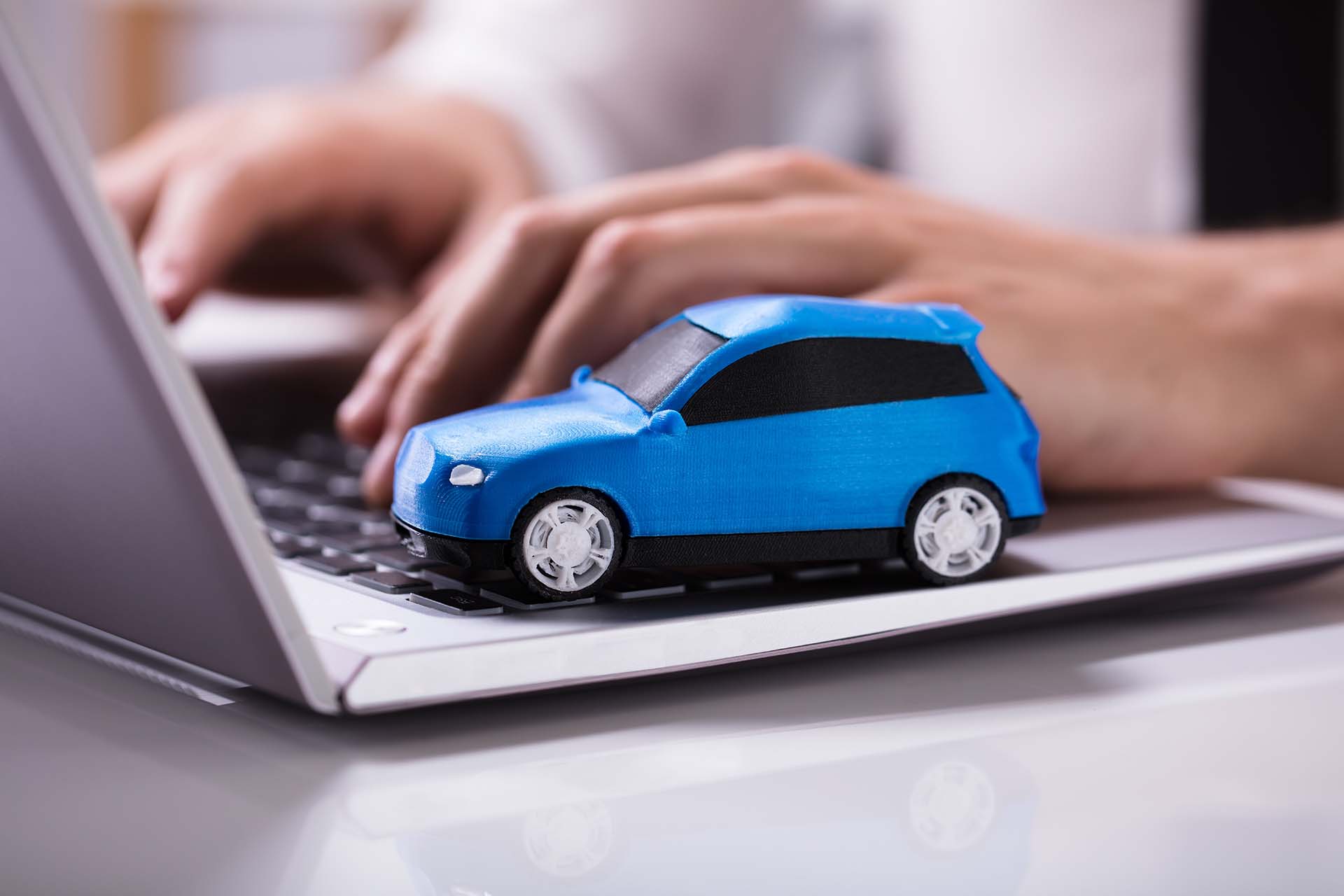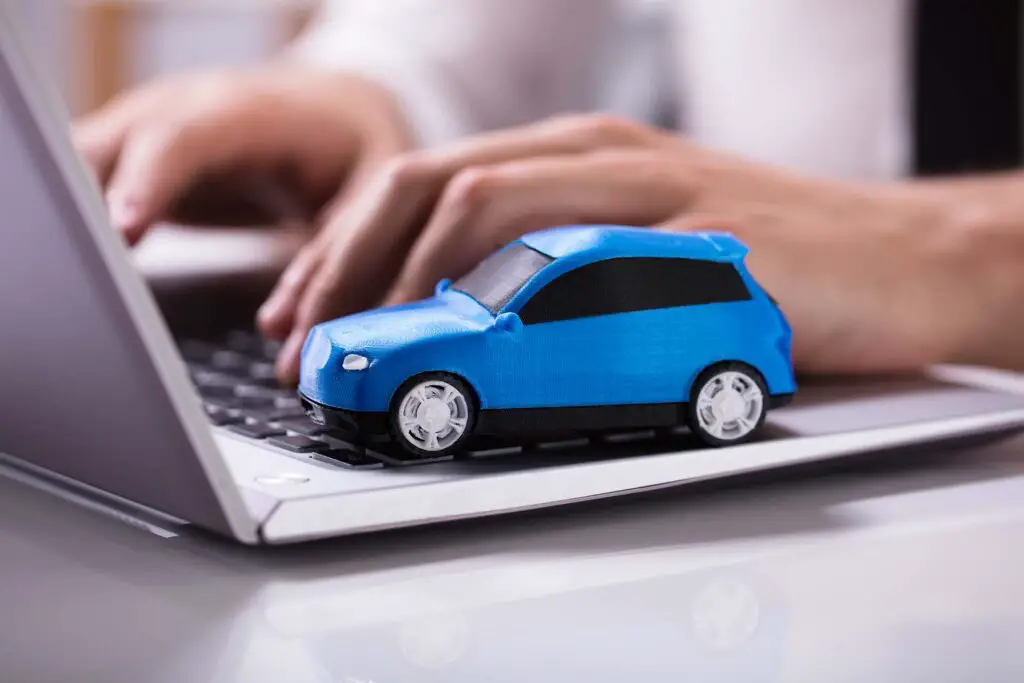 What Is the World's Biggest Car Company by Market Cap?
In the exhilarating world of automobiles, where engineering prowess meets boundless innovation, one thing is sure – a captivating journey through industry dominance is quite an interesting topic. But this quest for greatness is not solely defined by financial prowess. It's a tale interwoven with the most expensive cars in the world, reflecting a harmonious blend of luxury and engineering marvel. Here are the best-ranked companies by market cap. 
Tesla, Inc. 

Tesla swiftly raced to the forefront, seizing the coveted pole position as the most valuable automotive brand worldwide. With a market cap of around $ 860 billion as of June this year, you can see why this brand's value is skyrocketing. This momentous achievement not only crowns Tesla as the reigning champion of the automobile industry but also marks a historic milestone. For the first time ever, a brand that does not manufacture internal combustion engines has triumphed, disrupting the global rankings and paving the way for a new era of electric mobility dominance.

However, Tesla's impact extends beyond the realm of automobiles. They sought to redefine the entire energy ecosystem with their innovative approach to energy storage. The introduction of the Powerwall and Powerpack, sleek and scalable battery solutions, aimed to reshape how we harness and utilize energy, bringing us closer to a sustainable future where renewables reign supreme.
Toyota Motor Corporation

Throughout the decades, Toyota continuously pushed the boundaries of automotive technology. They pioneered the introduction of hybrid vehicles to the mass market with the launch of the Toyota Prius in 1997. This groundbreaking model revolutionized the perception of hybrid cars, proving that eco-friendly vehicles could be practical, efficient, and desirable.

Nowadays, the shares of the Japan-based automaker soared by approximately 5% following the resounding reelection of Akio Toyoda as chairman of the board. That's why the market cap of this Japanese automaker is around $213 billion. This momentous event served as a resounding vote of confidence in the company's robust governance practices and its ambitious electric vehicle strategy. The endorsement from shareholders reverberated through the market, propelling the company's shares to new heights and signaling widespread support for their vision of a future driven by electrification.
BYD Auto Co., Ltd.

BYD Company Limited, headquartered in China, is primarily involved in the manufacturing and sales of transportation equipment. However, the business's operations extend beyond this domain. They also specialize in the production and distribution of electronic parts, components, and everyday electronic devices. And it led to a market cap of around $105 billion.

BYD's diverse product portfolio encompasses rechargeable batteries, photovoltaic products, mobile phone components, and assembly, as well as automobiles and associated offerings. This comprehensive range of products highlights BYD's multidimensional approach to meeting consumer needs across various industries.
Daimler Company Limited

Daimler holds a remarkable place in automotive history as the company that produced the world's first gasoline-powered car. Inventors Carl Benz and Gottlieb Daimler, who later merged their companies to form Daimler-Benz, played instrumental roles in revolutionizing transportation with their groundbreaking inventions. As of June 2023, the market cap of this enterprise is around $86 billion.
Volkswagen Group

Today, Volkswagen stands as a global automotive powerhouse. Their history is one of resilience, innovation, and a commitment to making four-wheelers that resonate with people's lives. From the enduring charm of the Beetle to the electrifying aspirations of their latest models, Volkswagen continues to captivate drivers around the world, carrying on the legacy of bringing accessible and enjoyable transportation to the masses.

Volkswagen holds a substantial ownership stake of approximately 75% in Porsche AG, the prestigious manufacturer behind the legendary Porsche sports car. This valuable share is estimated to be worth a staggering $83 billion, surpassing Volkswagen's market capitalization, which stands at around $79 billion. The ownership of Porsche AG not only adds immense value to Volkswagen's portfolio but also solidifies its position as a key player in the luxury automotive market.
What Is the Biggest Car Company in the World by Revenue?
As we embark on this thrilling pursuit, we will also witness the evolution of four-wheelers, from their humble beginnings as horseless carriages to the cutting-edge technologies that propel us into an electrifying future with some of the best electric vehicles. But if you wonder what enterprise is the best-ranked by its revenue, be sure to check out the table below. 
| | | |
| --- | --- | --- |
| Enterprise | Revenue  | Sold cars  |
| Volkswagen AG | $283 billion | 11 million |
| Toyota  | $275 billion | 10.7 million |
| Daimler  | $173 billion | 3.3 million |
| Ford  | $156 billion | 5.4 million |
| Honda  | $137 billion  | 5.3 million |
| General Motors | $137 billion | 7.7 million |
| SAIC Motor | $136 billion | 5.4 million |
| Fiat Chrysler Automobiles | $128 billion | 4.4 million |
| BMW  | $123 | 2.5 million |
| Nissan Motor Corporation | $93 | 4.7 million |
As you can see, the automotive industry is a fascinating world of innovation and competition, where companies are constantly vying for the top spot. While you're reading about the biggest car company by revenue, it's also worth noting how these giants influence trends in design, sustainability, and technology, shaping the way we drive and interact with vehicles today.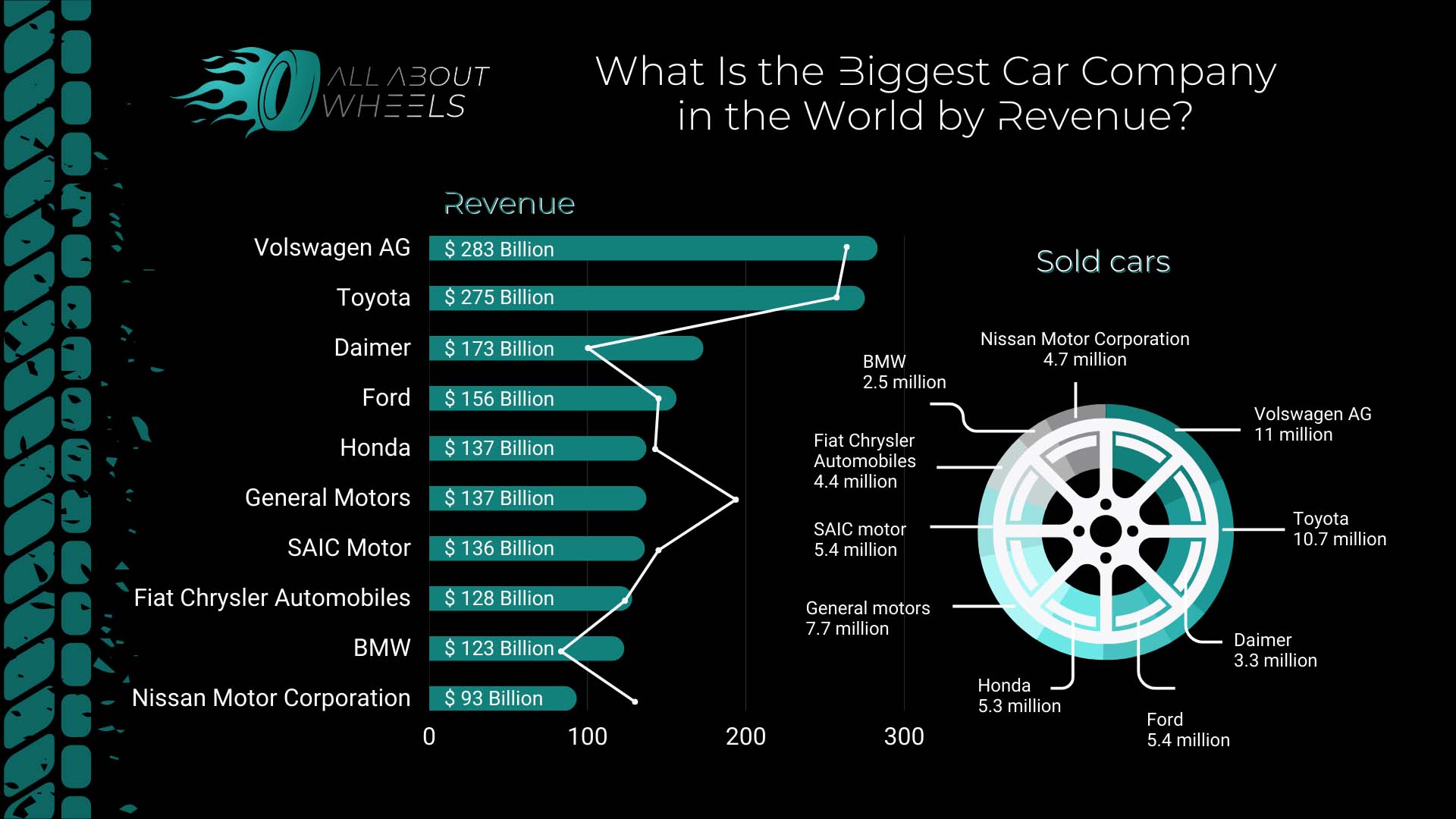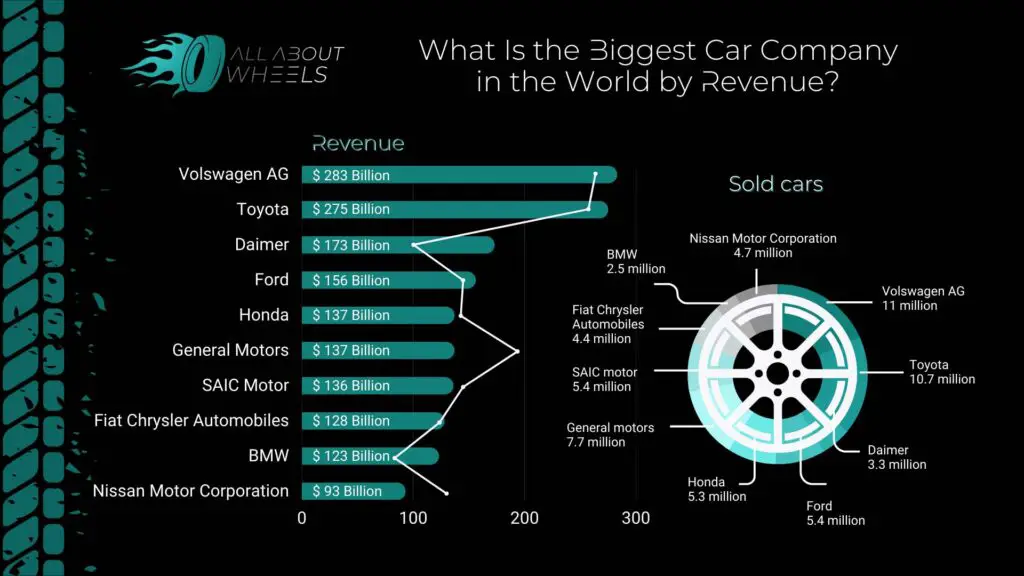 What Are the Largest Rental Companies in the World?
Vehicles hold tremendous significance as a primary mode of transportation worldwide, particularly in regions where they serve as the sole means of travel. The success of the four-wheeler rental industry stems from various factors, including its ability to cater to diverse needs. Some early pioneers initially focused on providing rental vehicles as a contingency measure for individuals whose vehicles were damaged or temporarily unusable. 
However, they soon recognized the immense potential in serving travelers and business professionals. Take Iceland, for instance. Even in a highly developed country like this, its mesmerizing sights are often scattered across vast distances, separated by rugged landscapes. To truly appreciate the splendor Iceland has to offer at your own pace, vehicle rentals become a necessity. 
They grant the freedom and convenience to explore remote and breathtaking locations, ensuring an immersive and fulfilling experience. This blend of necessity and desire drives the car rental industry's triumph, as it provides a solution for both unexpected circumstances and the thirst for exploration.
Largest Rental Company in the US
In the United States, independent rental vehicle agencies collectively possess approximately 42,000 vehicles, resulting in an average of merely ten cars per location. However, despite the modest fleet sizes, these independent players continue to generate considerable revenue. Here are the top three:
Enterprise Holdings,
Hertz,
Avis Budget Group.
In the United States, the car rental industry is characterized by its capital-intensive nature, where businesses heavily rely on capital assets, such as equipment and machinery, rather than labor. This emphasis on capital investment underscores the significance of acquiring and maintaining a robust fleet of vehicles, modern facilities, and advanced technology infrastructure.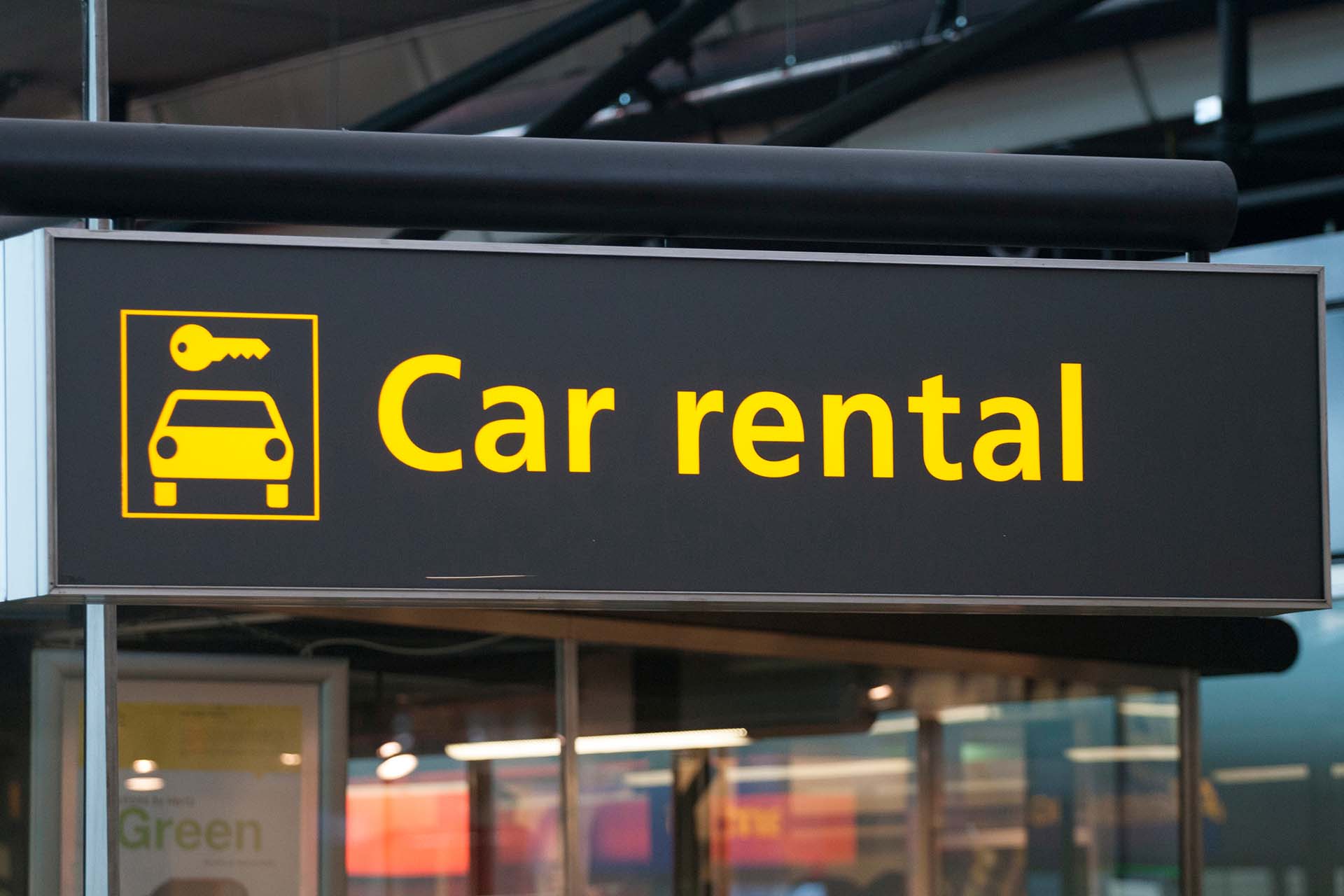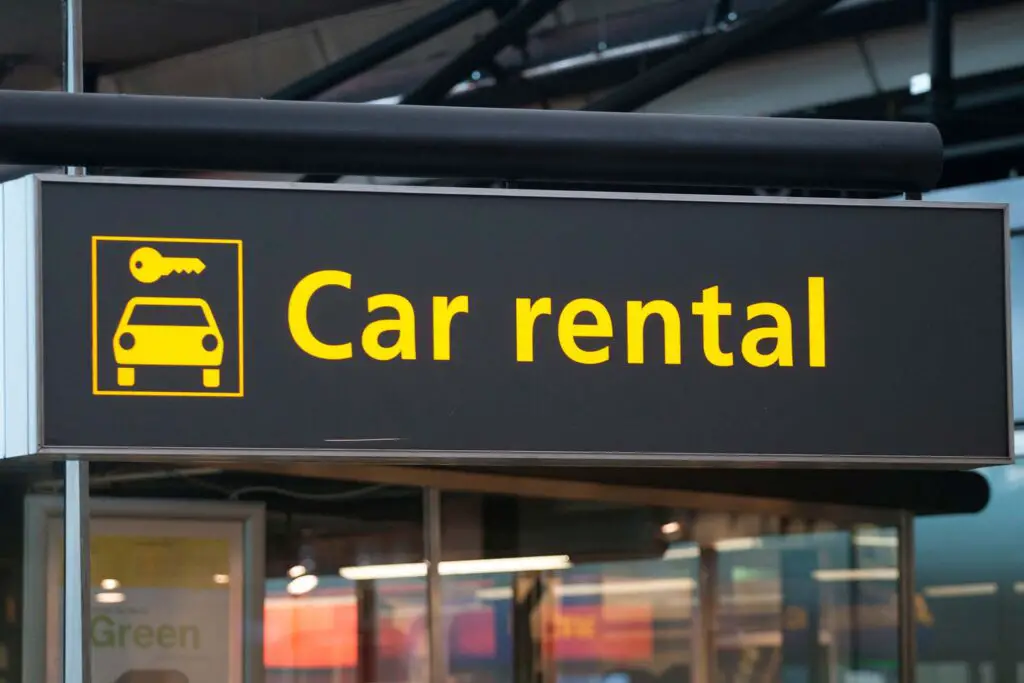 What Are the Largest Car Parts Companies in the World?
We all know that the cost of owning a four-wheeler will depend on many factors (surely, one of them is luck). But, when it comes to getting your vehicle all fixed up and ordering parts from the best online store, you must wonder what is the largest enterprise in the world, right? Here's a table with the top five giants.
| | | |
| --- | --- | --- |
| Enterprise | Market Cap (USD) | Country  |
| Denso Corp | $36 billion | Japan |
| Aptiv PLC | 25 billion | Ireland |
| Bridgestone Corp | $23 billion | Japan |
| Michelin SCA | $22 billion | France |
| Magna International Inc. | $18 billion | Canada |
Who Is the Largest Tire Manufacturer in the World?
Planning on a trip on some famous routes in the USA? Before packing your four-wheelers with all the essentials, remember when you replaced the tires. And while we're talking about tires, why not check who actually are the biggest manufacturers in this industry:
Michelin,
Bridgestone,
Pirelli,
Yokohama,
Continental.
Choose one of the most trustworthy tire brands and let your four-wheeler glide on the roads like never before.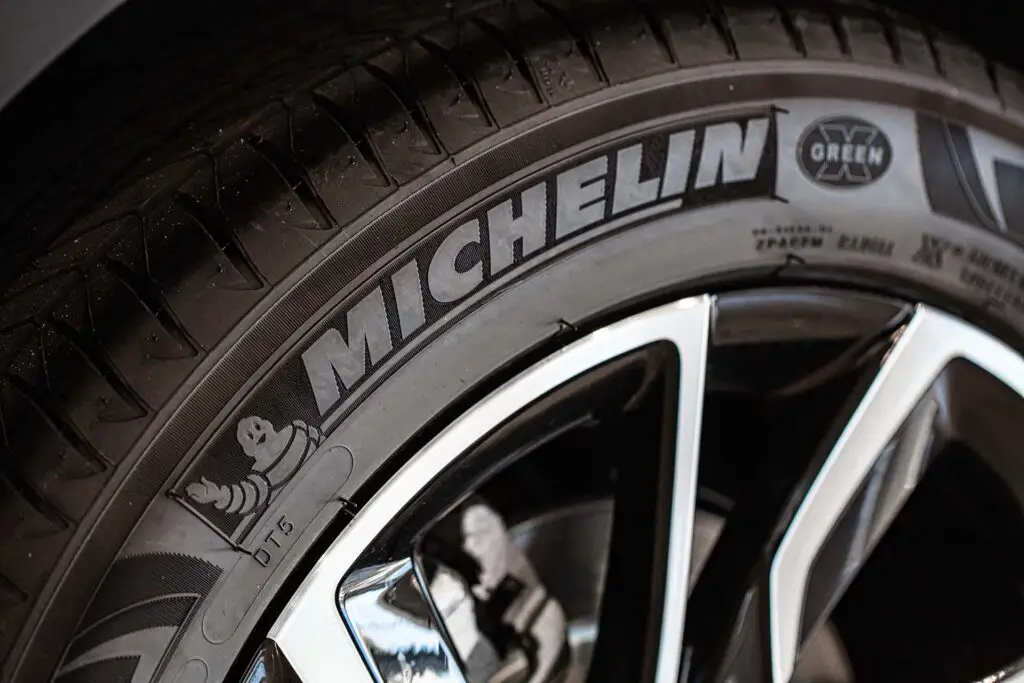 What Is the Fastest Growing Automobile Brand?
Sokon, the Chinese automobile brand, has experienced unprecedented growth, surging by an impressive 123%. With a brand value exceeding USD 739 million, Sokon has emerged as the fastest-growing player in the automotive industry. The brand's remarkable success in 2022, marked by a notable 21% increase in vehicle sales compared to the previous year, has contributed significantly to its soaring brand value. Bolstered by optimistic forecasts, Sokon continues to propel its brand value to new heights, solidifying its position as a dynamic and influential force in the automotive market.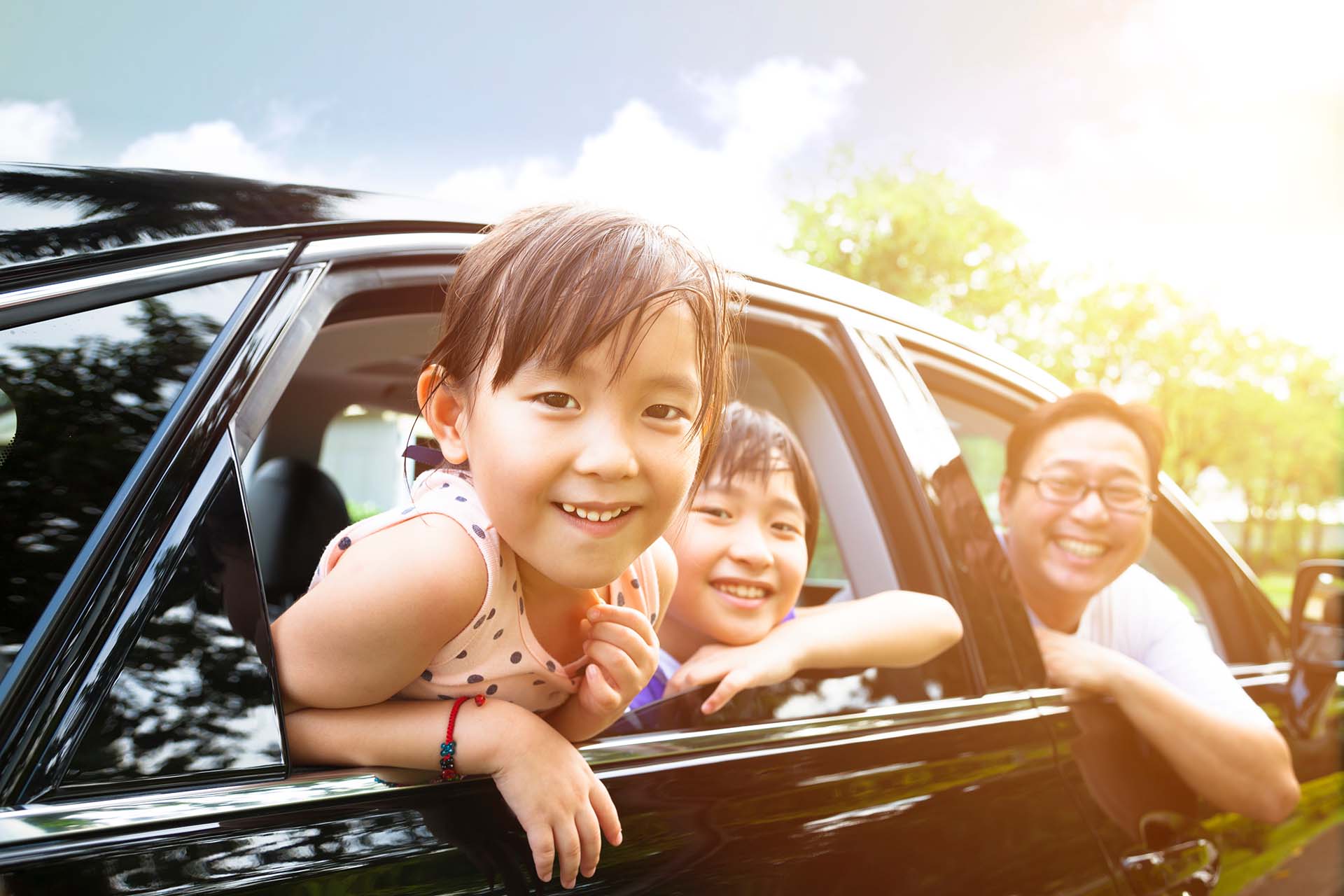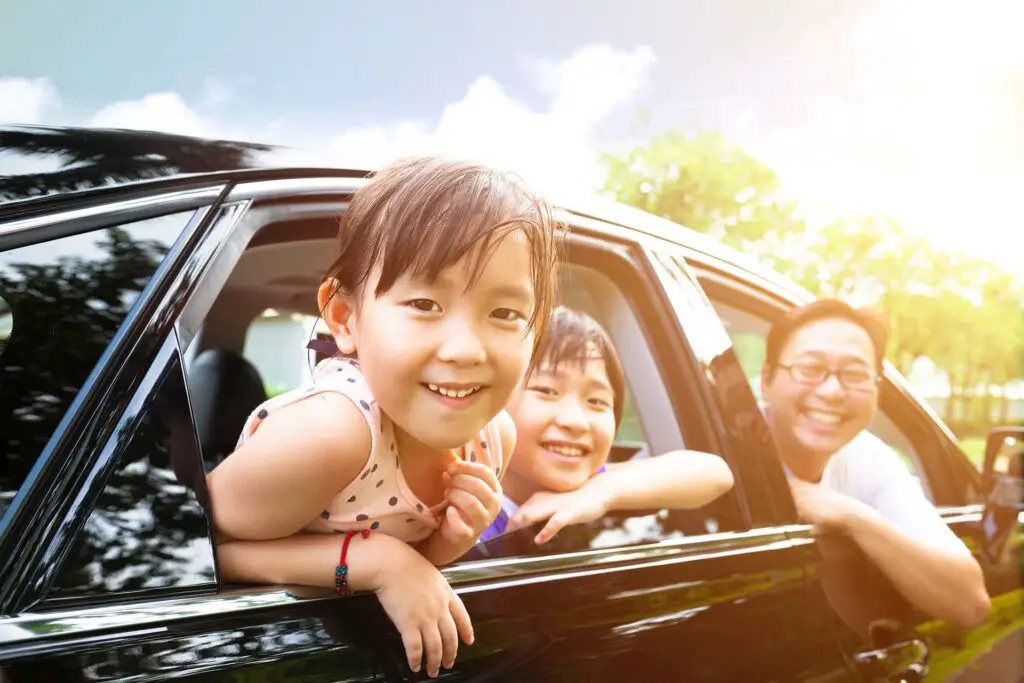 Choose One of the Titans in the Automotive Realm and Experience What Legacy and Commitment Are
In the vibrant realm of automotive greatness, a select few titans stand tall, embodying a rich legacy and an unwavering commitment to excellence. These automotive powerhouses have forged their paths through innovation, craftsmanship, and a relentless pursuit of perfection. So, all you have to do is enter the future where passion, innovation, and driving pleasure converge. The road awaits – choose your titan and embark on an unforgettable automotive adventure.