Some of the most sought-after vehicles on the market at the moment are compact crossover SUVs. There are many options, but if you've narrowed your search to Jeep Compass vs. Nissan Rogue, I'm here to help you make that final decision. Here's a detailed comparison that will surely show you which one is the right four-wheeler for you.
Compact Crossover SUVs Are All the Rage at the Moment
In the world of family cars fit for city traffic, compact crossovers are becoming a huge deal, and that's because one of the key selling points for these types of vehicles is their practicality. A car that is large enough to fit all of your loved ones but also compact enough to easily maneuver even the cities with the worst drivers surely sounds ideal. 
Compact Crossovers Have Enough Space for a Comfortable Ride but Come in a Smaller Package
A compact crossover SUV, sometimes called C-SUV, is a car that is usually built on a C-segment compact platform. This makes it very practical for your daily commute without having to compromise on interior space, cargo capacity, and fuel economy. 
So, if you're looking for a city car that is also fit for exploring the most famous routes in the US and also for some off-road driving, a compact crossover is definitely the right vehicle for you. Luckily, both Jeep and Nissan have great additions to this category available.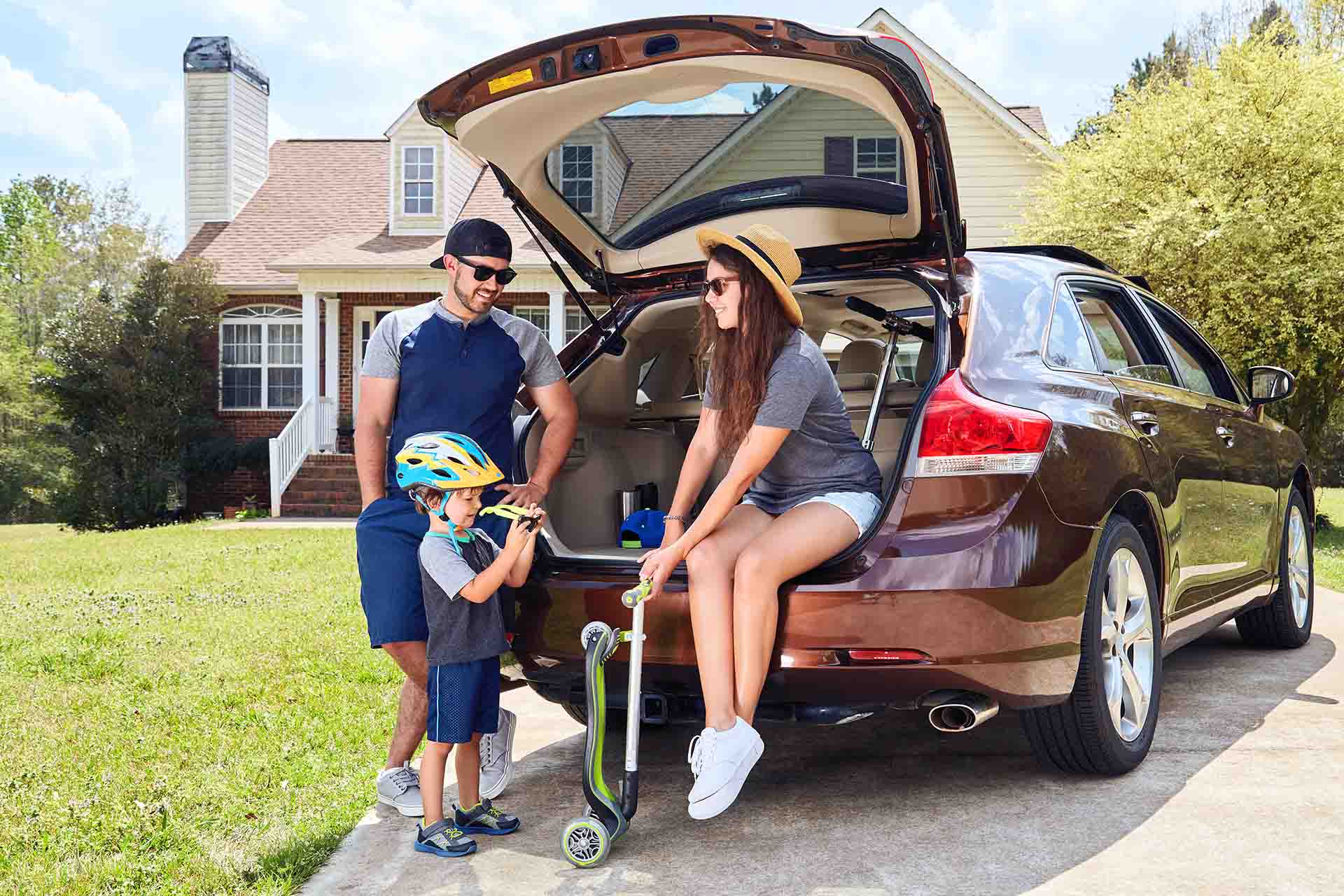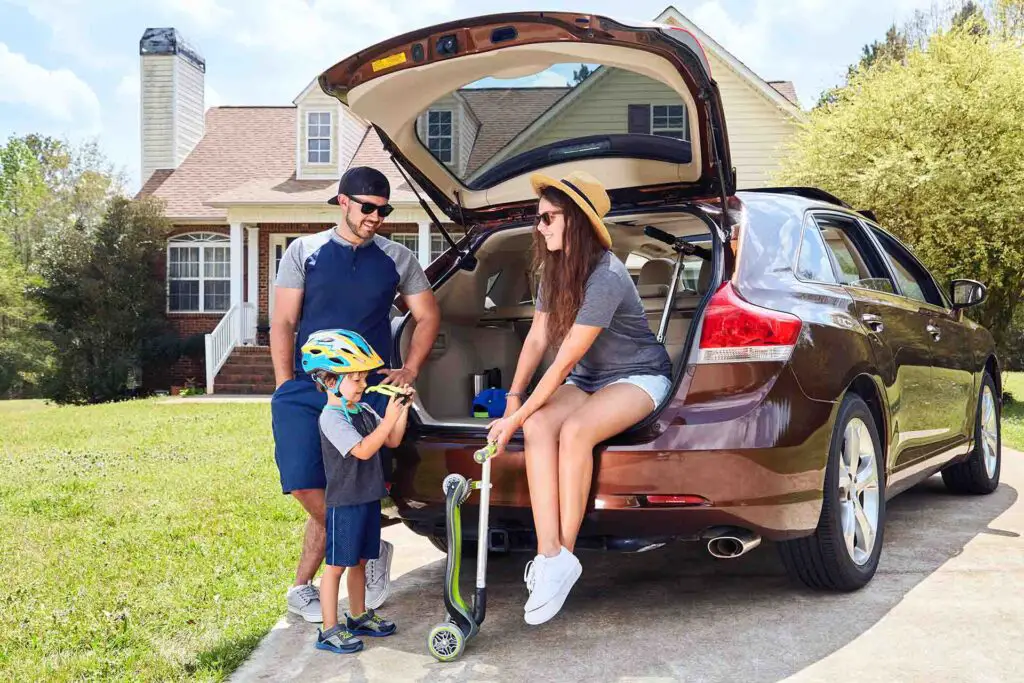 Both the Jeep Compass and the Nissan Rogue Have Been on the Market for Nearly Twenty Years
The Jeep Compass, as well as the Nissan Rogue, debuted the first generation of these vehicles back in 2007. Since then, these manufacturers have been trying to respond to customers' requirements and all innovations brought on by the evolution of cars. 
Both Manufacturers Came Out With Redesigned 2023 Models 
If you're looking to buy a used car or even one with a salvage title, there is a wide range of previous model years of both the Compass and the Rogue available. But there's also good news for those that are interested in buying brand-new vehicles, as these compact crossovers just came out with their latest model year.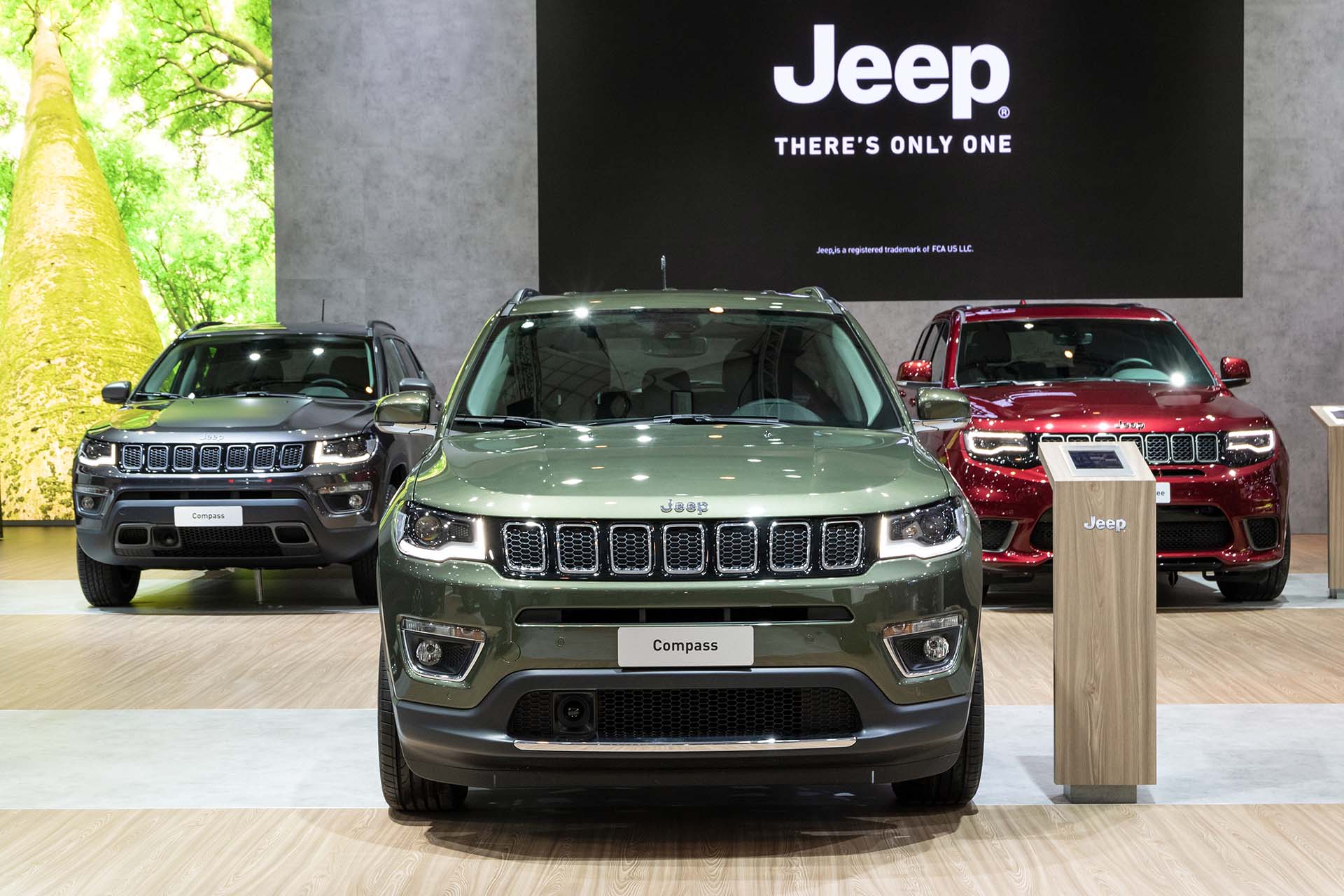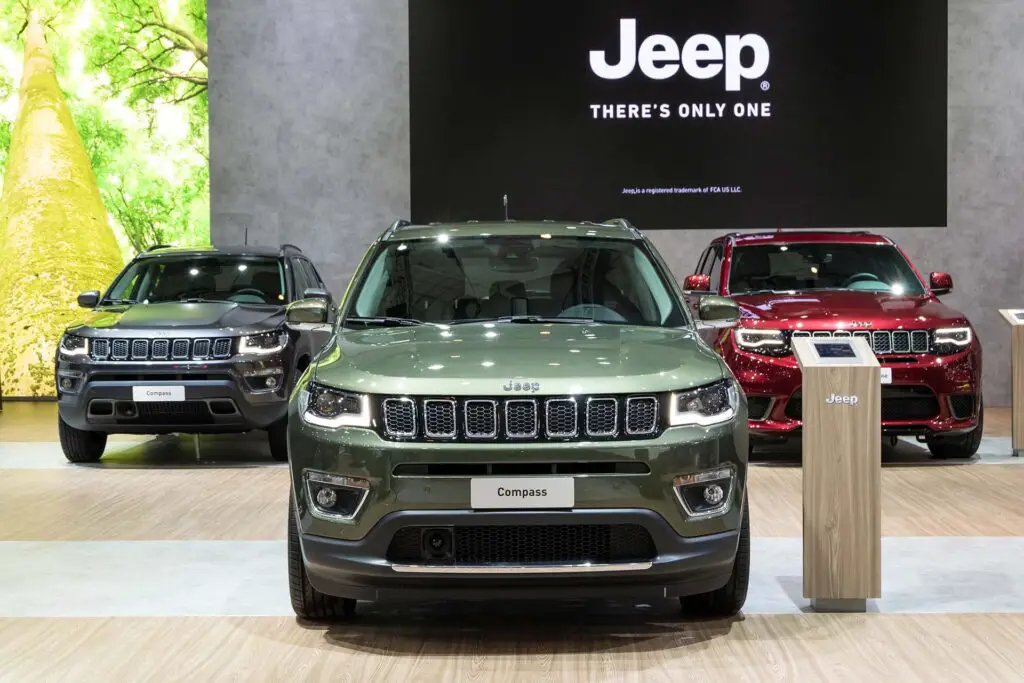 There Aren't a Lot of Changes When It Comes to the 2023 Model Year – Jeep Is Especially Sticking With Its Familiar Look
The new model years of both the Compass and the Rogue are far from a complete redesign. However, some changes were made, especially by Nissan, with its fresh and contemporary feel to the old familiar layout. On the other hand, Jeep seems to be sticking to its old-reliable aesthetic but with a little bit of boldness with it. Lovers of the iconic Jeep grille will surely have nothing bad to say about that.
There Are So Many Color Options and Trim Levels to Choose From
The Jeep Compass comes with a lineup that consists of five trim levels – the Sport, Latitude, Latitude LUX, Trailhawk, and Limited. When it comes to color options, there are even more options to choose from – laser blue, velvet red, bright white, metallic silver, black, and many more. 
Similarly, the Nissan Rogue also has many color alternatives, with the same emphasis on the metallic finish. Some of the options are glacier white, silver metallic, and silver black. When it comes to trim levels, there are four to choose from – the Rogue S, SV, SL, and Platinum. For the 2023 SV trim, you can also opt for the Midnight Edition package, which offers an upscale design with an all-black look and faux-leather upholstery in the interior.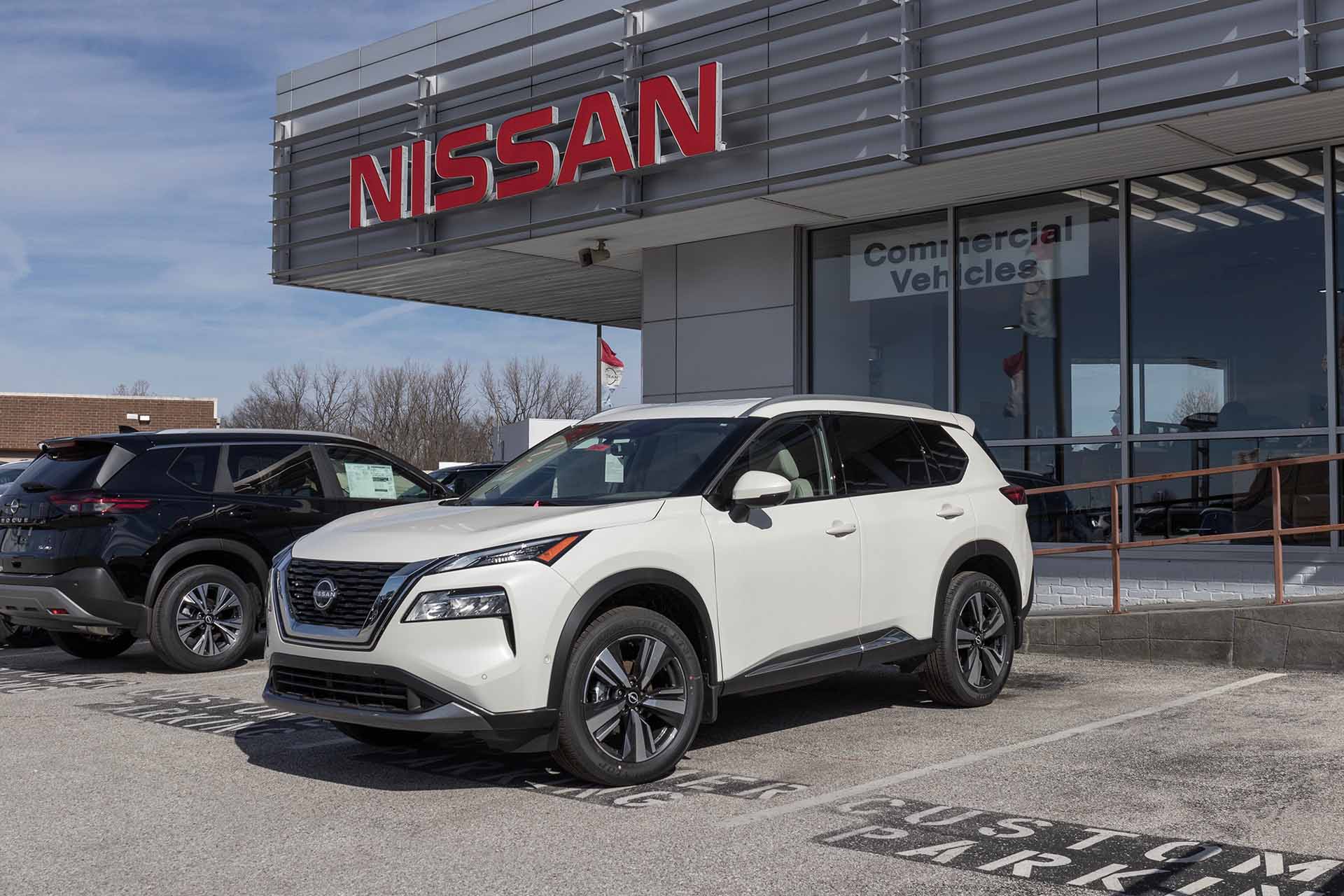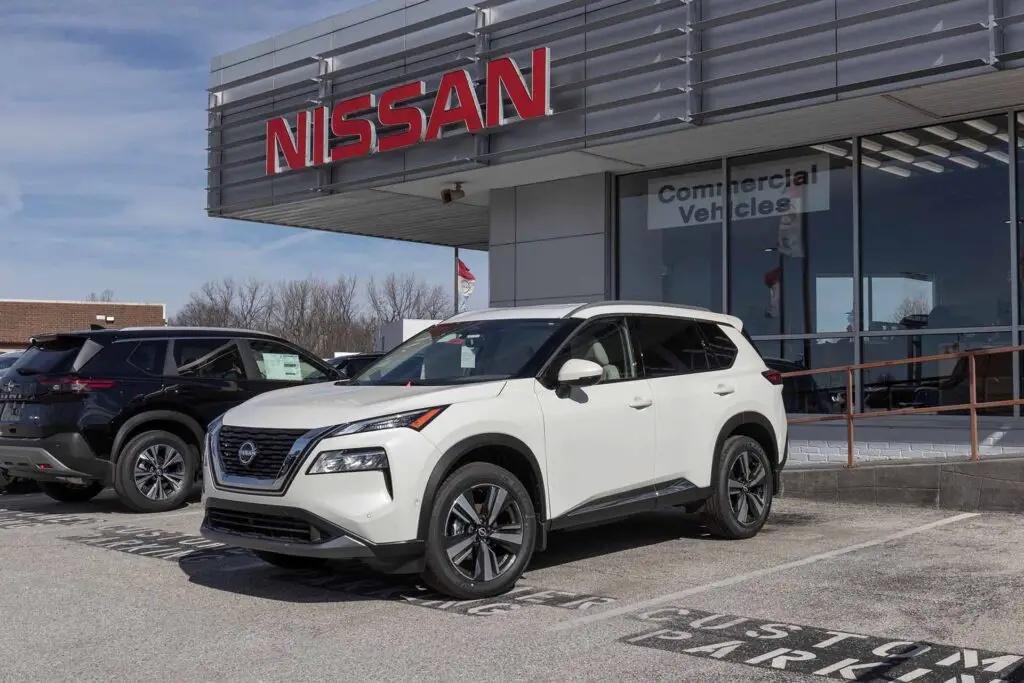 Both Compass Crossovers Are 5-Seaters but the Nissan Rogue Offers a Bit More Space
When it comes to family vehicles and long-distance comfort, lots of legroom and an elevated ride height are essential. Before I get into a detailed overview of space practicality, here is a comparison of the measurements of the Jeep Compass and the Nissan Rogue:
| | | |
| --- | --- | --- |
| Measurement | 2023 Jeep Compass | 2023 Nissan Rogue  |
| Length | 173.4 in | 183 in |
| Height | 64.6 in | 66.5 in |
| Width | 71.6 in | 72.4 in |
| Wheelbase | 103.8 in | 106.5 in |
| Cargo Space | 27.2 cu. ft. | 31.6 cu. ft. |
| Front Legroom | 41.2 in | 41.5 in |
| Rear Legroom | 38.3 in | 38.5 in |
*For the metric system, an inch is 25.4mm, and 1 foot is 304.8mm
The Nissan Rogue Takes the Top Spot When It Comes to the Available Cabin Space
While both of these compact crossovers are two-row five-seaters, you can see from the table above that the Nissan Rogue offers a bit more cabin space. There isn't a huge difference when it comes to dimensions, but it can be a deal-breaker, especially if you plan on taking regular weekend getaway trips with your loved ones. 
Both Interior Spaces Are Comfortable With Standard Quality Materials Used
Both the 2023 Compass and the 2023 Rogue cabins look better than previous model years, but there are no surprises when it comes to used materials. Simple cloth seatings and plastic upholstery elements aren't exactly luxurious, but they offer enough comfort and practicality. Besides, if you're looking for something a bit more upscale, you can always opt for higher trim levels of these compact crossovers.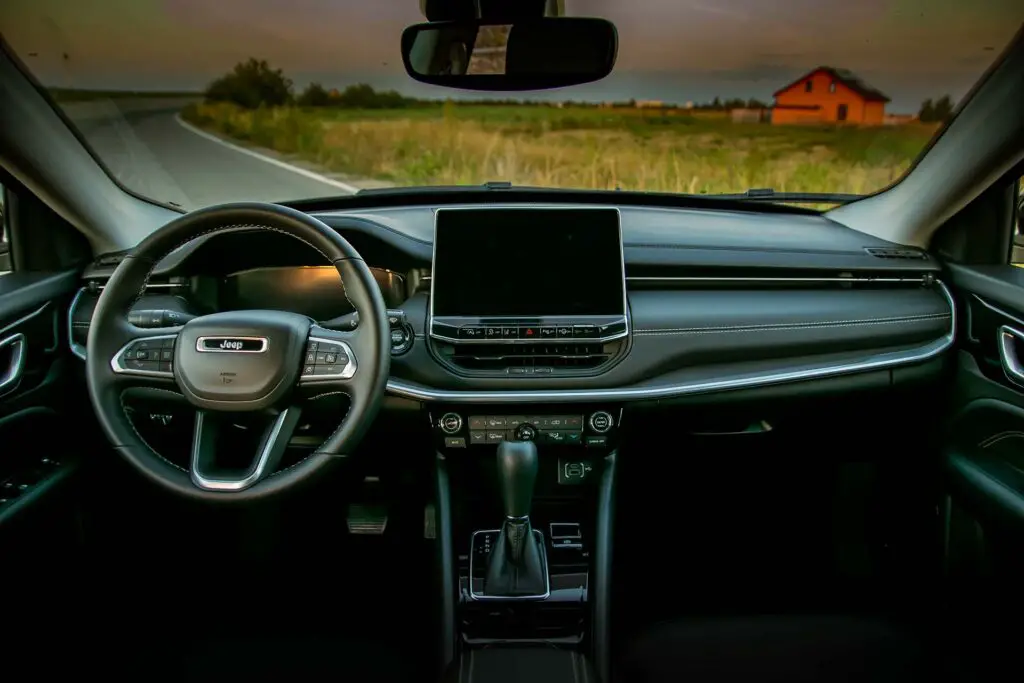 The Infotainment Features Are Comparable but the Jeep Compass Takes a Slight Advantage 
Safety and infotainment features are there to ensure a comfortable ride without any driving anxiety, and that's very important, especially for beginner drivers. Both the Compass and the Rogue come with many standard infotainment features and are comparable in that aspect. However, if you look carefully through the features listed below, you'll realize that the Jeep Compass has a slight advantage in this category. 
The Standard Infotainment Features of a Jeep Compass
The Jeep Compass is equipped with the so-called Uconnect infotainment system, and the touchscreen is pretty user-friendly and fairly straightforward. Here are the standard infotainment features that come with this vehicle:
8.4-inch touchscreen display and an optional 10.1-inch display,
Wireless Apple CarPlay and Android Auto 
Bluetooth,
Three USB ports,
Six-speaker stereo, 
Satellite radio, 
Keyless entry, 
Voice recognition.
The Standard Infotainment Features of a Nissan Rogue 
The Nissan Rogue shares many of the infotainment features with the Jeep Compass, but for some to be available, you have to go up the ladder to higher trim levels. Here are the standard features:
8-inch touchscreen display and an optional 9 or 12.3-inch display, 
Wireless Apple CarPlay and Android Auto, 
Bluetooth, 
Two USB ports, 
Four-speaker stereo,
Satellite radio, 
Keyless entry, 
Amazon Alexa Auto. 
Jeep Compass vs. Nissan Rogue – Comparison of Their Main Specifications
| | | |
| --- | --- | --- |
| Specification | 2023 Jeep Compass | 2023 Nissan Rogue |
| Type of Engine | 2L I4 Turbo | 1.5L I3 Turbo |
| Horsepower | 200 hp at 5,000 rpm | 201 hp at 5,600 rpm |
| Torque | 221 ft/lb at 1,750 rpm | 225 ft/lb at 2,800 rpm |
| Drivetrain | FWD, AWD | FWD, AWD |
| Transmission | Eight-speed automatic | CVT |
| Fuel Economy | 22 city, 31 highway | 30 city, 37 highway |
| MSRP  | $29,995 | $27,360 |
A Detailed Comparison of Different Performance Aspects
Before I start comparing these compact crossover vehicles in terms of power, handling, and fuel economy, it's important to underline one thing – the Nissan Rogue doesn't have a hybrid or a plug-in hybrid (PHEV) version available. Meanwhile, the Jeep Compass has the so-called e-Hybrid, which is somewhere in the middle of a full and a mild hybrid. 
So, let's compare the main performance categories of the fuel-powered versions of these vehicles:
Engine and Power

Both engines come with only one option and are somewhat comparable in the power they generate. The Jeep Compass is equipped with a 2L inkling-4 turbocharged engine that makes about 200 hp. The Nissan Rogue also has a turbocharged engine, but a 1.5L inline-3-cylinder one that generates about 201 hp.
Drivetrain and Handling

Both compact crossovers offer the standard front-wheel drive (FWD) and an optional all-wheel drive (AWD) for higher trim levels, which is a great addition if you plan on getting off the main road once in a while. With the right winter or summer tires installed, and a little bit of skill, these vehicles can handle even the toughest of terrains. 

However, the Jeep Compass does better on those off-road adventures, but its eight-speed automatic transmission can feel stiff at times, especially while cutting corners of a busy city. On the other hand, the Nissan Rogue offers a smoother ride thanks to its continuously variable automatic transmission (CVT).
Fuel Efficiency

While these C-SUVs are pretty comparable in other performance aspects, there is a big gap when it comes to fuel efficiency, and everyone that knows a thing or two about the cost of owning a car knows just how important this is. The Nissan Rogue gets an estimated 30 in the city and 37 on the highway, while the Jeep Compass is quite insufficient, with only 22 in the city and 31 on the highway.
Both Vehicles Got High Scores on Safety and Reliability Tests
While the most important driver's responsibility is to keep everyone safe on the road, it doesn't hurt that you check out the safety ratings of the vehicle you're interested in. Luckily, both of these crossover compact SUVs can boast high safety ratings on tests done by the National Highway Traffic Safety Administration (NHTSA).
Here are some of the safety tech features you get with both the Jeep Compass and the Nissan Rogue: 
Forward-collision warning, 
Forward automatic emergency braking, 
Lane-keep assist,
Lane departure warning, 
Blind spot monitoring, 
Pedestrian detection. 
The Nissan Rogue Is the Cheaper Option for the Standard Trim Level
More often than not, while looking through available options, you'll start wondering – why are car prices so high? However, there's good news – both the Compass and the Rogue are pretty affordable options in the compact SUV category, but Nissan offers a lower starting price of just $27,360 for the base-level trim. The Jeep Compass is only a few thousand dollars more, with an MSRP of $29,995. 
Jeep and Nissan Offer the Same Warranty Coverage Options
When it comes to insurance coverage, you're looking at the same options between the Compass and the Rogue. These vehicles come with a 3-year/36,000-mile limited option and a 5-year/60,000-mile powertrain warranty, whichever comes first. Also, you have complimentary maintenance for the first few years of owning either of these four-wheelers.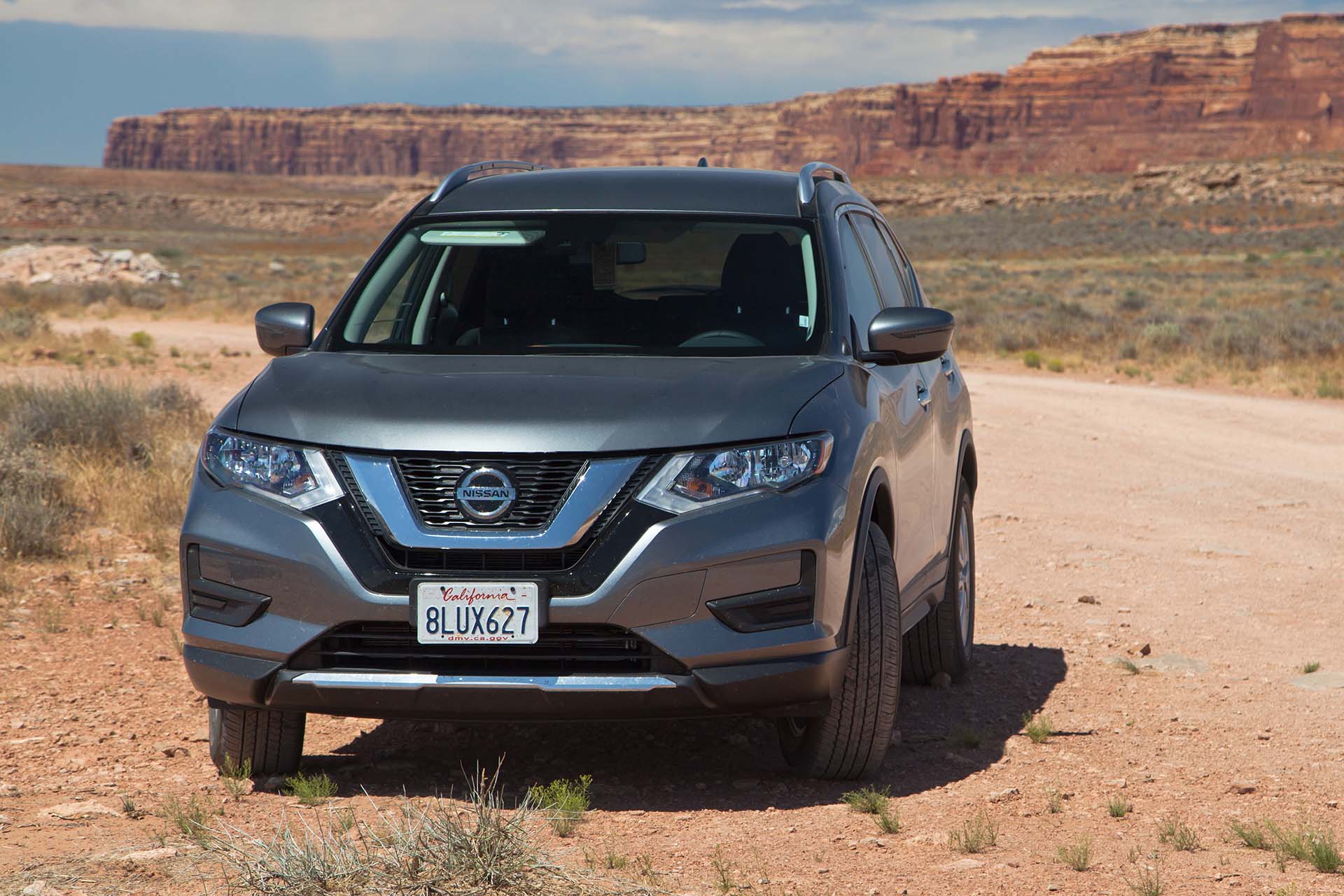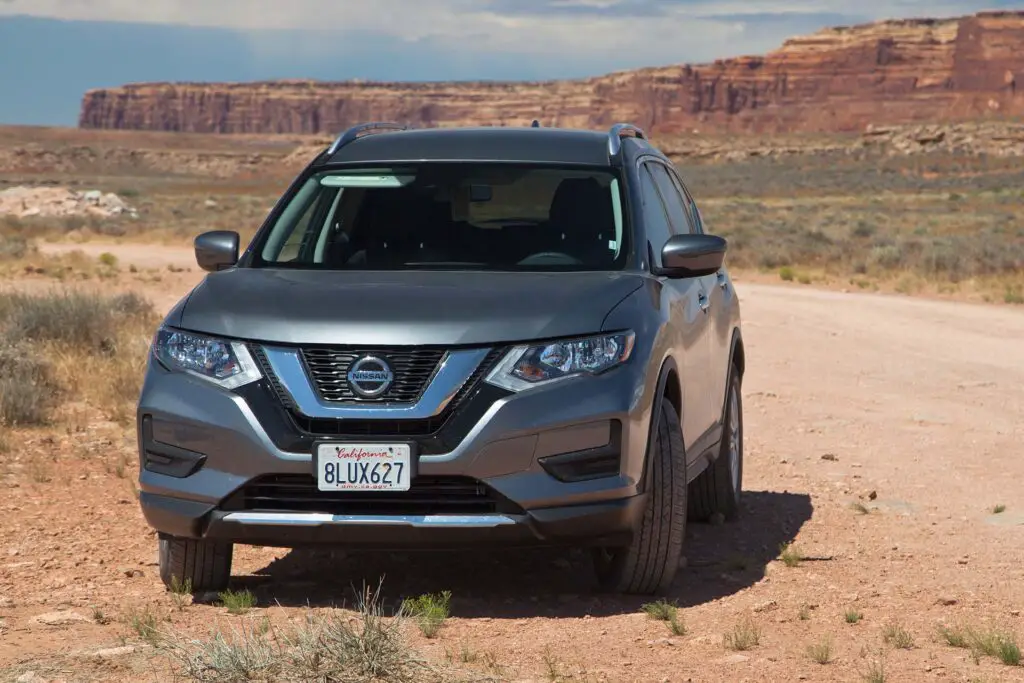 These Vehicles Are Fairly Similar – The Final Decision Comes Down to What You're Specifically Looking For
It's clear by now that these compact crossover SUVs are comparable in most aspects, and that might make the final decision difficult to come to. That's why it's important to go by your specific demands. Are you looking for great off-road capability and a well-equipped infotainment system? Your best choice would be the Jeep Compass. Or maybe you're looking for a big yet affordable vehicle? Then it's the Nissan Rogue. It's up to you to figure out what aspect is the most important. Good luck, and stay safe on (and off) the road!