When talking about the height of luxury, supercars are the first thing that pops into your mind. One-of-a-kind vehicles that scream luxury and power, offering the best performance and the highest attention to detail – those are the most expensive cars in the world. And, being the car enthusiast that I am, these cars are more than enough to make my jaw drop to the floor.
Most Expensive Cars in the World Are a Status Symbol for the Richest
Cars have always been considered a status symbol. From the first time that cars were introduced to the masses, they have been considered a luxury not a lot of people could afford. However, the rules have changed a bit over the years. The average car has become a necessity you can't live without, and supercars were created as a status symbol, completely outside of the realm of possibility for an average person. So far out of reach, so indulgent and extravagant, they are almost like some kind of artwork. 
If you ever get the chance to take one of these bad boys for even a test drive, you will get to experience the feeling of pure luxury you can't find anywhere else, not real estate, not fashion. It's a truly unique and addictive feeling, and what makes it even more lavish is the fact that most people in the world will never get to experience it. That's what makes it so special – the fact that it's available only to the most successful and affluent people in the world. 
Why Do People Want Supercars? Is It the Status or the Quality They Strive For? 
While no one can disagree with the fact that social status plays a big role when it comes to supercars, there is no arguing the fact that their performances and quality are unmatched. Each of these cars has been carefully crafted with the best materials in the world, every detail has been carefully planned and executed to perfection. These cars could take up to a year to build, and they are tailored to your every need, even the ones you didn't know existed. They are truly the best money can buy, but does that justify the crazy high price?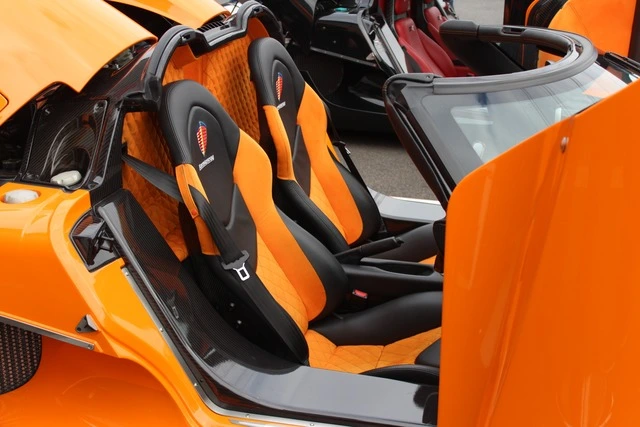 What Is the Difference Between Regular Cars and Supercars?
How good of a car do you actually need? Isn't the sole purpose of the vehicle to take you from point A to point B? Because some of these cars can't even be driven in city streets, not to mention off-road driving. So besides the drastic difference in the price point, why are high-end cars superior to regular ones? When it comes to high-end fashion, you're usually just paying for the markup in the price because of the brand name, is that the case here as well? 
The Difference in Performance

There is a reason people tell you that driving a luxury car feels like driving a spaceship in comparison to a regular car. It's not just showing off, the difference between the two is drastic, and not just when it comes to the price point, but mainly when it comes to performance. Luxury or high-end cars are heavier, quieter, and much more powerful. They are all about comfort, so every vehicle has massage seats, air suspension to make your drive even smoother, leather chairs instead of back seats, built-in fridges to hold your champagne, or even umbrellas built into the car doors. They truly think of everything. 

Not only are luxury cars faster and can get to crazy speeds in a matter of seconds – they are also built with special features regular car owners can't even comprehend. The most basic example I could give you is that some cars can drive without your assistance or create a custom seat memory for different drivers. They have exceptional motors that are often hand-built, and they have insane power. Supercars are even made with special, lighter materials such as carbon fiber or aircraft-grade aluminum, all in order to be quicker and better for driving. Some cars even have special tires custom-made exactly for that vehicle (Bugatti is known for this method).
High-End Cars Have a Nicer Interior

Besides the superiority when it comes to performance, high-end cars also take the lead when it comes to their looks, both the interior and exterior. The interior is filled with extraordinary details and every luxury your heart could desire, from the finest leather and materials to 38-inch TVs. While the interior is breathtaking, the exterior of these cars is what matters. They are built with only two things in mind – speed and power, and they should look it. They have the best designs in the world, and once again, the attention to detail is immaculate. Rolls Royce even has a man that hand paints a line on the door. That is his only job, and he is the only person in the world that does it.
More Expensive Cars Are Safer

Luxury vehicles are by far much safer than regular, commercial cars. And that's not only because they're made with higher quality materials that are tougher and stronger and made to last. More expensive cars have a bunch of driving systems that are there to make your drive safer and easier, such as:

Lane keep assist,
Autopilot,
Auto braking,
Night vision,
Auto lights, and so on.
Less Than 1% of the World's Population Can Own Supercars
These vehicles are so decadent, so far out of reach to a regular citizen, that less than 1% of the entire population of the world will get the chance to sit behind the wheel of one of these supercars. That's what I mean when I say that these materialistic items give you power and confidence – even the most humble person in the world would feel like they're better than others in one of these. So here is the list of the top 10 most expensive cars in the world, without focusing on the auctioned ones:
Rolls-Royce Boat Tail – 28 million,
Bugatti La Voiture Noire – 18,5 million,
Bugatti Centodieci – 9 million,
Pagani Huayora Imola – 5,4 million,
Bugatti Divo – 4,9 million,
Koenigsegg CCXR Trevita – 4,8 million,
Bugatti Bolide – 4 million,
Pagani Huayra Roadster BC – 3,7 million,
Aston Martin Valkyrie AMR Pro – 3,5 million,
Lamborghini Sian Roadster – 3,2 million euros.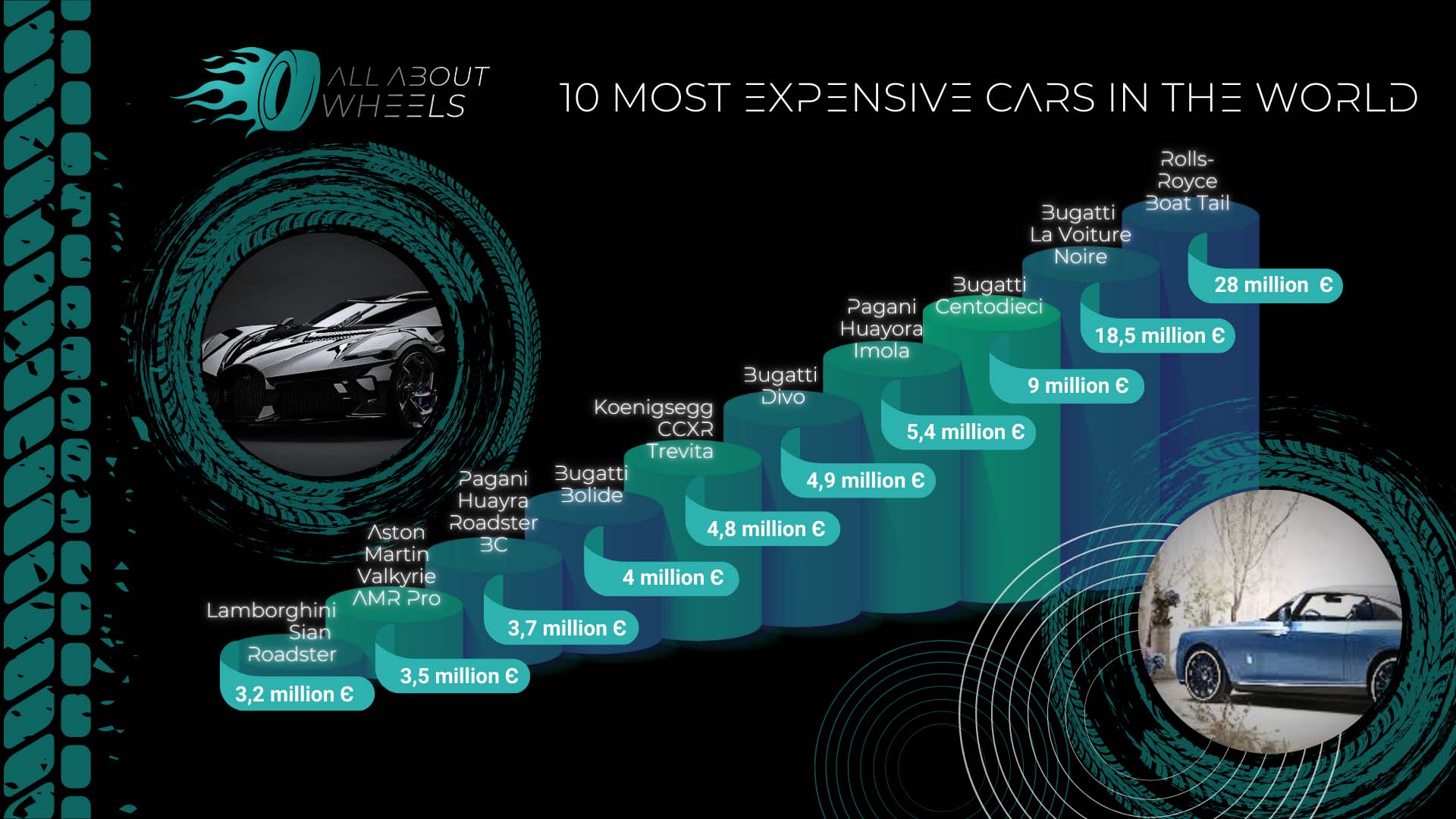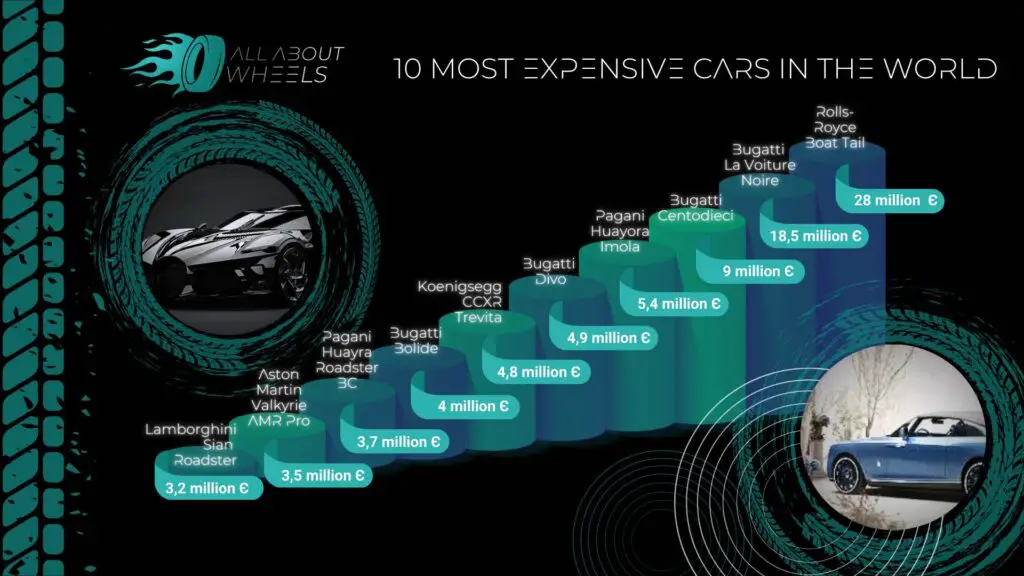 #1 Rolls-Royce Boat Tail Is the Most Expensive Car in the World
The definite winner in my books is the Rolls-Royce Boat Tail. The car is valued at around 28 million euros. While the price is steep, to say the least, this vehicle is breathtaking. But I wouldn't be able to afford a tail light for this car in this lifetime. Perhaps I could afford a windshield wiper at some point. But for now, I use Rain-X 810165 Latitude 2-In-1 Water Repellent Wiper Blades. Anyways, the car was designed under the influence of yachts from the early 1920s, and the inspiration behind the exterior is more than obvious.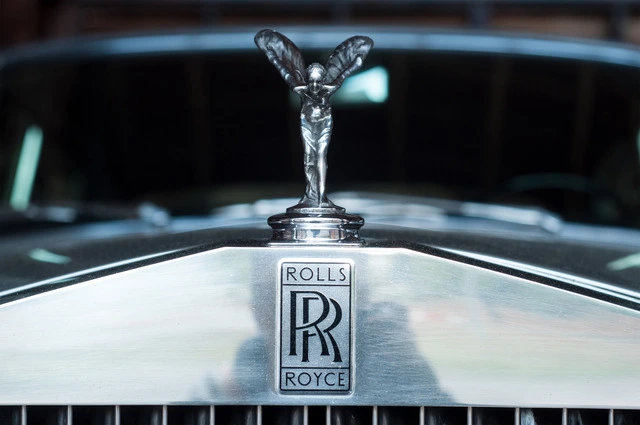 #2 Bugatti La Voiture Noire 
You will notice that Bugatti is a pretty frequent name on this list. La Voiture Noire is a prime example of the luxury Bugatti offers. The vehicle is priced at around 18,5 million euros, but once you take a look at this magnificent vehicle, you will say it's a steal. La Voiture Noire reaches a top speed of 261 miles per hour, and if that piece of information alone didn't give you an adrenaline rush, this baby goes from 0 to 60 in 2.5 seconds.
This vehicle is one of the longer ones Bugatti has ever come out with, and it's more of a grand tourer. The only word that can be used to describe the exterior and interior of the second most expensive car in the world is – sexy.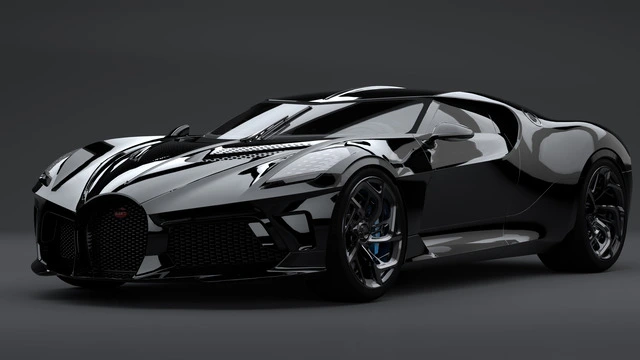 #3 Bugatti Centodieci
The Bugatti Centodieci is priced at 9 million euros, which is half the price of their La Voiture Noire model. Only ten units of this model were ever made in the entire world, and Cristiano Ronaldo owns one of them. Centodieci was a result of the celebration of 110 years of the brand. As expected of Bugatti, this car has incredible performance and speed, it's aggressive, and its engine is very similar to Bugatti's model Chiron.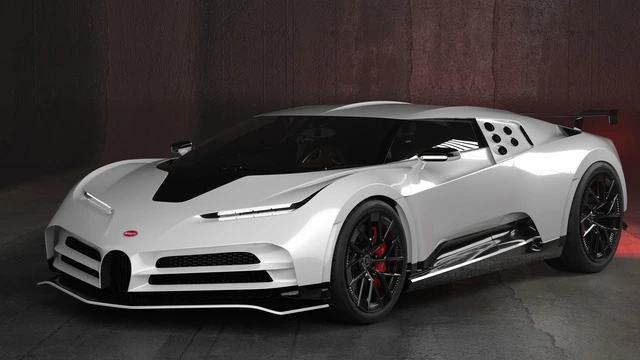 #4 Pagani Huayra Imola
I have to say that I was a little embarrassed that I only found out about the existence of Pagani today. That's mostly because the brand is so luxurious and so far out of reach that I had never got an opportunity to hear about it. I am certain only car enthusiasts, and very rich people know about it.
Nevertheless, what I can be sure of is the fact that I will never forget the name Pagani since their vehicle Huayra Imola has made the fourth spot on the list, coming in at a whopping 5,4 million euros. The production was limited to only five cars, making it extremely valuable, exclusive, and rare. It has 827 horsepower and a twin-turbo 6.0-liter V12 engine developed by Mercedes-AMG, especially for Pagani.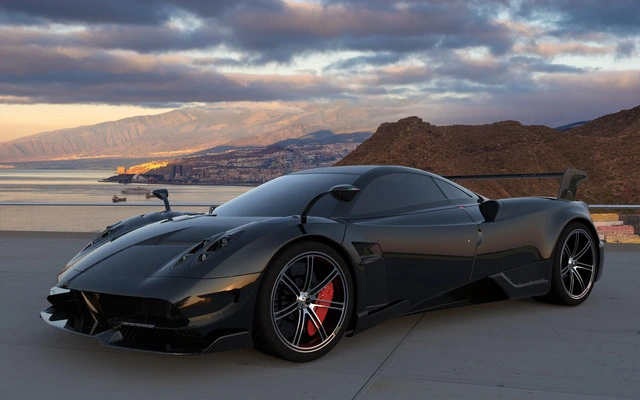 #5 Bugatti Divo
This car is special in every way, starting off with the fact that it was named after Albert Divo, a racer from France that won the Targa Florio race in the 1920s, not just once, but twice for Bugatti. That inspired Bugatti to make the most dynamic and agile car they've ever created, according to the company itself. Divo tops out at 236 miles per hour. The car was produced in 40 units, and all of them were sold out on the first day of its release, costing 4,9 million euros.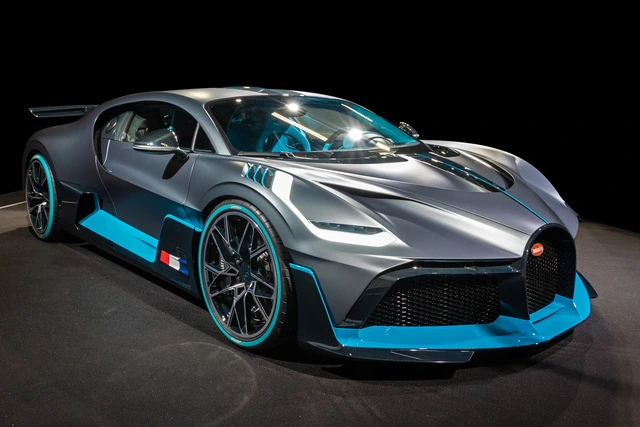 #6 Koenigsegg CCXR Trevita
As the case with Pagani shows, I'm not exactly a true connoisseur of this level of cars. So, it may not be a big surprise that I had never heard before of the brand Koenigsegg, either, until they made the sixth place on the list with their CCXR Trevita, which costs a mere 4,8 million euros.
The manufacturing process of this vehicle was so expensive that Koenigsegg only made two of them. The reason why it was so expensive to make is because of all the added features, such as a tire monitoring system, carbon ceramic brakes, a diamond weave carbon fiber finish, and so many more.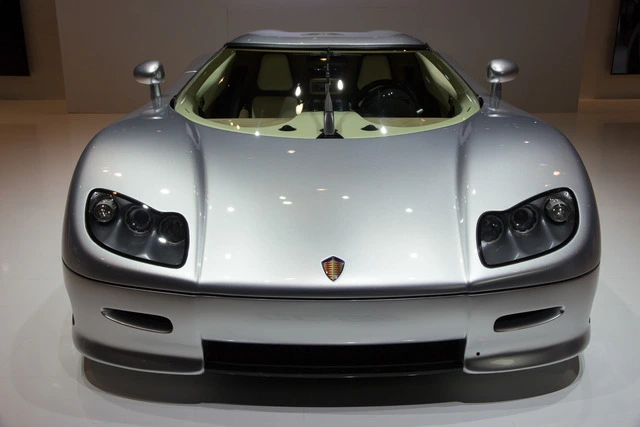 #7 Bugatti Bolide
Once again, Bugatti made the list with their Bolide, priced at around 4 million euros. Only 40 of these vehicles were made, but the only drawback to this vehicle is that it's the only one on the list that is a track-only model and can't be driven on the road. And simply by taking one look at the car, you will see it was made to be fast, not to be driven every day to work.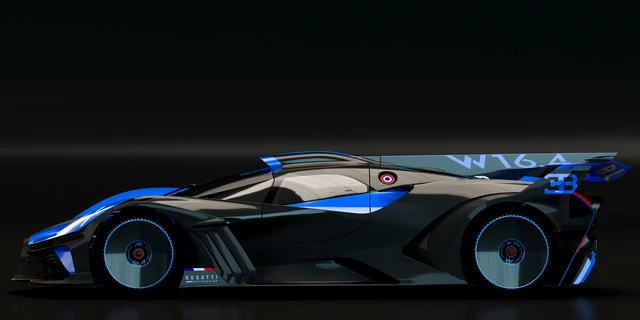 #8 Pagani Huayra Roadster BC
The Pagani Huayra Roadster BC is an upgrade to the regular Pagani Huayra that was priced at only 800,000 euros. This car is now worth around 3,7 million euros, and 40 of them were made.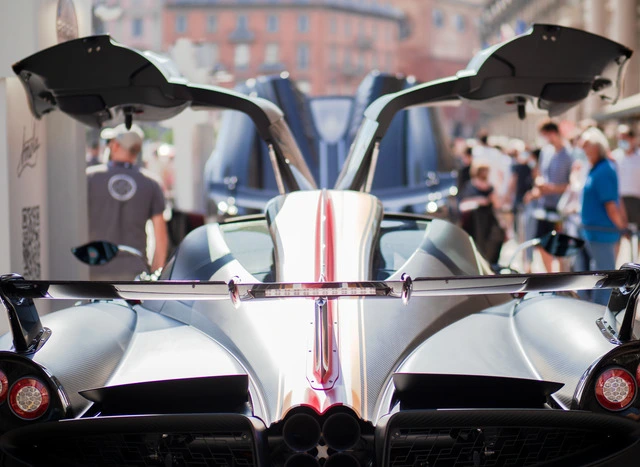 #9 Aston Martin Valkyrie AMR Pro
What's a car list without Aston Martin in it, right? The Valkyrie AMR Pro was valued at 3,5 million euros, making this the most expensive car Aston Martin has made. The top speed is 225 miles per hour, and 75 items were produced. This car is an upgrade from the F-1-inspired regular Valkyrie.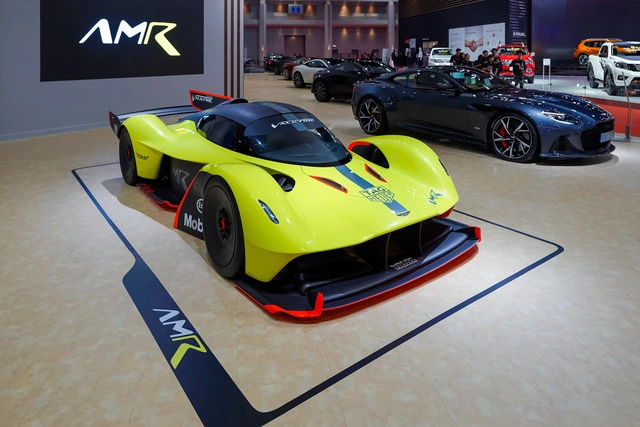 #10 Lamborghini Sian Roadster
The cheapest car on this list is worth 3,2 million euros, and the spot belongs to none other than Lamborghini's Sian Roadster. Only 63 were made, and they have all been sold. The top speed is 219 mph, and it's one of the fastest and most expensive Lambos out there, all the while being a hybrid.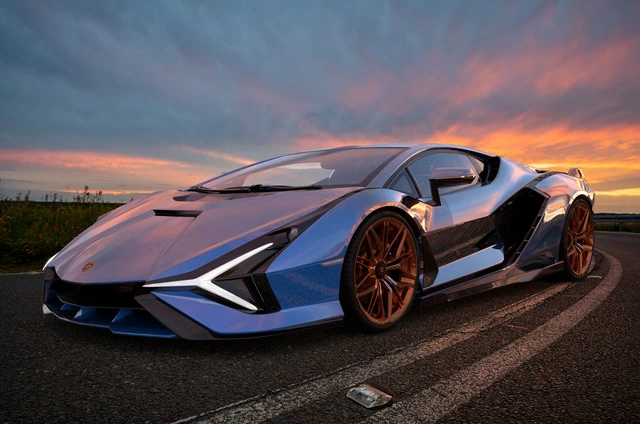 Love Them or Hate Them – They Are Truly the Best of the Best
Whether you're a fanatic or think these supercars are flashy and unnecessary, there is no denying that these cars are unique masterpieces. Most parts of these vehicles are hand-crafted with the finest attention to detail. They are made to be a power symbol, and there is nothing wrong with that.