Nowadays, there are numerous different vehicles, and whether for functionality or design, there are models that will be better suited to each and every person. Women especially seek practicality without sacrificing aesthetics. This being said, check some of the best cars for women and pick the most suitable one. After all, each and every female driver has a type of car they like, it doesn't matter if you're looking for a more adventurous model or not.
Did you know that according to the latest studies, women are safer drivers – there are fewer over-speedings and hard brakings among females. However, this doesn't mean you shouldn't drive only the safest, most comfortable, and most reliable car, even the one for off-road driving. Quite the contrary! Don't settle for less than the greatest deal behind the wheel. Consider all of your preferences and possibilities (lifestyle, budget, needs) and choose the model that will provide you with everything. If you don't know where to start, keep reading and check some of the greatest choices you should definitely take into account.
What to Keep in Mind When Getting a New Car
As you could already assume, choosing the most suitable car won't be as simple as learning, for example, how to clean seat belts or even add brake fluid. But these things (and many others, like learning to change a flat tire and how to change a tail light) you get to do only after you get a new vehicle. 
So, what do you need to consider when getting a car since there's no unique formula or test you can take that will tell you which model is absolutely right? One thing is sure, comfort, reliability, and safety are the most important factors to keep in mind when picking a four-wheeler. 
These factors, on the other hand, vary and naturally are different for each person since we all have different lifestyles and needs. That's how for some, the cost of the car is the crucial factor, while for others, that's the spaciousness, and for some, the most important things are additional features a car has. 
Here are some other things you should check when purchasing a four-wheeler. 
Before shortlisting your options, conduct extensive research. 
Choose a vehicle that will absolutely meet your needs and make the final choice according to your style of living. 
Prioritize some of the features you would prefer to have in a car.  
Keep in mind the budget for buying and maintaining when opting to get a car.
Buying vehicles can be both exciting and overwhelming. The excitement of sitting in a four-wheeler that suits you completely combats with the fear you'll make a wrong pick surely is something you want to talk about. So, let's check the top five vehicles you need to explore.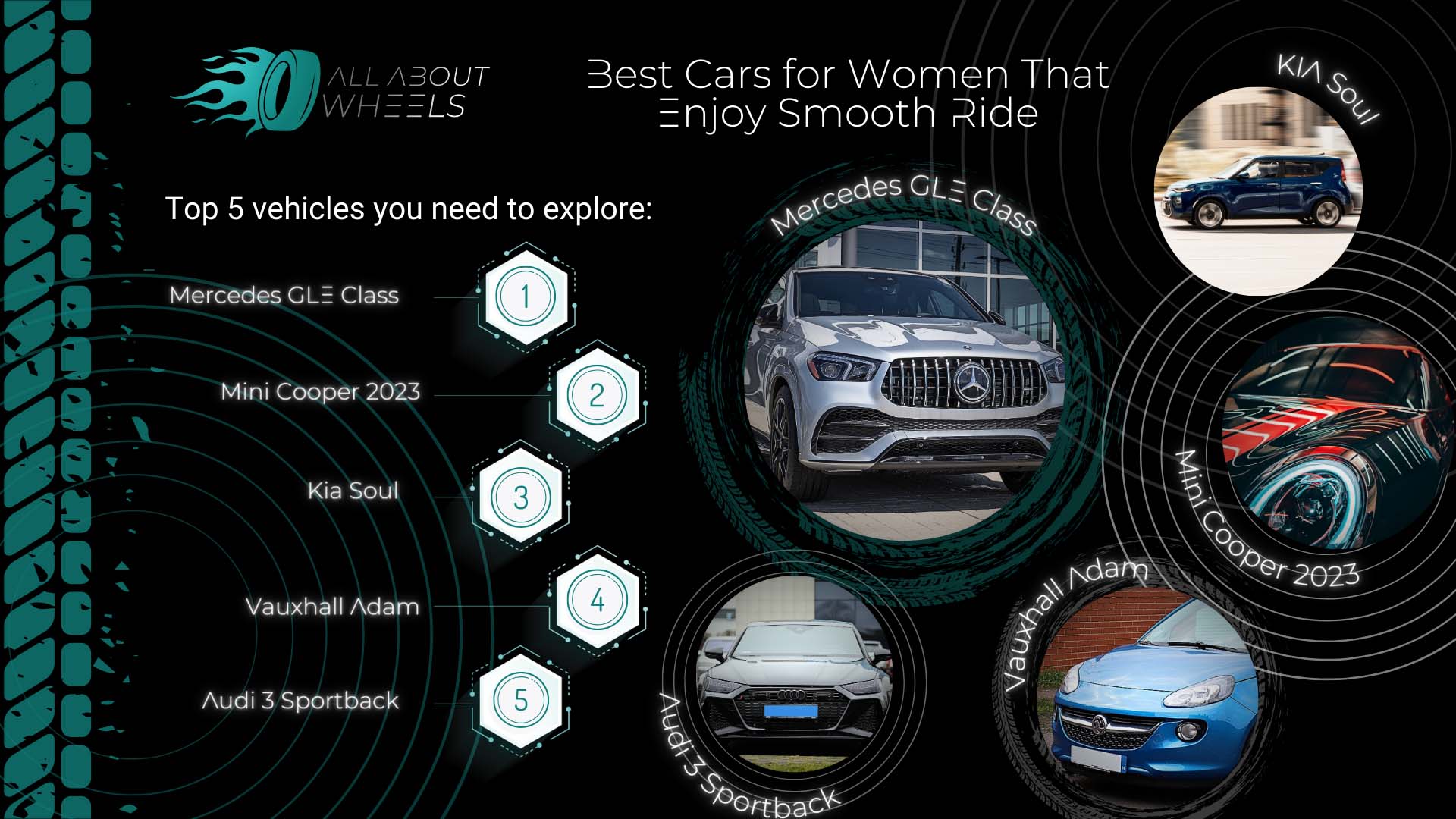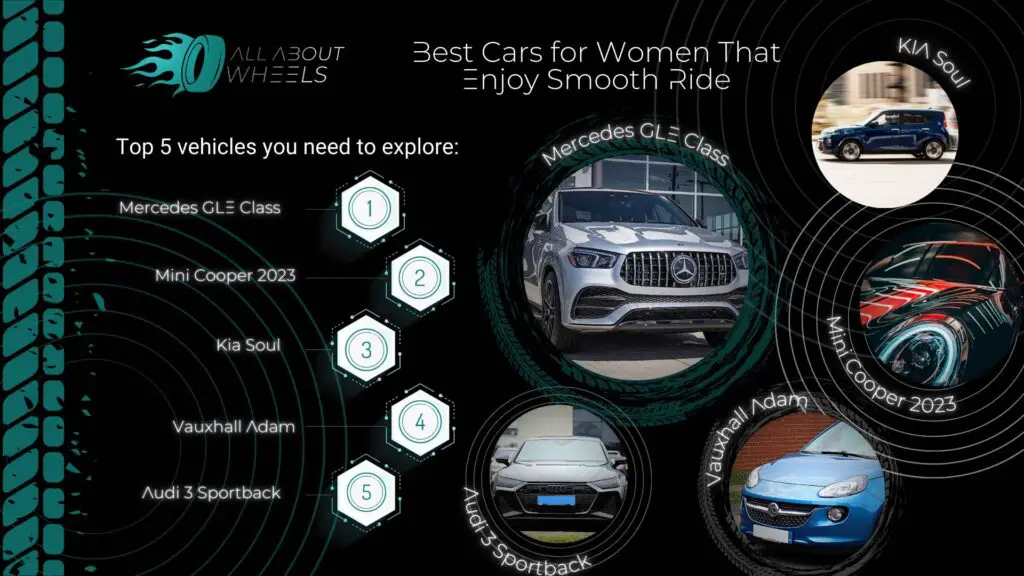 Mercedes GLE Class Is One of the Best Luxury Cars for Women
Did you know that in 2021 the most compact luxury four-wheelers were purchased by women? So, no wonder why I'll write about Mercedes-Benz's GLE class. This model is a luxury SUV with impressive features. It has wide rear shoulders and a bright shiny front bumper. 
However, one of the things surely worth mentioning is spaciousness. In fact, with this model, you can add an extra third row and make it a seven-seating vehicle. 
Besides, it's great for families and road trips, you have to admire the sleek and sophisticated interior. Also, the ultimate Mercedes-Benz User Experience (MBUX) is guaranteed with muscular powertrain options, and the tech features are plenty, such as
Natural language recognition, 
The pleasant flow of fragrance,
Traffic jam detection.
Pros and Cons of Mercedes GLE Class
The latest model from 2022 comes with high-beam headlamps that are automatic. Not only will this ease driving, but it could help you overcome driving stress, too. Also, the two interior upholstery are added as an option. But, before you get to some practical stuff, like replacing U-joints, let's check some of the pros and cons of this vehicle in the table below before purchasing it
| | |
| --- | --- |
| Pros  | Cons |
| Potent inline-six engine | Tight third row |
| Base inline-four engine | Jarring Eco Start/Stop feature |
| Good for Off-road driving | Not the most efficient fuel economy |
| Optional air suspension | Long-term reliability is questionable |
| Stylish exterior design | More expensive than some other models  |
| Standard parking aids | |
| Driver Assistance Package Plus | |
Consider all the pros and cons and features this amazing model has and decide whether it's for you.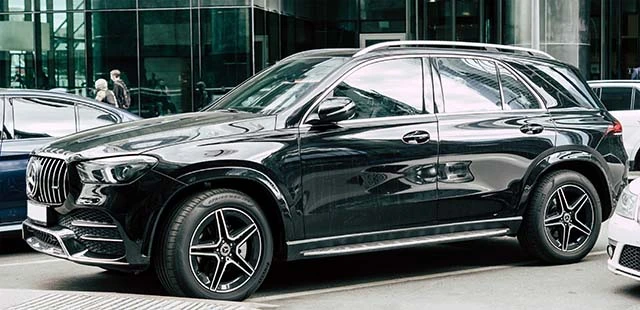 2023 Mini Cooper Is One of the Best Cars for Single Women on Market
Being a compact car, Mini Cooper became a favorite one among single female drivers. But, in this case, being compact doesn't mean it can't be adapted for driving the whole family. However, without a doubt, it's perfect for urban environments without sacrificing comfort. 
After you learn all the details about this car and figure out how to disable vehicle GPS tracking or learn how to test the fuel pressure regulator, consider other factors the 2023 Mini Cooper has. The absolutely attractive look surely is something that will catch your eye. But don't think this car can't provide you with the practicality of everyday driving. 
Pros and Cons of the 2023 Mini Cooper
If you're looking for a lightweight, small, and front-drive vehicle, the 2023 Mini Cooper definitely will be worth your attention. The 2023 Mini Cooper thrills with its eager engine performance and lively handling. Check other pros, but also some cons this car has. 
| | |
| --- | --- |
| Pros  | Cons |
| Zippy engines lined up | Firm ride |
| Upscale interior | Cramped rear seats |
| Surefooted handling | A bit pricier than other vehicles |
| The touch screen is easy to use | |
A charmingly quirky interior without much spaciousness surely is something you need to consider when it comes to buying a car such as a 2023 Mini Cooper. Put on paper all of your needs and the car's features and make the final decision.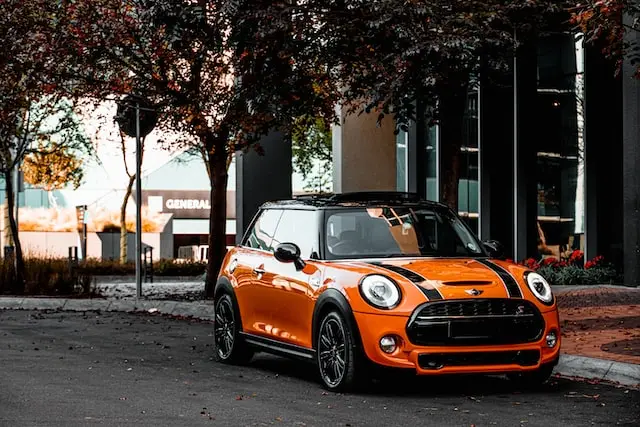 Check Why Kia Soul Hatchback Is Among Some of the Best Cars for Short Women
Shorter folks frequently experience difficulties using commonplace items. You might be accustomed to using a stool to access your cabinet or having each pair of clothes you acquire tailored. However, you shouldn't accept anything less than perfection when it comes to your car.
Kia Soul definitely is the model to consider because it has premium interior elements. Although its cabin feels spacious, it's adequate for short women, too. 
Overview of All Kia Soul's Pros and Cons
Kia Soul represents a four-wheeler with bold features, confidence-inspiring tech, and a new exterior design. However, let's check some of the pros and cons of this vehicle.
| | |
| --- | --- |
| Pros  | Cons  |
| High-tech cabin | Rear seats can't be folded flat  |
| Sporty accents | Lackluster performance |
| Premium interior elements | It's not upscale enough  |
| Available two types of engine  | Missing all-wheel drive feature |
| Good mileage | |
| Cabin feels spacious | |
| Quality safety components | |
| Distinct appearance | |
Kia Soul could fit all driving occasions without worrying about reliability.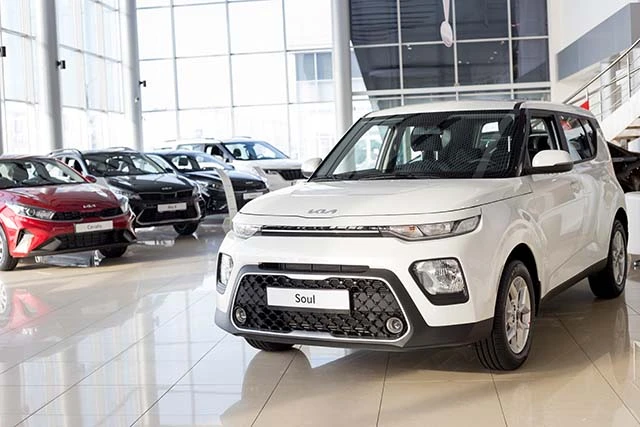 Vauxhall Adam Is One of the Best Cars for Young Women
In an effort to capitalize on the craze for stylish, frequently retro-inspired compact vehicles, Vauxhall created the Adam. Not only they manufactured vehicles for everyday city driving, especially if you're a beginner. It's compact, and your driving will be smooth. Don't forget that driving a smaller vehicle means much less effort when it comes to maintenance, and use an automatic car wash, too.
Pros and Cons of Vauxhall Adam
While Vauxhall competes in the small car market's entry-level segment with other brands, Adam targets customers who are more concerned with fashion. Adam's unusual aesthetics and a large range of customization choices are intended to draw customers.
Although the small size is attractive from the exterior and has clear advantages for driving around town, the compact dimensions are noticeable inside. While there is plenty of space up front, passengers will find it to be a rather tight fit in the back.
| | |
| --- | --- |
| Pros  | Cons |
| Strong interior quality | Lack of many repair kits for a pretty high price |
| Well built | Lack of boot and interior space |
| Possibility for many customizations, which means each car can be different | It can be a bit slow  |
| Smooth and quiet petrol engines | Sometimes the ride is rather uncomfortable |
| Stylish looks | |
If you're looking for a well-built and strong interior quality small city car, Vauxhall Adam surely is the model you should go for.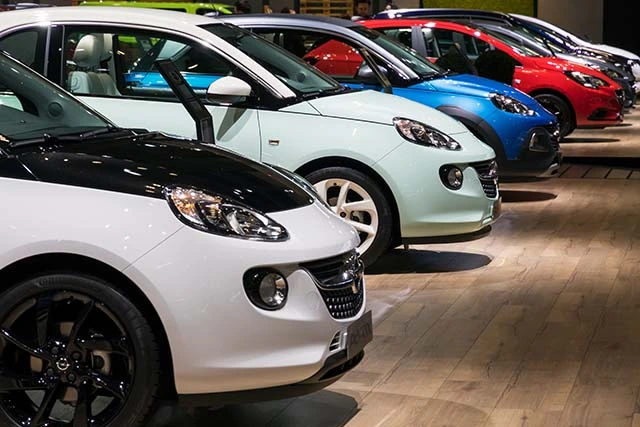 Audi 3 Sportback Could Be Among the Best Cars for Women in Their 30S
It doesn't matter whether you've owned many vehicles in your life, it's always a challenging process when it comes to picking a new one. However, when it comes to Audi A3 Sportback, you'll have an amazing blend of practicality and performance. 
The best thing about this four-wheeler is that it can be suitable for every phase of your life. It's a five-door hatchback that is sporty enough when you're all into replacing a valve stem on your own and replacing flat tires, yet it can be large enough if you're planning to have a family. 
Check the Pros and Cons of the Audi 3 Sportback
Checking all the pros and cons surely can give you the right answer whether an Audi A3 is or isn't a good vehicle. In 2022 the brand brought back this model with redesigned looks and a proven compact sports sedan. 
| | |
| --- | --- |
| Pros  | Cons |
| Plenty of standard features | Not so much rear legroom |
| Infotainment technology is easy to use | Limited cargo storage |
| Energetic and quick engine acceleration  | A cheap-feeling interior |
| Optional add-on for upgrading sport suspension | Disappointing downshifts |
| | A stiffer ride because of the sport-tuned suspension |
Audi is well-known for producing capable and fun-driving vehicles. When it comes to the 2022 Audi A3 has numerous tech features that make drivers safe and happy while driving.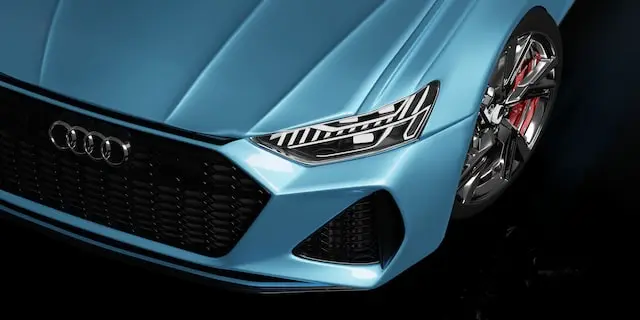 Check Other Notable Vehicles for Females
You've checked the top five models I went over. But, as you can imagine, it surely isn't the final list of four-wheelers you should consider purchasing. So, here are some more models worth your attention. 
| | | | | |
| --- | --- | --- | --- | --- |
| | Mazda CX3  | Nissan Versa | Chevrolet Spark | Porsche Cayenne |
| Features  | The infotainment system is user-friendly, with elegant interiors, and safety features like night pedestrian detection | Automatic climate control, digital screen, remote start, and hands-free entry | Automatic emergency braking, automatic crash response, forward collision alert, lane departure warning, rear park assists | The higher driving position, comfort, and safety |
| Engine  | 2.0 L Skyactiv-G PE-VPS I4 | 1.6-liter 4-cylinder engine | 1.4-liter four-cylinder | The 3.0-liter turbocharged V-6 engine |
| Eco-friendly | Yes | Yes | Yes | Yes |
| Price range  | $23,190 to $39,490 | $15,180 to $18,590  | $13,600 to $17,000  | $72,200 to $188,700 |
Have One of the Best Cars for Women and Drive Like a Pro
There are many models to choose from if you want a vehicle that will offer you comfort and security. In fact, the market has numerous options, and it's completely understandable if you just can't decide what is the best one. That's why I listed some of the greatest options for women and helped you narrow down your options.