People customize their cars to stand out, but it's not just about changing the exterior. The same results can be achieved by customizing the interior. Combining form, function, and style isn't always easy but can often be done with car floor mats. Read more about the best car floor mats on the market.
What Are the Best Car Floor Mats For You?
Believing that choosing suitable car floor mats is less relevant than fixing deep scratches on your doors or learning how to replace tires is common, although it doesn't make much sense. If you want a safe and functional car, you'll do whatever it takes to have it.
The best car floor mats for you will depend on your budget, style, and preference. Technically, rubber mats are the best for every car, but someone may dislike the material or appearance of rubber in their four-wheelers.
Others may want something like carpeting but worry it might cost them too much or require a lot of work if the mats aren't custom-made for a specific vehicle. Whichever type of mat you choose, be sure it fits the car and can sustain weather and dirt.
I dove deep into the best possible car floor mats, and the choices were vast. Still, I managed to narrow it down to the three best mats. They are:
The best overall: Armor All All-Season Mats,
The most stylish: Motor Trend FlexTough,
The most affordable: OxGord Luxe.
The Best Overall: ArmorAll All-Season Car Floor Mats
The ArmorAll All-Season four-piece set of rubber floor mats is the best. You can take the car to a car wash, rinse them with water, and welcome people with any footwear inside. They're also pretty stylish and easy on the eyes, fitting most luxury or luxury-looking cars.
They're all-weather mats, meaning you don't have to worry about changing them during the seasons. They have deep trays holding water, mud, and snow, keeping it inside. Additionally, they're adapted for extreme temperatures and won't curl up or smell when it's too hot or freeze when too cold.
For four floor mats of superb quality, the price is justified. This set runs on Amazon a little less than on other car equipment websites, making it even more affordable on the massive retailer. If you have discounts or coupons for Amazon, you may reduce the cost even more.
Specifications and Key Features
Here are the specifications and key features of the ArmorAll All Season floor mats.
| | |
| --- | --- |
| Front pair dimensions (L x W) | 27 inches x 19 inches |
| Rear pair dimensions (L x W) | 12.5 inches x 15.25 inches |
| Material | Rubber polymer (all-weather) |
| Features | Trim-to-fit options, adaptable to extreme temperatures, fit for all seasons, anti-slip carpet claw |
| Price | $32.99 (Amazon) |
Pros and Cons of Armor All Car Floor Mats
As any product, ArmorAll's car floor mats have some benefits and disadvantages. The benefits include:
Fit for all types of weather and temperatures,
Made from rubber polymer that cleans quickly,
Includes an anti-slip carpet claw,
Is fairly affordable.
The disadvantages are few but include:
Not custom-fit for cars – you must trim it,
Bulky (may overtake the space in your car and look out of place at first).
Customer Reviews of ArmorAll All-Season Mats
Many customers were satisfied with the ArmorAll car floor mats. They have a 4.5/5 rating on Amazon, and people were really happy with the fit. Despite having to trim the mats, users found it effortless and quick.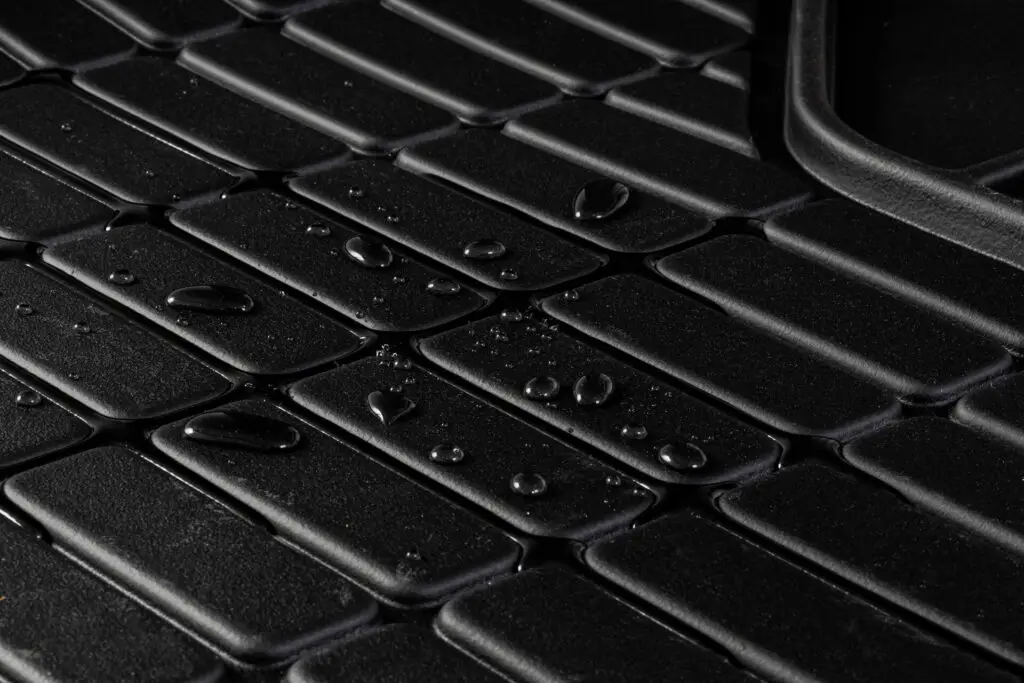 Most Stylish: Motor Trend FlexTough Car Floor Mats
Motor Trend's FlexTough car floor mats belong in the best cars for women and men who enjoy being classy. Yes, they're rubber polymer, all-weather mats, but they come in various colors and don't have deep ridges like the ArmorAll ones.
If I saw these in someone's car, I'd praise their taste and admire that they like to keep the vehicle clean. Because rubber mats are effortless to clean and maintain, they'll stay looking sharp for a long time.
The best part is the FlexTough mats are made from odorless EVA rubber. This type of rubber is used on the soles of ergonomic sandals, absorbing shock and bad smells. Sleek, neat, and convenient.
Specifications and Key Features
Like ArmorAll mats, here are the specifications and key features of Motor Trend's FlexTough car floor mats.
| | |
| --- | --- |
| Front pair dimensions (L x W) | 30 inches x 21.5 inches (before installation) |
| Rear pair dimensions (L x W) | 58 inches x 18 inches (before installation) |
| Material | Rubber polymer (all-weather) |
| Features | Trim-to-fit, adaptable to extreme temperatures, made from EVA rubber, anti-slip nibs on the bottom, ergonomic grooves on top, odorless, various colors |
| Price | $34.90 (Amazon) |
Pros and Cons of Motor Trend Car Floor Mats
The Motor Trend FlexTough mats also have pros and cons, with the pros being:
Made to last in any weather and temperature,
Rubber polymer mats from EVA rubber,
Anti-slip on the bottom and ergonomic on the top,
Comes in various beautiful and stylish colors, 
Inexpensive.
On the other hand, there are some cons to these, including
Must be trimmed before installing,
Not all colors have the EVA rubber,
Hard to cut, according to customer reviews.
Customer Reviews
Although the FlexTough mats have a 4.3/5 rating on Amazon, many people found them too tough to trim. They complained about hard rubber, while others also mentioned a bad smell from the mats.
Note that this could be due to shipping quality and a specific batch. Folks who complained about this are rare and, generally, more users are satisfied with the product.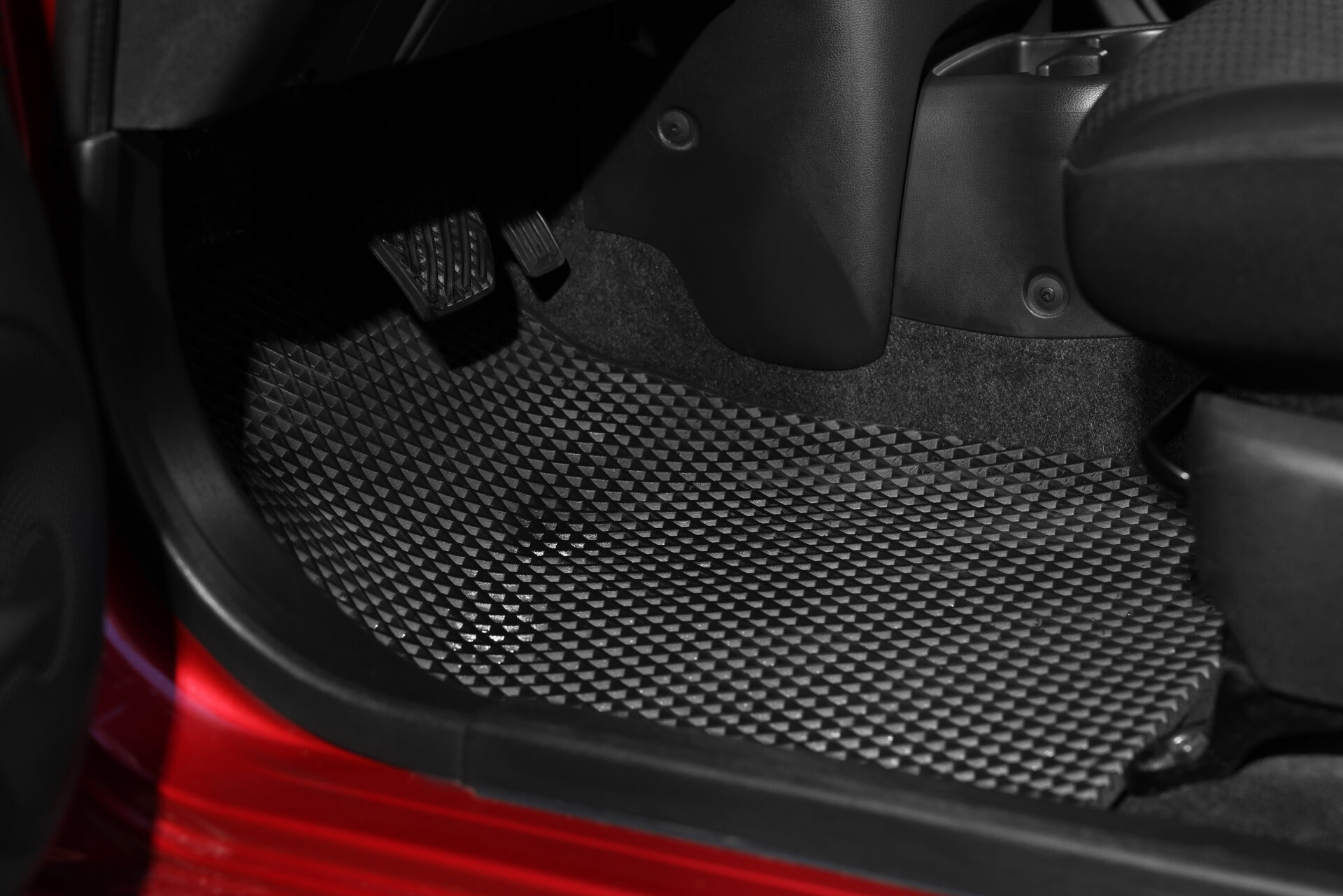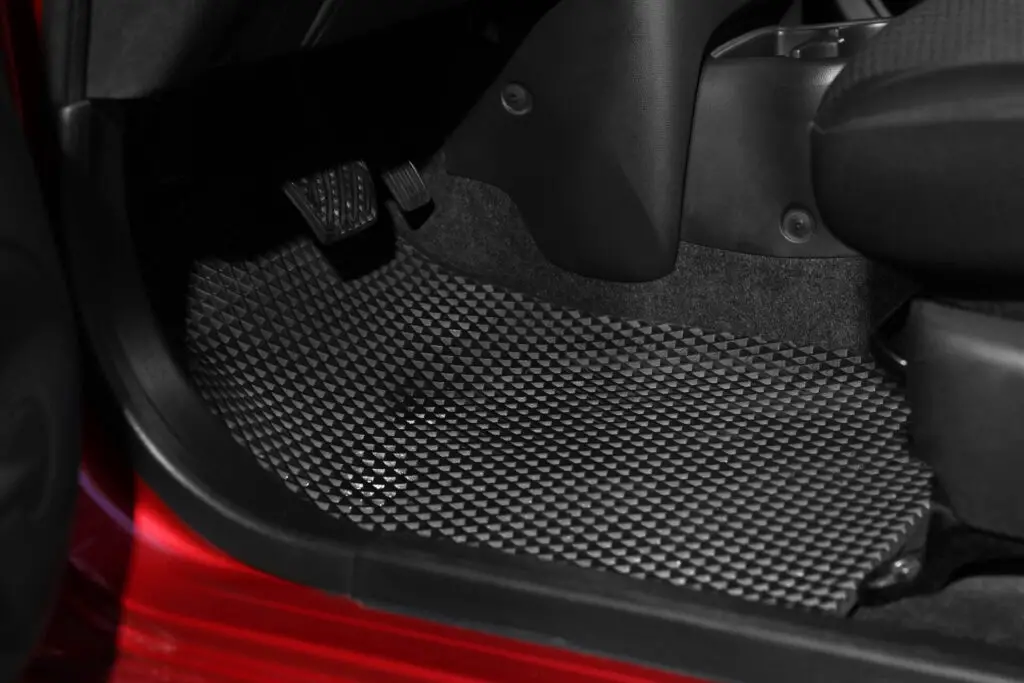 The Most Affordable: OxGord Luxe Car Floor Mats
Even the most popular import cars need an affordable car floor mat. Whether you drive something fancy or plain, a decently priced but high-quality mat can make you enjoy your four-wheeler a lot more.
The OxGord carpet floor mats are stylish, lightweight, and luxurious, all for cheap. They are carpeting, so cleaning them requires more effort than rubber mats. But when you clean the OxGord mats, they'll elevate your car's look and feel by several notches.
Despite being carpet material, according to the manufacturer, they're easy to clean. They have rubber spikes on the bottom to prevent slipping, are made from plush polypropylene carpeting, and dampen the noise inside the car.
Specifications and Key Features
The OxGord Luxe carpet floor mats have specifications and key features to make any shopper interested.
| | |
| --- | --- |
| Front pair dimensions (L x W) | 26.5 inches x 17.5 inches |
| Rear pair dimensions (L x W) | 13 inches x 17.25 inches |
| Material | Plush needle punch polypropylene carpet |
| Features | Universal fit, stain resistant, easy to clean, fit for all seasons, anti-slip rubber bottom, variety of colors and prints |
| Price | Currently unavailable on Amazon, but runs for $17.98 generally |
Pros and Cons of OxGord Luxe Car Floor Mats
Don't be disappointed that the OxGord mats are carpeted; they have many pros that benefit them, like:
Made from high-quality resistant carpet, including reinforced seams,
Easy to clean and durable in any environment,
Rubber bottom with nibs for a firm grip,
Highly affordable,
Comes in various prints and colors,
No need to trim.
The negative sides can impact your choice, but hopefully not so much:
Has an initial factory smell (that wears off quickly but could make someone uncomfortable)
Since it's not trimmable, it could run small in some car models,
Currently not available on Amazon.
Customer Reviews
People are more than pleased with the OxGord Luxe floor mats. They mentioned the ease of use, meaning they didn't need to trim or shorten anything, and were particularly happy with the colors, which fit and elevated their interiors. Interestingly, no one mentioned quality to price ratio – meaning that, for such a low cost, you get durable and pretty awesome mats.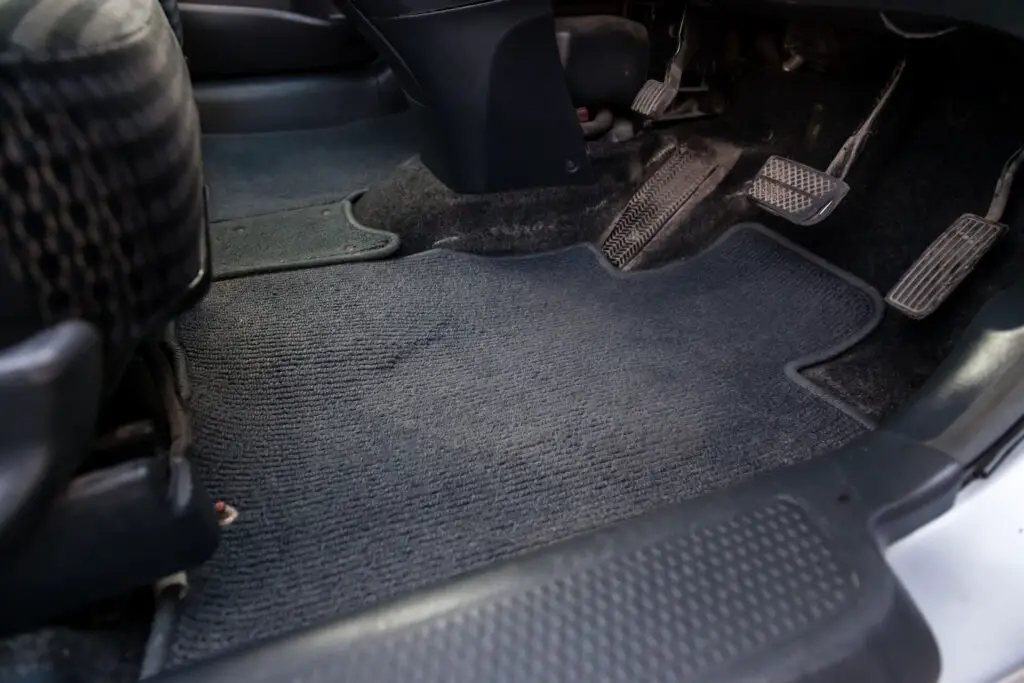 How to Choose the Best Car Floor Mats
While the evolution of cars didn't focus on choosing ideal car floor mats, this is where we are today. As frequent vehicle dwellers in an increasingly busy and car-packed world, we have the right to feel like we're in a luxury car if we want to.
Car floor mats are surprisingly a tough choice – they should be good quality without looking atrocious. Luckily, designers of these bad boys know how to combine those aspects nowadays. If you're unsure what I mean, here's what to look for when choosing car floor mats.
The Material Has to Stand Out
Essentially, the floor mat material is crucial for durability, protection, and ease of cleaning. Common materials include rubber, vinyl, carpet, and all-weather. Rubber and all-weather mats are more resistant to water, mud, and spills, making them ideal for wet or muddy climates, especially off-road cars.
Fit and Compatibility Make Car Floor Mats Comfortable
The floor mats you choose should be compatible with your vehicle's make and model. Proper fit is essential for optimal coverage and protection, or you risk it looking messy and ugly.
Custom mats can be designed specifically for your car, and many great online car parts stores sell model-oriented options. You can also simply opt for universal-fit mats that can be trimmed to the size and shape of your car's interior.
Custom-fit mats usually offer better coverage and a more precise fit. Universal mats are typically more affordable, but cutting or resizing them can take a while, and you might ruin something good if the DIY session goes poorly.
What's a Good Floor Mat if It Wasn't Designed and Styled Well?
When you choose floor mats that match the car's interior and suit your taste, it's like you're telling the world – I'm in charge here. Well, not really, but you'll feel like it, which is a great bonus.
Car floor mats come in many colors, patterns, and styles, allowing you to complement or enhance your vehicle's interior design. Some may even have added features, like anti-slip backing, raised edges to contain spills or heel pads for added durability in high-wear areas.
This is what I mean when I preach combining style and functionality. You'll still be able to find mats that have some or all of the added features and enjoy them aesthetically.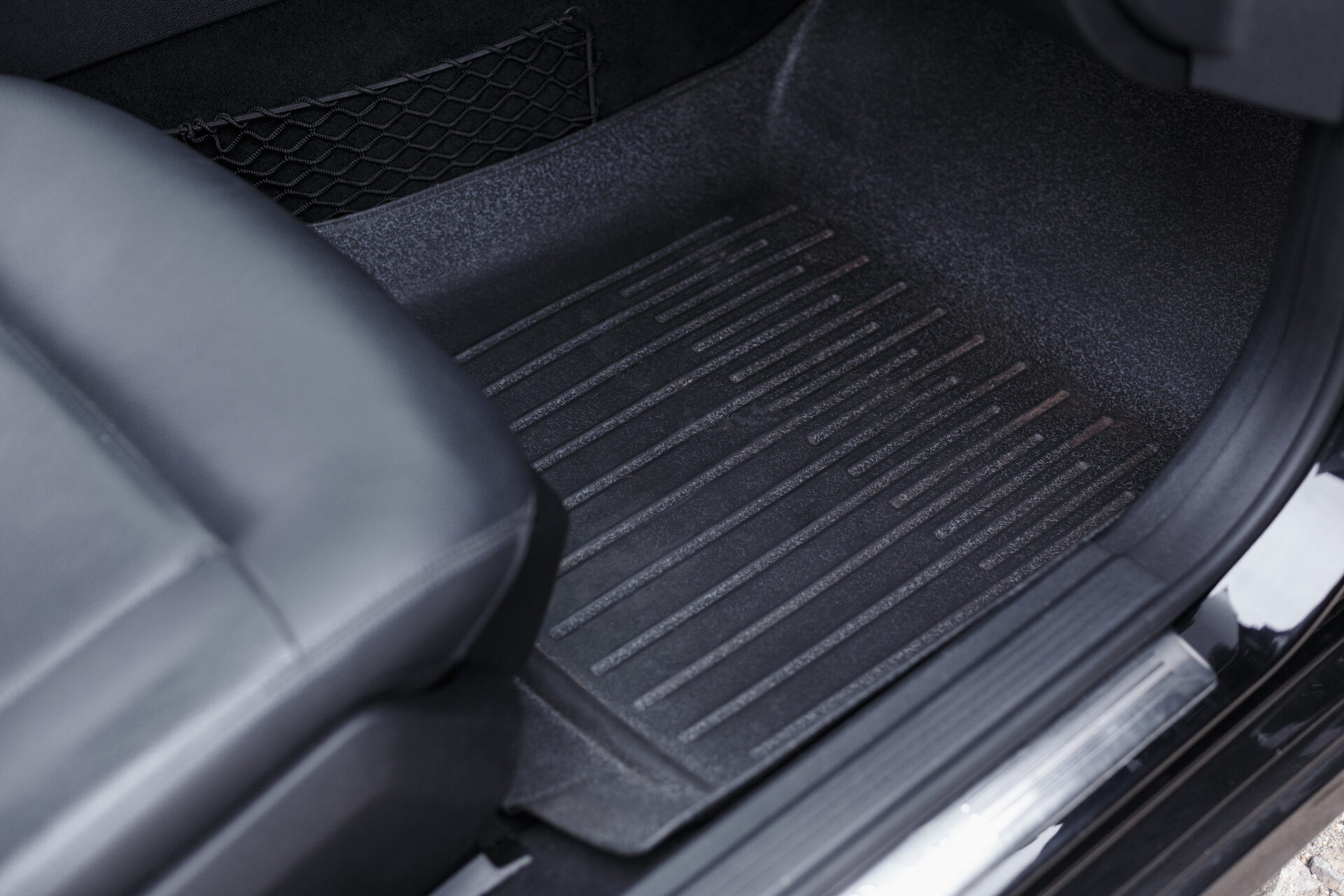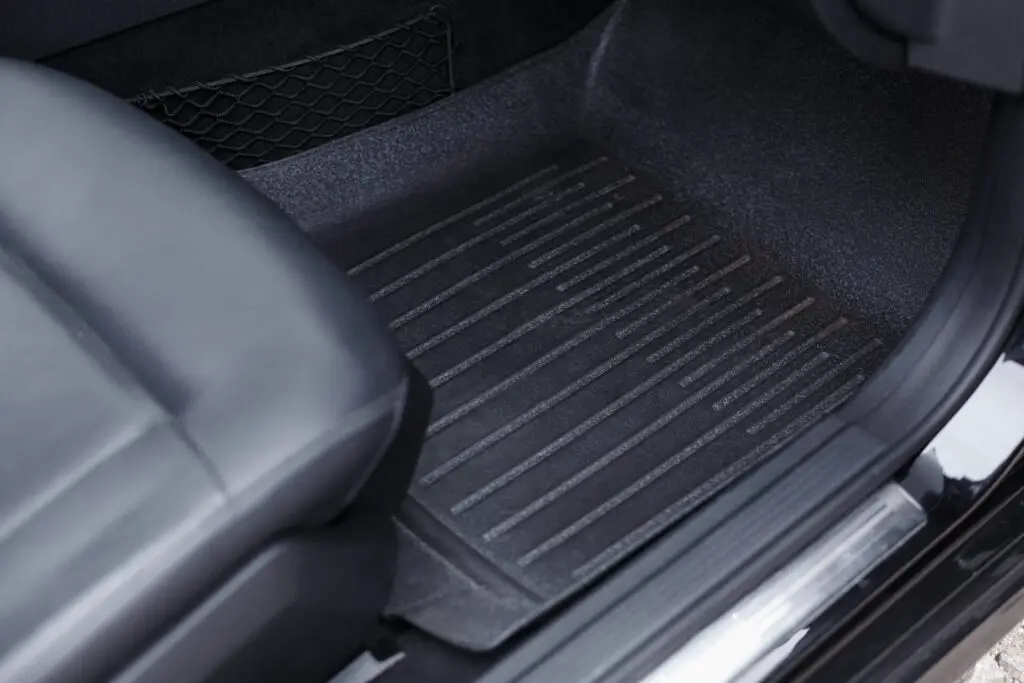 Tips Before Buying Your Selected Car Floor Mats
The cost of owning a car isn't low nowadays. That's why you may not want to spend time choosing something potentially irrelevant as car floor mats. Still, finding the right ones is relevant for functionality, if anything.
Here are some quick tips on what to look for, for those that don't want to overthink it:
Confirm that the floor mats you're interested in are compatible with your vehicle's make and model,
You may need mats for various weather conditions, like if you live in an area with heavy rain or snow, you'll be better off with waterproof or all-weather mats, 
If you have kids, pets, or frequently transport items that may soil your vehicle's interior, consider mats with higher levels of protection and easier cleaning,
Compare the cost of various options, but remember that the cheapest option may not always provide the best quality or protection,
Some manufacturers offer warranties or guarantees on their floor mats, providing peace of mind and signs of a higher-quality product,
See if the floor mats have safety features like anti-slip backing or retention systems; this can prevent them from sliding around and potentially interfering with the pedals,
Consider eco-friendly options made from recycled materials or materials with a lower environmental impact.
The Best Floor Mats for a Car Are Available With Just a Couple of Clicks Online
The convenience of shopping online has made it easier than ever to find the perfect car floor mats. Whether you're looking for something that can withstand harsh weather conditions or luxurious carpet mats for a comfortable driving experience, the ideal choice is just a click away. 
By staying equipped to the nines while driving around, perhaps exploring famous routes in the USA, your four-wheeler will stay clean, protected, and enjoyable to drive. Hopefully, my suggestions will encourage you to order great, long-lasting mats.