Foolishly thinking they've cornered the market on family transport vehicles, both 3-row SUVs I'll talk about have harnessed their engineering prowess to bring us two top performers in this highly competitive category. Hyundai Palisade vs. Chevy Traverse – which one will emerge victorious from this high-stakes matchup? Well, let's fire up these engines and find out! Hold on tight as I put these behemoths through their paces to decide which is King of the Road!
These SUVs Offer More Than Just Pleasant Riding Experience
A 3-row SUV refers to a sport utility vehicle (SUV) that is designed with three rows of seating. This means the vehicle has enough space to accommodate up to seven or eight passengers, depending on the configuration. The first row consists of the driver and front passenger seats. The second row is typically a bench or captain's chair that can seat two or three passengers. The third row is usually a bench seat that can accommodate two or three additional passengers.
The presence of three rows allows for greater passenger capacity and versatility, making it an ideal choice for larger families or those who frequently travel with a group of people. It provides ample room for both passengers and cargo, and the third-row seats can often be folded down or removed to create more cargo space when needed. Additionally, many 3-row SUVs come with advanced safety features, entertainment systems, and luxurious amenities to enhance comfort and convenience for all occupants.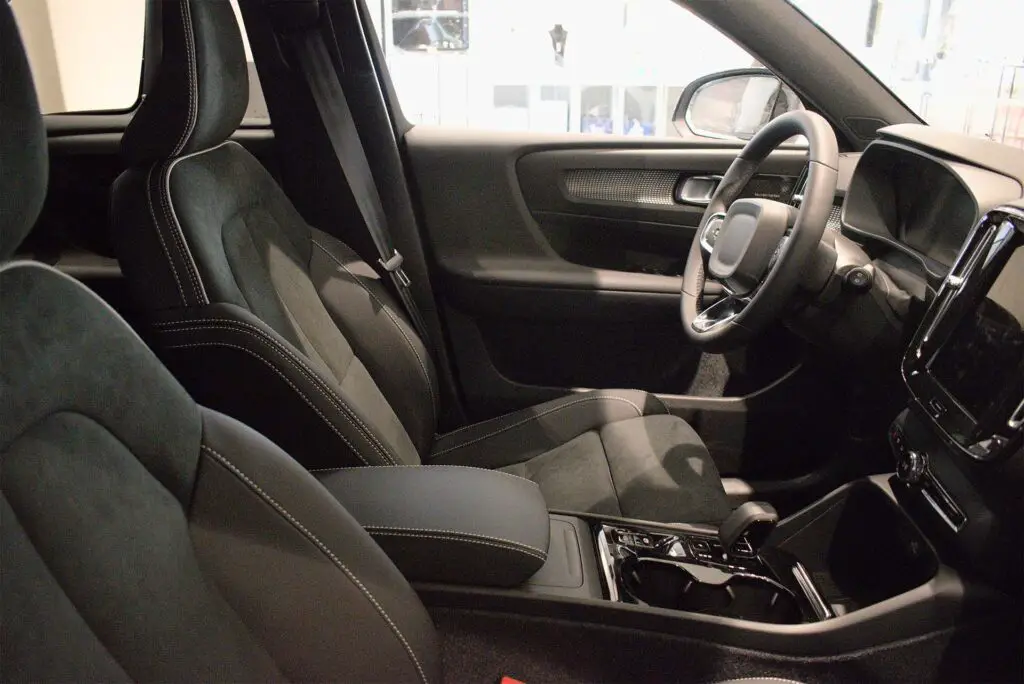 Why Would People Compare Chevy Traverse and Hyundai Palisade?
People often compare the Chevy Traverse and Hyundai Palisade because both SUVs fall into the same category of 3-row SUVs and offer similar features and capabilities. Here are some reasons why people compare these two models:
Segment Competitors

The Chevy Traverse and Hyundai Palisade compete directly in the same segment of the market. They both offer spacious interiors, seating for seven or eight passengers, and versatile cargo space. Comparing them allows potential buyers to evaluate which model best meets their specific needs in terms of space, comfort, and functionality.
Similar Price Range

These two often have similar price ranges, making them comparable options for buyers with a specific budget. Comparing the two allows customers to assess the value for money and determine which model offers the best combination of features, performance, and affordability.
Safety and Technology Features

Safety and technology are key considerations for many SUV buyers. Both the Traverse and Palisade boast advanced safety features and innovative technologies, but the specific offerings may differ. Comparing these features helps buyers determine which model provides the most comprehensive safety suite and desired tech features for their preferences.
Performance and Fuel Efficiency

While both SUVs offer capable performance, buyers may compare their engine options, power outputs, and fuel efficiency. Some customers prioritize power and towing capabilities, while others focus on fuel economy. By comparing these aspects, buyers can choose the SUV that aligns with their performance requirements.
Brand Preferences

Brand loyalty and reputation can also influence the comparison between the Traverse and Palisade. Some buyers may have a preference for either Chevrolet or Hyundai based on previous positive experiences, reliability ratings, or brand perception. Comparing the two allows customers to assess how each model lives up to their respective brand's reputation.
Ultimately, comparing the Chevy Traverse and Hyundai Palisade allows potential buyers to weigh their options and make informed decisions based on their specific preferences, needs, and budget.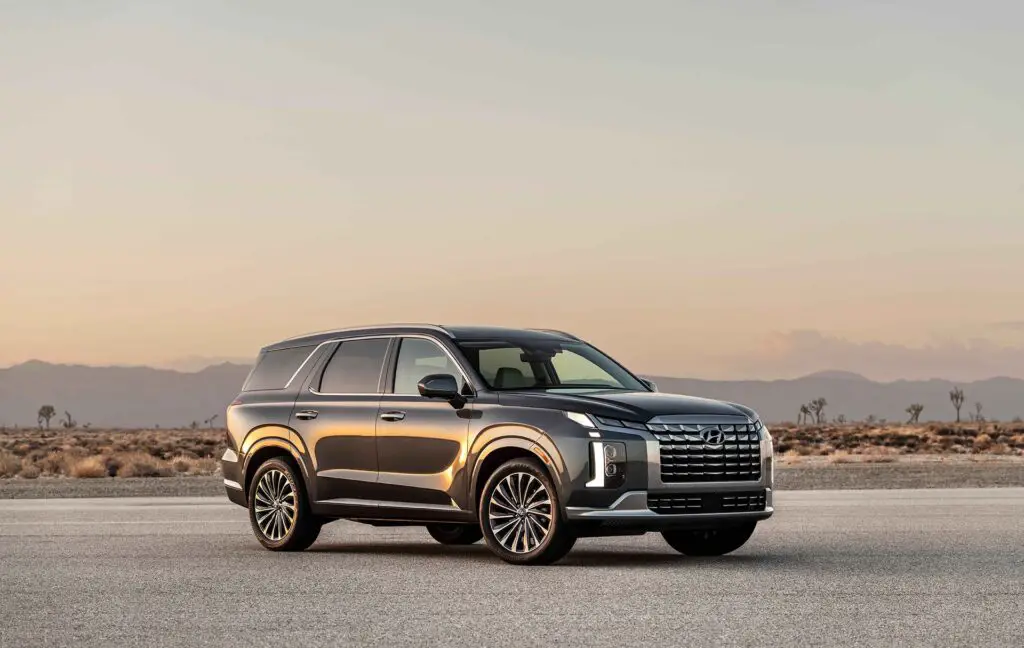 Hyundai Palisade vs Chevy Traverse – A Quick Overview of Both Models
Whether you prioritize luxurious comfort, cutting-edge technology, or a dynamic driving experience, read on to discover which model aligns best with your needs and preferences.
| | | |
| --- | --- | --- |
| | Hyundai Palisade | Chevy Traverse |
| Space | Offers a luxurious and spacious interior that can comfortably accommodate up to eight passengers. Enjoy premium materials, exquisite design elements, and available quilted Nappa leather seats. | With its Smart Slide® second-row seating and available power-folding third-row seats, it's easy to customize the interior to suit your needs. Plus, the Traverse offers up to 98.2 cubic feet of cargo space. |
| Tech Specifications | It features an impressive 10.25-inch touchscreen display with Apple CarPlay and Android Auto integration, a 12.3-inch fully digital instrument cluster, and an available intercom system that allows the driver to communicate with passengers in the rear rows without raising their voice. | It offers available built-in 4G LTE Wi-Fi®, allowing passengers to connect their devices and enjoy seamless internet access. The Traverse also supports Apple CarPlay and Android Auto, enabling easy integration of your smartphone's apps, navigation, and music. |
| Safety Features | Hyundai SmartSense, Forward Collision-Avoidance Assist with Pedestrian Detection, Blind-Spot Collision-Avoidance Assist, Lane Keeping Assist, Rear Cross-Traffic Collision-Avoidance Assist, and Driver Attention Warning. | Forward Collision Alert, Front Pedestrian Braking, Lane Keep Assist with Lane Departure Warning, Rear Cross Traffic Alert, and Rear Park Assist. |
You Shouldn't Judge a Vehicle Solely by Its Exterior, but Who Did It Better – Chevy Traverse vs Hyundai Palisade
While beauty is subjective, there's no denying the appealing design of the 2023 Hyundai Palisade. In addition to its aesthetic charm, the Palisade offers practical advantages over its midsize counterpart, the Traverse. The Palisade boasts a smaller footprint, measuring 9.5 inches shorter and 1.8 inches shorter than the Traverse. This compact size can make a noticeable difference in navigating tight urban parking spaces and fitting into smaller garages.
Despite its smaller dimensions, the Palisade maximizes interior space remarkably well. Surprisingly, it provides more legroom than the Traverse, with an extra 3 inches of legroom in the front and 4 inches in the second row. While the Traverse may have a slight edge in dedicated cargo space, the Palisade's interior offers superior flexibility, catering to the needs of most drivers. Passengers will appreciate the Palisade's upscale materials, as well as the user-friendly ergonomics that enhance comfort and convenience.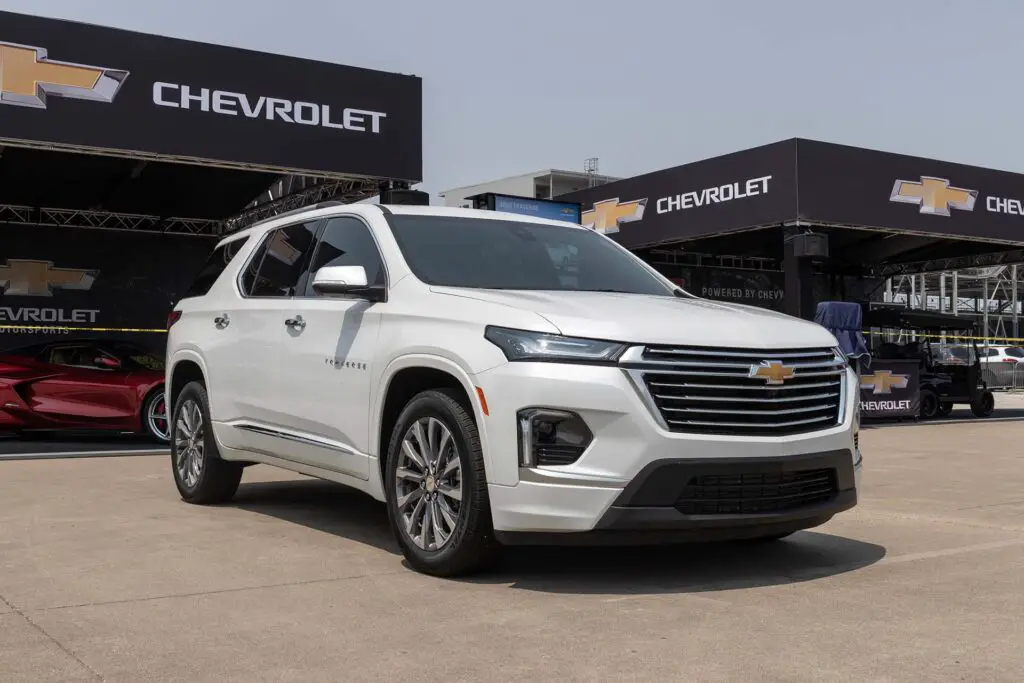 Capability and Performance of Traverse vs Palisade
Being one of the most popular import cars in the US, no wonder Hyundai stands out as a formidable contender in the competitive SUV market. Talking about these two features, you just must mention the Chevy Traverse, too. These two models offer impressive power, versatile handling, and towing capabilities. Making them ideal choices for families, adventurers, and those who require a reliable and capable vehicle.
Whether you're seeking exhilarating performance off-road and the ability to conquer rugged terrains, these two four-wheelers won't let you down. Here's a table with all the info you need to know about.
| | | |
| --- | --- | --- |
| | Traverse | Palisade |
| Type of Engine | Gas V6 3.6L/217 | Regular Unleaded V-6 3.8 L/231 |
| Engine Torque | 266 ft-lbs. @ 2,800 rpm | 262 ft-lbs. @ 5,200 rpm |
| Engine Power | 310 hp @ 6,800 rpm | 291 hp @ 6,000 rpm |
| Transmission | 9-speed shiftable automatic | 8-speed shiftable automatic |
| Drivetrain | Front-wheel drive | Front-wheel drive |
When it comes to performance, both the 2023 Hyundai Palisade and the 2023 Chevy Traverse offer comparable options under the hood. While the Traverse boasts a slightly more powerful engine, it is worth noting that it also carries additional weight. In fact, the base model Traverse is approximately 200 pounds heavier than its Palisade counterpart.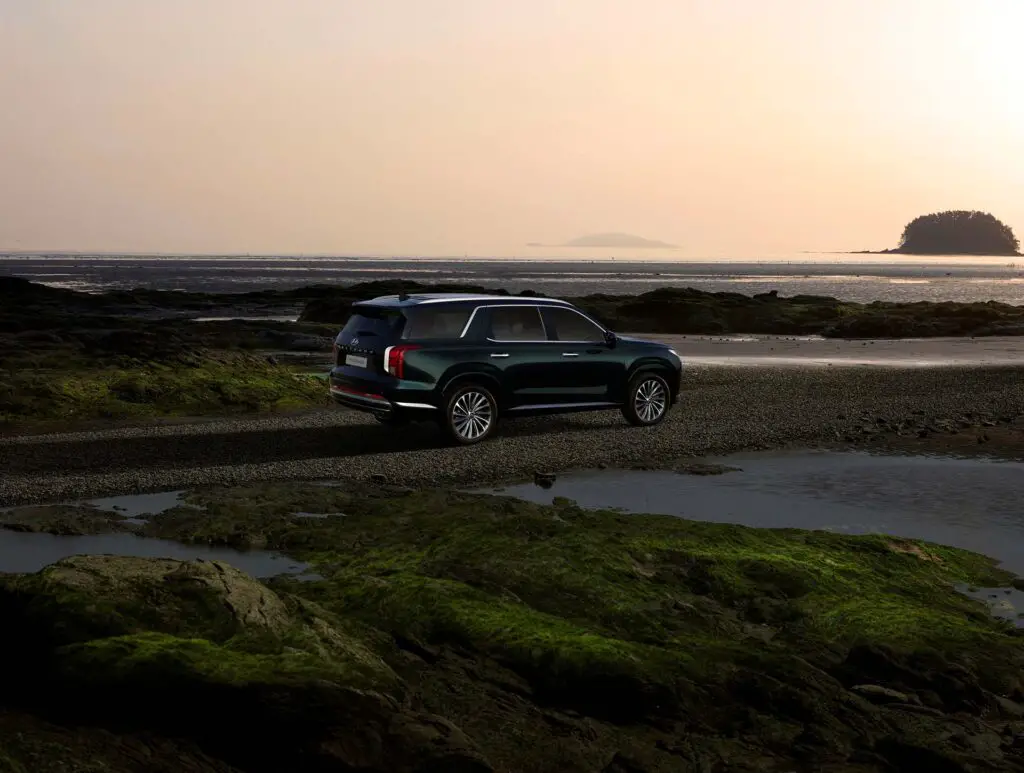 Be Sure to Pick the One With More Suitable Safety and Tech Specifications
When choosing between the Hyundai Palisade and Chevy Traverse, it's crucial to consider not only their driving experience and handling but also their safety and technology specifications. Safety features and advanced technologies play a vital role in ensuring the well-being of both drivers and passengers.
We all know how driving stress and anxiety can impact your overall experience. Having a four-wheeler with top-notch safety features surely will help you overcome these challenges and guide how to become a better driver. So, be sure to evaluate the safety suites and available tech options of each SUV to find the one that aligns with your priorities.
Here are the features you'll get with Palisade:
Rearview camera,
Lane-keep assist,
Forward collision warning,
Vehicle exit warning,
Rear-seat alert,
Pedestrian-, cyclist-,
Junction-turning detection.
When it comes to Traverse, here are features to check out:
Rear-seat alert standard,
Vehicle exit warning,
The detection systems,
Blind-spot monitoring,
Adaptive cruise control.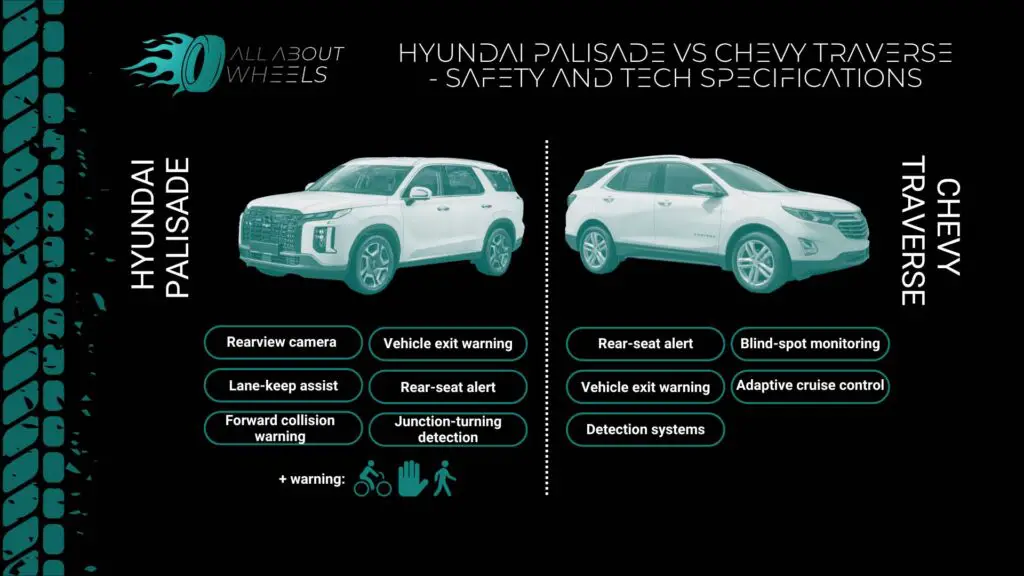 Driving Experience and Handling – Will Both Four-Wheelers Provide You With a Smooth Ride?
When it comes to SUVs, the driving experience and handling play a crucial role in determining the overall satisfaction of the driver and passengers. And don't be deceived that only the most expensive cars will provide you with the most enjoyable ride. Quite on the contrary.
The Hyundai Palisade offers a refined driving experience with its well-tuned suspension system and responsive handling. Its comfortable ride quality absorbs road imperfections, providing a smooth and controlled journey for occupants. The Palisade's electric power steering system offers precise and effortless maneuverability, making it easy to navigate through tight city streets or winding country roads. Whether cruising on the highway or tackling challenging terrains, the Palisade aims to deliver a composed and comfortable driving experience.
On the other hand, the Chevy Traverse is designed to provide a balanced combination of comfort and agility. Its suspension system is adept at absorbing bumps and uneven surfaces, resulting in a plush and comfortable ride. The Traverse's precise steering and well-weighted controls contribute to its confident handling, allowing easy maneuvering and a sense of control. Whether you're taking a long road trip or driving through urban environments, the Traverse is designed to offer a pleasant driving experience.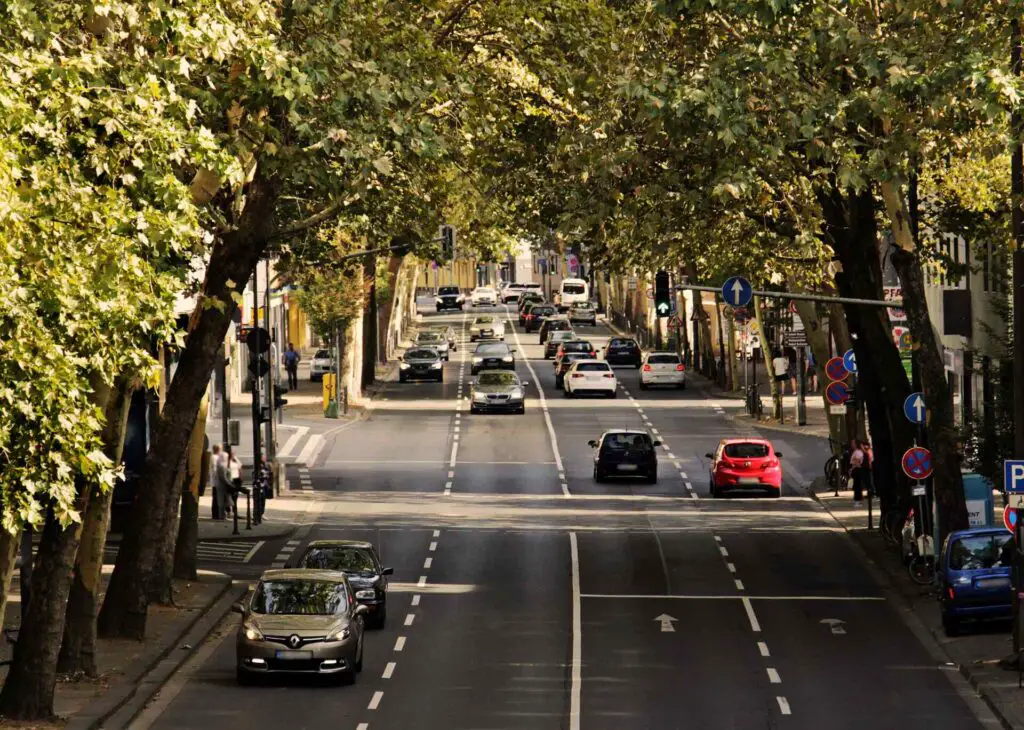 Starting Prices and Trim Levels of the Palisade and Traverse
Exploring the financial aspects of SUV ownership is definitely a must. Delving into the world of SUVs, it's important to consider not only the features and capabilities of the vehicles but also their affordability. In this comparison, I take a closer look at the starting prices and available trim levels of the Hyundai Palisade and Chevy Traverse:
| | | |
| --- | --- | --- |
| | Palisade | Traverse |
| Starting MSRP | $35,900 | $34,520 |
| Average Price Paid | $35,753 | $34,015 |
Hyundai Palisade Has Better Warranty Options
Another important thing to remember is that beyond the initial purchase price. It's essential to consider ways to cut down on car expenses in the long run. Owning a vehicle involves more than just the upfront cost. There are various expenses to consider, but don't forget the importance of warranty coverage too. 
This being said, Hyundai Palisade has a better offer –  a basic five-year or 60,000-mile warranty, a drivetrain 10 years or 100,000 miles, and five years of roadside assistance with unlimited mileage. Chevy offers three years or 36,000 miles of the basic warranty, five years or 60,000 miles drivetrain, and roadside assistance of five tears, but limited to 60,000 miles.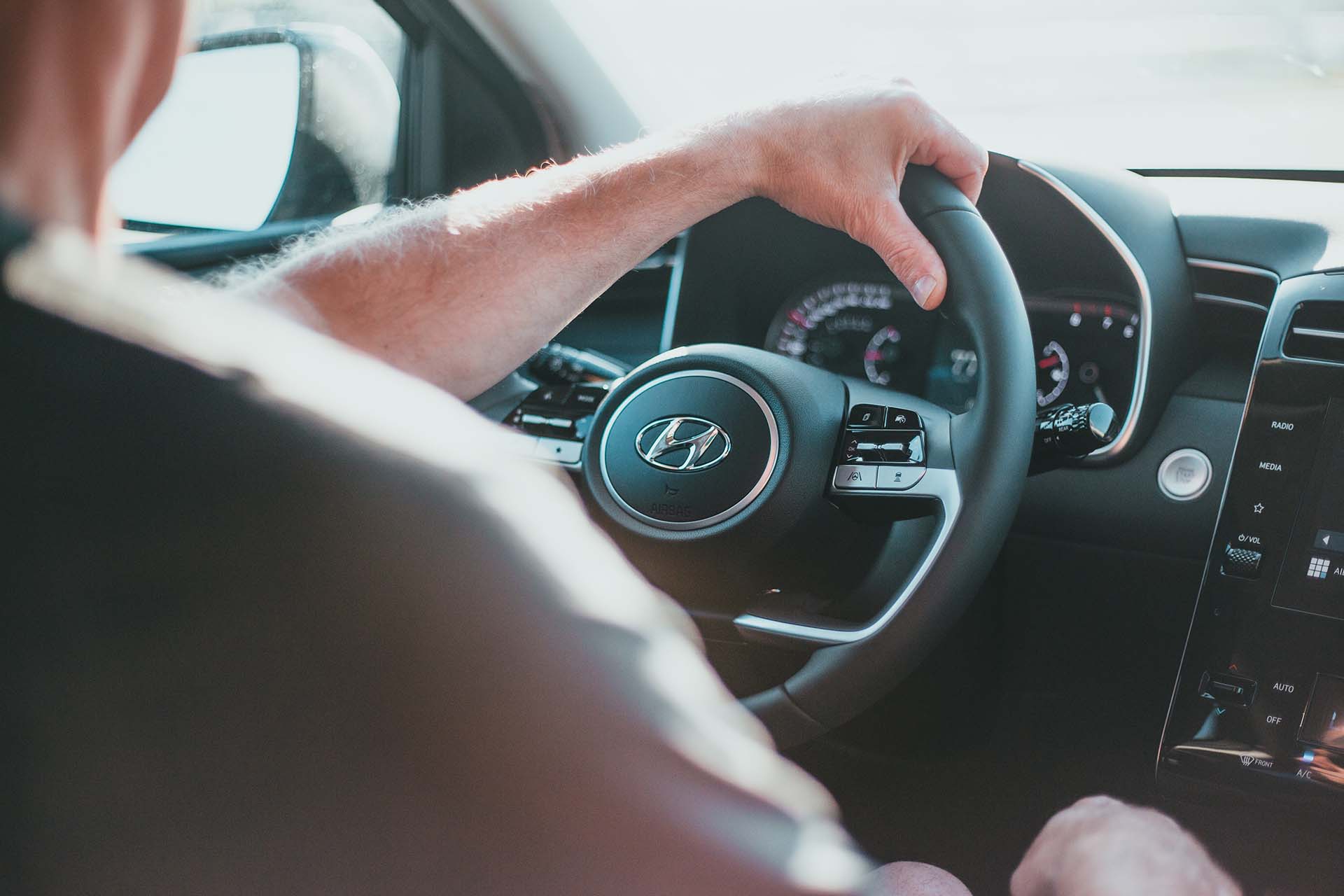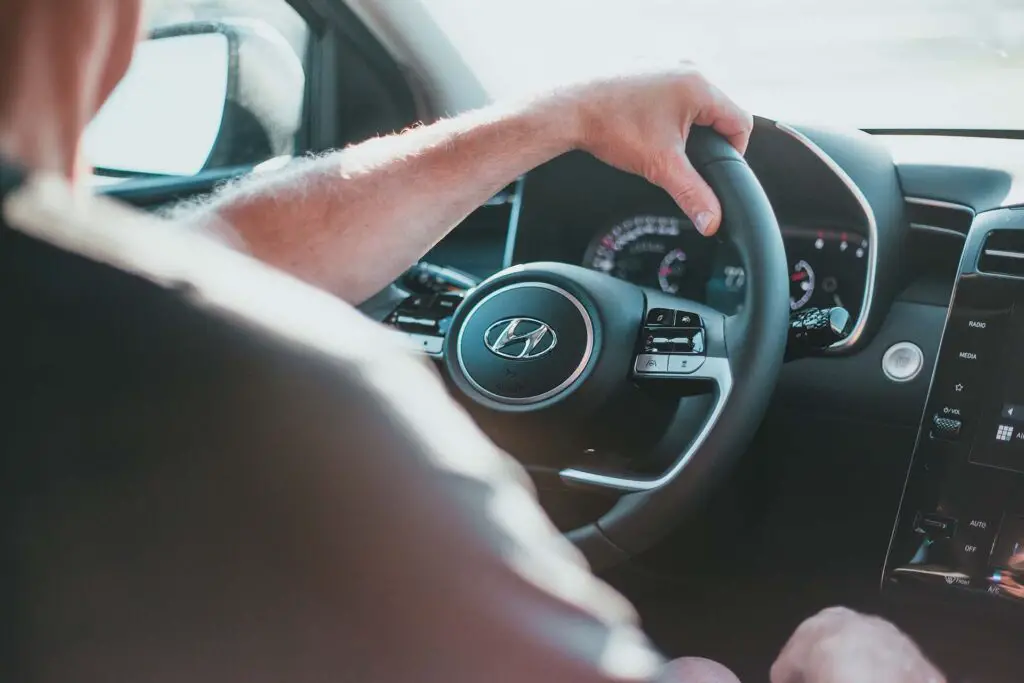 What Will Be Your Final Choice Between These Two SUVs?
The choice between the Palisade and Traverse comes down to personal preferences and specific needs. My personal pick would be Palisade, but no matter which SUV you choose, both represent exceptional options in the 3-row SUV segment. They provide ample space for passengers and cargo, advanced safety technologies, and a comfortable ride. So, whether you opt for the refined elegance of the Palisade or the versatile practicality of the Traverse, you can embark on your family adventures with confidence and style.