Kia Sportage vs. Hyundai Tucson – it's the battle of excellent family SUVs, both of which offer low running costs, decent handling, and lots of practical, comfortable space. With so many qualities perfect for a family four-wheeler, let's see which one comes on top when we compare these aspects.
With such different and striking designs, you'd never guess that the Sportage and the Tucson have so much in common underneath. But they do, so they are very comparable, and the differences are minimal. The Hyundai might have a slightly better performance, but the Kia comes with some additional infotainment and safety features. And with the design being a matter of taste, it all comes down to what you're looking for specifically in your next road companion. 
Sportage and Tucson Are Some of the Best Family SUVs on the Market Right Now
Both the Kia Sportage and the Hyundai Tucson go way back – well, the Sportage is a bit older, with the first generation hitting the streets as early as 1995. Throughout the years, the evolution of these vehicles has brought us great lines of family SUVs, and the new 2023 5th Gen Kia Sportage and the 2022 4th Gen Hyundai Tucson are definitely impressive. 
These Models Are Very Comparable
These five-door, five-seat medium SUVs are very comparable, and that's because they are essentially part of the same company. Both are based in South Korea, with Hyundai actually owning 33.8% of Kia Motors. So, they're similar when it comes to pricing and performance, and chances are that you've stumbled across them if you're looking for a family vehicle.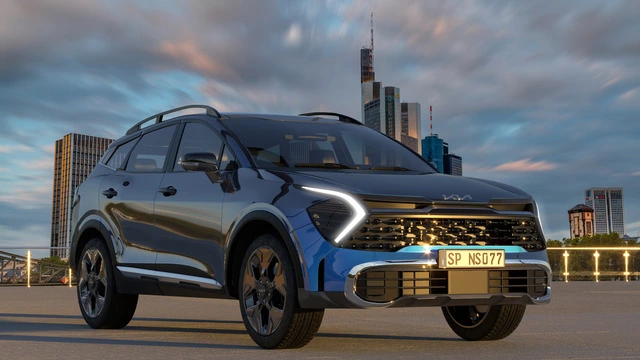 Kia Sportage vs. Hyundai Tucson – A Brief Overview of Main Specifications
No matter if you're thinking about getting a brand-new car, a used vehicle, or even one with a salvage title, researching the specifications is unavoidable when it comes to buying. That's why I've compiled an overview of the main specifications of these models:
| | | |
| --- | --- | --- |
| Specification | Kia Sportage GT-Line | Hyundai Tucson N-Line |
| Engine | 1.6L turbocharged petrol | 1.6L turbocharged petrol |
| Torque | 265Nm at 1500-4500rpm | 265Nm at 1500-4500rpm |
| Miles Per Gallon | 23 mpg city, 30 mpg highway | 26 mpg city, 33 mpg highway |
| Length | 183.5 inches | 182.7 inches |
| Width | 73.4 inches | 73.4 inches |
| Height | 66.1 inches | 65.6 inches |
| Wheelbase | 108.5 inches | 108.5 inches |
*For the metric system, an inch is 25.4mm
Both Models Come With a Fresh New Exterior Look
Both the Hyundai Tucson and the Kia Sportage come with a modern, fresh design on the outside. While researching other aspects of these vehicles, you will quickly realize that the exterior designs might be different, but they hide similar platforms, engines, and other equipment underneath. 
Tucson's most striking exterior feature is definitely the multi-layered, intricate front lights that take up a lot of space on the radiator grille, and the pressed creases on the sides add to this slick modern look. The Kia Sportage also has a striking design on the radiator grille, with arrow-shaped lights that curve halfway up the bonnet. 
At the End of the Day, It's a Matter of Taste
So, there's no clear winner here, and at the end of the day, what you find visually appealing is a matter of taste. Just keep in mind that while the Hyundai has more color options, many of them are actually variations on a hue. Kia Sportage might have fewer paint options, but the colors are very different from one another, and you will easily find the one you like the most.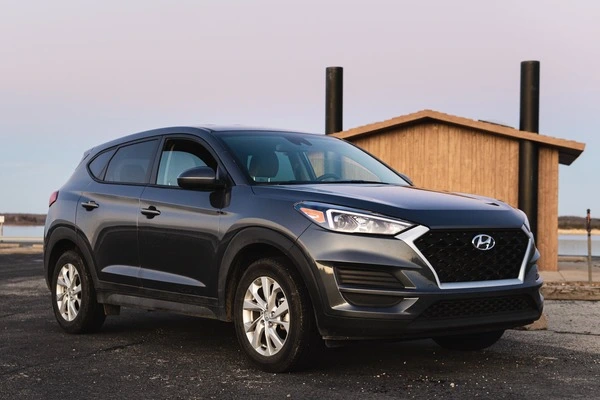 Interior and Infotainment Technology
As I've mentioned just now, these models might have a unique look on the outside, but when it comes to interior and performance features, they are very comparable. Both are stacked with all sorts of features that provide an excellent cabin experience, and while it seems like the Kia takes the upper hand here, the competition is very stiff and comes down to what you're looking for when it comes to the car's cabin.
You'll Get Plenty of Cargo Space Either Way
Both of these medium SUVs are designed in order to maximize agility and handling without compromising on spaciousness and comfort. They are built on the same skeleton as each other, and both are very practical and perfect as a family city car. 
Hyundai might have managed to squeeze a little more boot space, but both models have really impressive sizes – the Tucson has a cargo capacity of 620 liters, while the Sportage has 591 liters. Rear-seat space in both cars is also excellent, with the three-way possibility of splitting the rear backrests in a 40/20/40 combination. So, you can say that the Hyundai takes this round because of the slightly bigger size, but when you factor in the infotainment system, the results are not that clear. 
The Higher-Level Trim of Kia Sportage Comes With Great Infotainment Technology
The Kia comes with digital dashboard dials blended with the 12.3-inch infotainment screen, and this wraparound look is excellent and very user-friendly. But, this deal comes only with higher-level trims, and lesser models have a bit smaller screen. Here's what you can look forward to when it comes to cabin technology:
Eight-speaker stereo,
Digital dashboard,
Heated front seats,
Reversing camera and around-view cameras,
Dual-zone climate control,
Wireless phone charging,
Panoramic sunroof. 
The Hyundai Tucson Offers Basically the Same Features
So, the Kia might come out on top here because of the better overall look and the controls that are a bit easier to use. However, the Tucson is very similar, with many of the same functions, but a bit less quality and class when it comes to design. There's also a digital dashboard setup and a main infotainment screen, but they are separated, and the widescreen is 10.25 inches for higher trims, so it's a bit smaller. 
So, the Tucson can boast a digital dashboard, heated front seats, reverse camera, and many other features you can find in the Kia as well. Sure, there might be some differences, but they are so small that chances are you won't even notice them if you have the opportunity to test out both cars. Both of the models have impressive cabin technology, so at the end of the day, it's only a matter of personal taste.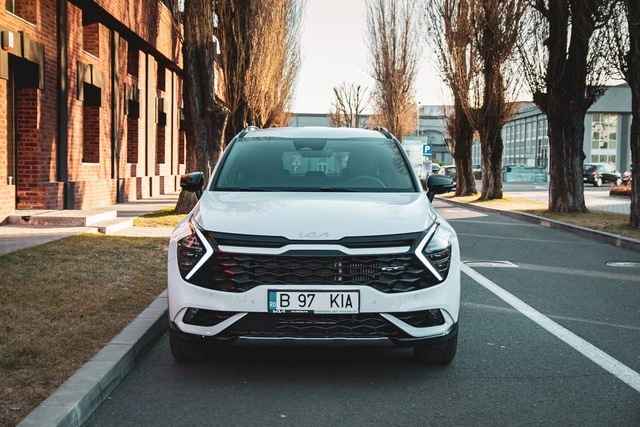 The Safety Features Are Pretty Similar, but the Kia Offers Just a Little Bit More
Staying safe on the most famous routes in the US should be your top priority when getting behind the wheel, and keeping others safe is the number one driver's responsibility. The advance in technology nowadays brings us great vehicle safety features, and the Kia Sportage and Hyundai Tucson are no exception. 
Both models tested out with a great score in crash tests, and you get a great array of safety features either way. There's the usual – airbags package, anti-lock braking system, speed-limit recognition, auto emergency braking, blind-spot monitoring, and stability and traction control. And then there are some special safety features both of them have:
Forward collision-avoidance assistance with vehicle, pedestrian, and cyclist detection,
Driver attention warning (the Kia also has lane departure and park assistance warning),
Lane-keeping assistance, 
High beam assistance, 
Rear occupant alert. 
A Closer Look at the Performance Comparison Doesn't Bring a Clear Winner
When you compare the performance levels of the Hyundai Tucson and the Kia Sportage, you will find that they are nearly identical. With the same 1.6-liter turbocharged petrol four-cylinder engine and an eight-speed automatic transmission featured in various models in both ranges, it's not the most refined performance out there, but it's still pretty good. 
With both vehicles, you get 132kW at 5500rpm, with torque at 265Nm available between 1500 and 4500rpm. So, it's obvious that with the identical engine and gearbox combination, you can expect the same kind of driving experience. Both of them are excellent SUVs, quiet at speed and smooth when handling.
Here's a brief overview of their performance, as well as what you can expect from hybrid options performance-wise:
The Hyundai Tucson

The Tucson comes with the standard engine that produces 150hp, and there's also a 180hp option of the same engine – with the latter, accelerating from zero to 62mph takes about 9 seconds. This level of performance is nearly identical to the Kia Sportage, but the Tucson might have a suspension that is just slightly softer.

The Kia Sportage

So, the performance levels are very similar, and while the Kia Sportage might have slightly lighter steering, you'd have to carefully try both cars one after another to notice any huge differences. While I'd still recommend the famous Jeep Wrangler or a Ford Bronco, if you're looking for an off-road driving vehicle, the Kia X-Pro trim can be a great option.

Hybrid Options

Neither the Tucson nor the Sportage offer any diesel options, but they do offer hybrids that are definitely a step up regarding performance if you can afford the slightly higher price. These options will give you 227hp with the 2023 Kia Sportage Hybrid and 226hp with the 2022 Hyundai Tucson Hybrid, and if that's not enough for you – there are plug-in 265hp hybrid options available for both of these SUVs. 

Just keep in mind that the Tucson Hybrid, with an estimated 38/38 MPG, falls a bit behind the Sportage when it comes to efficiency. The Kia Sportage Hybrid can boast an astounding 42/44 MPG, so it might take the crown when it comes to the hybrid option.
There's a Minimal Difference in the Price Range
While the Kia Sportage GT-Line has a lower starting price of $49,370, you can get the Hyundai Tucson N-Line for not that much more, with a starting price of $51,000. So, when it comes to affordability, they're pretty much the same, but when you count the maintenance and on-the-road costs, the Hyundai might just turn out to be the more cost-effective option of the two. 
Manufacturer's Guarantees Are Comparably Impressive
So, the price ranges of these models are similar, and when it comes to insurance, they can also offer you some of the best deals in the industry. The Kia Sportage comes with a seven-year warranty and a 100,000-mile cap, and the Hyundai Tucson has a five-year one but with unlimited mileage. 
Hyundai is known for strong warranties that are basically unparalleled on the market, and that means you will get not only a reliable vehicle but a cost-effective one as well when it comes to maintenance and repair. But the Kia is not far behind – after all, this company is partially owned by Hyundai.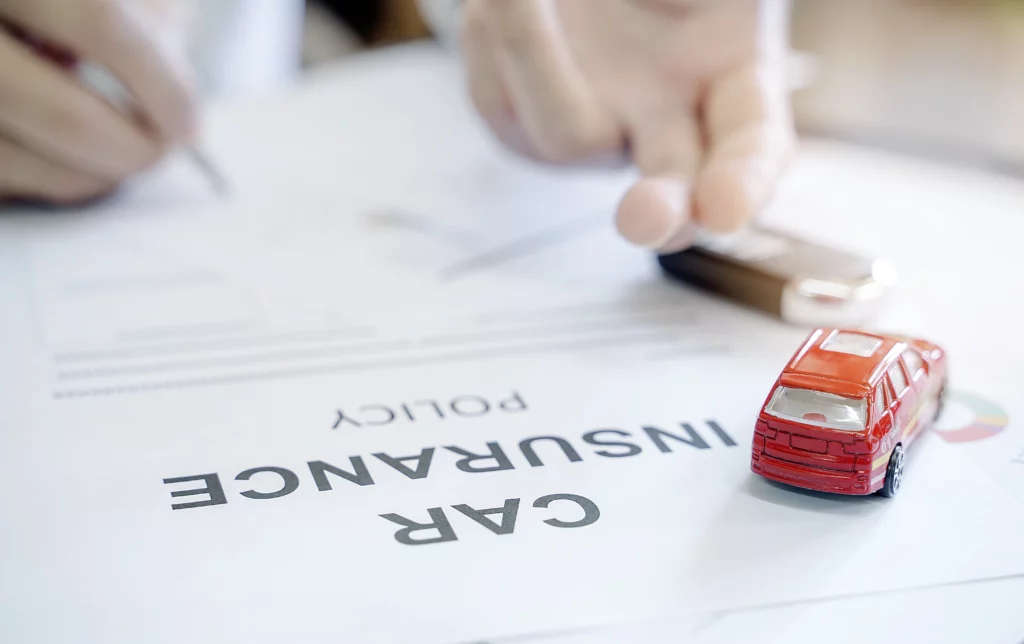 There's No Mistake With These Two Cars if You're Looking for the Perfect Family SUV
So, you've probably gathered by now that both the Kia Sportage and the Hyundai Tucson are good options, and there is no clear winner between the two. The Kia might offer additional features, but the Sportage is also excellent in numerous aspects, especially when it comes to performance level. So, at the end of the day, it comes down to your personal taste – you won't make a mistake in choosing either one of these impressive four-wheelers.