Comparing cars isn't always gratifying. What if you love both models? That's often the case with Japanese cars, especially Honda Civic vs. Toyota Corolla. Both are excellent representations of the island nation's manufacturing quality, so here's a comparison of these two amazing four-wheelers.
Honda and Toyota Are Automotive Giants Always in a Popularity Contest
The great news about Honda and Toyota is that you can buy them new or used. Buying used cars isn't the worst thing in the world – just pay attention to the mileage and where you buy. This isn't simple, but Honda Civic and Toyota Corolla are two of the most reliable four-wheelers on the market, wherever they're sold.
Regardless of the year or trim, you won't be disappointed. Looks-wise, the older models have an appearance of what people in the early 2000s imagined futuristic designs to be, but the newer models get rid of that "issue" in classy and elegant ways.
The latest Honda Civic is sleek and feels like a sports car despite being a sedan. The Toyota Corolla still has an extended front that drops downward, but the overall design has been softened and adapted to driving in multiple environments.
Which Model Year to Choose for Your Perfect Four Wheeler?
When you type a car model into a search engine, you'll often have to specify a year. Honda Civic and Toyota Corolla have both had ups and downs, and users can agree that some downs are better left at the bottom.
With the Civic, every model from 2020 onwards is great. Other great years for this car were 2004, 2005, 2011, 2013, 2014, and 2015. Whatever you do, don't consider investing in a 2001 or 2016 Civic. 
The consensus is that the 2014 model is among the most upstanding used car models of all time, but since car prices are high, a used car seems like a better bargain.
Similarly, the most recent models of Toyota Corolla, from 2018 onward, are among the best-made versions of the four-wheeler. Some earlier great models include 2002, 2008, and 2013. The worst years for Toyota Corolla were 2003 and 2004 due to excessive oil engine usage.
This problem also appeared in some 2014 models, so it's also good to add to the avoid list. Overall, users won't be wrong to invest in a Honda or Toyota from 2020 onward, as these are the peak years for the cars' designs and performance.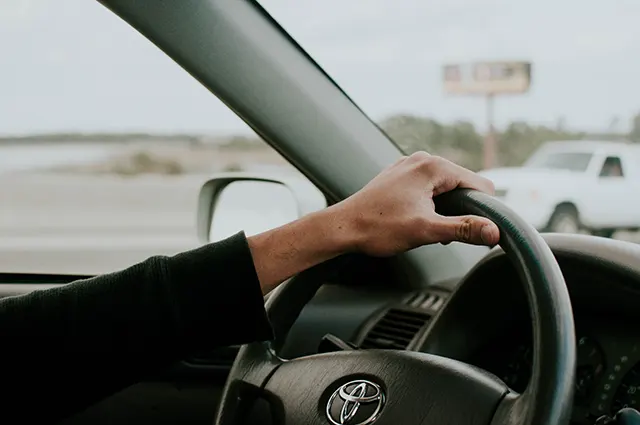 Honda Civic 2022 – What Does This Car Have to Offer?
The 2022 Honda Civic kicked off the model's 11th generation. As such, it's the most perfect it's ever been, although the 2023 model looks promising, too. The Civic is among the most affordable, efficient, and durable cars on the market, making it superior to most, even in used condition.
The 2022 Civic has fantastic fuel efficiency, boasts a fabulous cargo space, and the tech inside is user-friendly and thoroughly entertaining during a drive (not to mention it also saves lives). The car got an inside-out makeover, although the engine area hasn't changed much.
The engine is four cylinders with a front-wheel drive. The car's a five-seater, whether in the sedan or hatchback versions. The comfort and convenience make it an ideal candidate for the city and long-distance driving. It's not the best off-road car, but nothing beats an SUV in that category (for great off-road SUVs, check out the VW Atlas vs. Audi Q7 comparison).
Technical Specifications
Here are the essential specs for the 2022 Honda Civic.
| | |
| --- | --- |
| Dimensions (H x L x W) | 55.7 x 184 x 70.9 inches (141.5 x 467.36 x 180 cm) |
| Weight | 2,935 lbs (1,331.2 kg) |
| Engine type | Gas |
| Engine size | 2.0L |
| Transmission type | Continuously variable automatic |
| Drive type | Front-wheel drive |
| No. of cylinders | 4 |
| No. of seats | 5 |
| Fuel type | Regular unleaded |
| Fuel tank capacity | 12.4 gallons (47L) |
| Horsepower  | 158 hp @ 6,500 rpm |
Price Range
The Honda Civic comes with a basic, 3-year warranty or at every 36,000 miles. The most popular trim is Sport, which comes at about $25,000. If you find a dealer that sells it for over $26,000, try to find a different one.
The Sport version is classy and drives well – there's plenty of room, so you don't have to worry about accommodating people. The car will give you everything and more.
Here are the prices for all trim types:
LX – $23,600,
Sport – $25,000,
EX – $26,600,
Si – $28,600,
Touring – $30,200.
What Can We Say About the 2022 Toyota Corolla?
Toyota Corolla is among the most famous and long-lasting cars in the world. The 2022 Corolla model marks the car's 12th generation, making it more of a household name than the Civic. Although they're pretty comparable, they're also highly unique in their class and provide a smooth and fabulous ride no matter what.
As always, the Corolla is compact and easy to maneuver, has fantastic fuel economy, and is as reliable as ever. The 2022 model has some additional features within the design – it no longer looks like a misshaped box pretending to be a car.
This time, the interior and exterior reflect the quality and perseverance of Toyota much better than any other model. The Corolla has a hatchback and a Hybrid sedan version.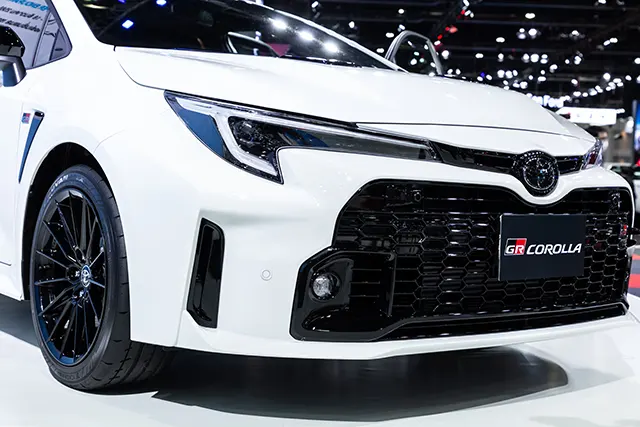 Technical Specifications
Here are the essential specifications for the 2022 Toyota Corolla.
| | |
| --- | --- |
| Dimensions (H x L x W) | 56.5 x 182.3 x 70.1 inches (143.5 x 463 x 178 cm) |
| Weight | 2,955 lbs (1,340 kg) |
| Engine type | Gas |
| Engine size | 1.8L |
| Transmission type | Continuously variable automatic |
| Drive type | Front-wheel drive |
| No. of cylinders | 4 |
| No. of seats | 5 |
| Fuel type | Regular unleaded |
| Fuel tank capacity | 13.2 gallons (50L) |
| Horsepower  | 139 hp @ 6,100 rpm |
Price Range
The most popular Corolla trim is the LE, which costs just a bit under $22,000. The warranty is also a basic 3-year or 36,000-mile-warranty. If your dealer doesn't offer this, don't invest without it.
A warranty is the best way to secure the car's durability, although the quality of a Toyota Corolla is rarely something to doubt. In all of car evolution history, none have been as developed and perfected as the Civic and Corolla.
Other trims go for higher prices, so here's an overview of each trim type and cost.
L – $21,400,
LE – $21,900,
SE – $23,900,
SE Nightshade – $24,600,
XLE – $25,800,
SE Apex Edition – $26,600,
XSE – $27,300,
XSE Apex Edition – $29,700.
Performance, Comfort, and Value of Both Cars
Numerous online reviews compare these cars, but none do it in such detail as Edmunds. Compared to what I've learned from them, I agree with most. Generally, specs and stats aren't the most important thing to casual drivers, but the overall feeling and experience.
Even if you're only interested in the driving experience, ensure you learn which fuel goes into your car so you don't put the wrong gas in. The specifications charts will help with that.
Which One Takes the Performance Medal?

Performance-wise, the Civic doesn't take long to reach 60 mph (under eight seconds). This means it's not just a classic sedan. If you want to satisfy a speed craving, you don't need to sacrifice too much.

Compared to that, the Corolla LE reached 60 mph in just under nine seconds, and the pedal needs to be floored to reach that speed. That makes it great for cautious city driving but lacking on the highway.

Honda Civic doesn't over or understeer – it's just right. It listens to the driver, although you can't let it do all the work. The Civic lets you be in command, which can't be said for the Corolla. Compared to having to floor the pedal to reach higher speeds, the steering wheel becomes a bit more sensitive in heavy turns, and leaning is inevitable.

Overall, Honda Civic takes the points here.
Which One's More Comfortable?

In the Honda Civic, the suspension is excellent. The ride is smooth, so if you find yourself on a country road or near potholes, you can rest assured that it won't make you feel like your insides are getting rearranged.

There's plenty of room for all passengers, considering it's a sports model. The leather upholstery cools you in the heat, and comfortable seat heating warms up your winter drive. The biggest downside is a lack of lumbar support.

The Toyota Corolla offers quite a lot of room for passengers. The seats are made of breathable cloth, providing comfort and cool temperatures in the summer. The suspension is also great, reducing road issues and bumps well.

The biggest downside of the Corolla is high road noise, which needs to be stifled with music to become bearable. Because of this, the Honda takes another point away from the Toyota.
Which Car Boasts Better Driving Technology?

Honda Civic has a decent-sized 7-inch screen, placed high up to allow drivers to keep an eye on the road while checking for information. You can connect to it via Bluetooth and use the buttons and touchscreen to operate the tech.

The camera assistance for driving in reverse is pretty great. The lens is wide and provides a great overview of the rear area, but it also gives intuitive tips for reversing. The lane change system isn't always responsive, so it's best to keep your eyes on the road for better visibility and judgment.

The Toyota Safety Sense suite is probably the most developed it'll ever be in the 2022 model, although one can always hope for higher and better. The navigation system and tech are easy to use but not as efficient or responsive as those in the Civic.

The nice part is having a complete and encompassing sense of safety when driving this car – it comes with an SOS button in case of an emergency that emits a signal to Emergency Medical Services or EMS if pressed twice.

Although Toyota boasts great safety mods, the technology is lacking – better tech means better road and driving assistance, so this is another point for Gryffindor, I mean Honda.
How's the Fuel Economy in Both?

While the Sport version of the Honda Civic has a 2.0L engine, compared to Toyota Corolla LE's 1.8L, the fuel tank capacity is higher in the Toyota. Both cars have an EPA combined MPG of 33, although you'll get a superior performance if you take the Corolla Hybrid.

There's not much more to say about this – they are even in fuel economy, which is one of the reasons Japanese cars tend to be superior overall. If I were considering the Corolla Hybrid, it would take the win by just a bit.

What's the Value Comparison?

Considering that the Corolla is more affordable than the Civic, logic would advise you to invest in it. However, the Civic is superior in the long run, and a couple of grand over will certainly pay off.

That doesn't mean the Corolla malfunctions more or doesn't provide value for the cost – quite the opposite. These cars' prices are a reflection of their quality and vice versa. It's up to you which one you choose.
The Final Verdict
I hope it's pretty clear by now – the Honda Civic has the upper hand here. From suspension and smooth driving to highly interactive technology and ease of use, the Civic remains superior.
Though more expensive than Toyota, its value is uncontested. No matter how much you pay, the 2022 Civic will follow your needs and wants. Lovers of Toyota can still get the 2022 Corolla – it's the best version yet. But if you're having doubts, hopefully, this review will dispel them.