If you need a pickup truck and you're looking to buy one, after all the research you've done, your choice has probably come down to two options – GMC Sierra vs Chevy Silverado. It's a difficult decision since both vehicles are extraordinary. But here is all the information on both vehicles you need to know, all in one place, side by side, so you can make your decision easier.
What Should You Look for in a Pickup Truck? 
Pickup trucks are no longer being bought with the sole purpose of being work vehicles. Instead, these days they are known to be excellent family vehicles, and they can even be used for off-road driving. Their best quality is their size and the fact that they are very spacious – they can even fit three people in the front seat comfortably. Pickup trucks have four full-sized doors and lots of cargo space, both inside and out. They have many options for interior storage and the signature open cargo bed on the outside. 
These vehicles have come a long way from being known as the least fuel-efficient vehicles, and are now available with diesel engines, as hybrids, and as EVs as well. So here is a short rundown of what you should look for when it comes to these comfortable vehicles: 
Comfort,
Size and seating,
Storage options,
The bed,
Engine power,
Fuel economy, and so on. 
Why Is GMC Sierra a Popular Choice for a Pickup Truck?
GMC Sierra has been the most reliable choice for a pickup truck on the market for a very long time, and it's proven time and again that it's worth buying. It has created a loyal customer base that couldn't imagine their lives without this vehicle. But what makes this vehicle so special, safe, and dependable that people have relied on it all these years? 
High Safety Rating

The most important thing and a top priority to all drivers is being safe and protected on the road. GMC Sierra has proved time and again that it's one of the safest vehicles out there. It got a four-star safety rating, and it had great crash test results.

Coil-Over-Shock Suspension

GMC Sierra was invented and manufactured with rough terrains in mind. That's why the GMC coil-over-shock suspension was added as a feature. This innovative feature guarantees you a comfortable, controlled ride in all conditions – whether you're driving on the highway, down the street, or off-road in dirt and rugged terrain.
Driver Control Technology

A feature that really makes the performance of this vehicle outstanding is the driver control technology. It's available in all GMC Sierra trucks, and it really sets the Sierra apart from other trucks and competition. The driver control technology keeps your vehicle stable, and it includes: 

Stabilitrak and traction control – helps keep your vehicle stable and on track in off-road conditions,
Hill descent control – Assists you and controls your vehicle while dissenting in rough terrain conditions, you don't even have to use a brake pedal.
Driver shift control – Allows you to easily shift gears by tapping the shift selector.

Direct Injection Technology

This system was installed in all GMC Sierra trucks. The direct injection system helps you and allows your vehicle to have a quick start even in cold weather conditions, all the while keeping the maximum efficiency of the vehicle, as long as you remember to switch from summer to winter tires. 
How Much Does the GMC Sierra Cost and What Models Are the Best? 
Depending on the model, the performance, and all the added features, a GMC Sierra can cost anywhere from $35,000 to $82,000. Of course, used vehicles will be cheaper. Since the GMC Sierra 1500 was first introduced in 1962. with four different trim levels, it has come a long way, and today there are numerous different models of this popular vehicle that brought back the popularity of pickup trucks, so here are a few of the most popular trim levels and their starting prices:
Sierra Pro – $35,400,
Sierra SLE – $46,600,
Sierra Elevation – $48,000,
Sierra SLT – $52,000
Sierra AT4 – $62,500,
Sierra AT4X – $76,500,
Sierra Denali – $62,800,
Sierra Denali Ultimate – $82,000. 
What Is the Performance of the GMC Like? 
When it comes to light-duty pickup trucks, there isn't a better-equipped option than a GMC Sierra. This pickup truck offers excellent performance while not compromising on the comfort of the drive. 
The Engine Power
When talking about pickup trucks that are meant to thrive in all kinds of weather and terrain conditions, it's pretty understandable why these vehicles need to have a strong engine. That's why the GMC Sierra has an enhanced 2.7L turbo high-output engine that can support such a powerful vehicle. Sierra has an outstanding 277-420 horsepower engine, with an 8-speed automatic transmission, allowing this vehicle to go from 0-60 mph in just 8.5 seconds, which is more than impressive for a pickup truck. And it can get even more impressive if the Sierra is equipped with a 6.2L V8 engine when it goes from 0-60 mph in just 5.5 seconds. 
The Interior Is so Beautiful and Luxurious That You'll Forget You're In a Pickup Truck
Not only is the interior luxurious, expensive, and gorgeous, but it's also practical. It offers the same comforts of any other luxury vehicle, such as a heated steering wheel, so you won't feel like you're driving a pickup truck. Both the front and the back cabins are spacious, with comfortable leather seats that fit five people and an elevated driver's seat. 
The Exterior and the Weight of the Vehicle
If you try to imagine a vehicle that weighs over 5,000 pounds on its own and can carry an additional 2,000 pounds in cargo, you're probably picturing a large, robust, working vehicle you wouldn't want to be caught dead in. And to be honest, pickup trucks aren't exactly popular for their good looks, but GMC Sierra is one of the first pickup trucks to have a modern, athletic exterior, with precise detailing. 
Today, Sierra's exterior has been perfected by using the most powerful and best quality materials while manufacturing, and a lot of attention has been paid to details and added features such as trailering mirrors that will make driving such a powerful vehicle a breeze.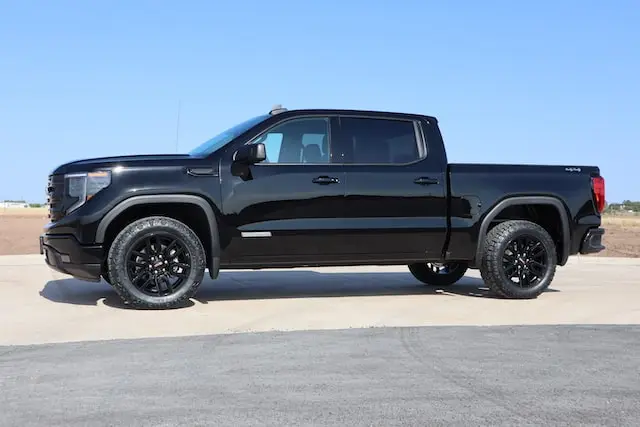 The GMC Sierra Offers a Lot of Storage Space and Options
When designing this vehicle, there was a lot of thought put into storage options, not only on the exterior but the interior as well. There are many interior storage options, such as under-seat storage, which is perfect for storing any gear. There's even rear seat storage and a spacious center console. When it comes to exterior cargo storage, Sierra offers a 79.44 inches long, 71.40 inches wide bed that holds about 2,000 pounds of payload.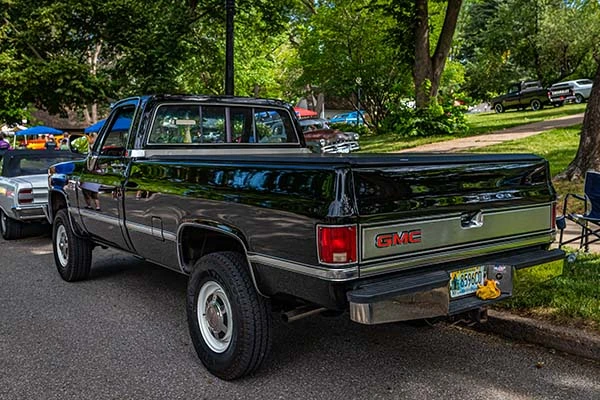 Why Do Some People Prefer Chevrolet Silverado – a Sibling Pickup Truck?
Ever since it came out, the Chevrolet Silverado has sold over twelve million units in the US alone. It quickly became a favorite amongst the masses, rebranding pickup trucks as everyday vehicles. Silverado has improved immensely since it first debuted, and now the standard Silverado 1500 has eight trim levels, with the starting prices ranging from $34,600 for regular cab models, $38,000 for double cab models, and $40,000 for crew cab models. This pickup truck is now available as an EV and a hybrid as well. Here are all the trim levels you can choose from:
Silverado 1500 Work Truck LTD,
Silverado 1500 Custom LTD,
Silverado 1500 Custom Trail Boss LTD,
Silverado 1500 LT LTD,
Silverado 1500 RST LTD,
Silverado 1500 LT Trail Boss LTD,
Silverado 1500 LTZ LTD,
Silverado 1500 High Country LTD.
Silverado Offers Safety and Reliability at a Reasonable Price
Considering it's a pickup truck, Silverado is pretty fairly priced, with a good price-to-quality ratio, and that's one of the reasons why it became a cult favorite in a short amount of time. Another reason why it's so popular is the fact that it's a safe, reliable vehicle people gladly choose as a family vehicle. Silverado has a four-star safety rating, even a five-star one in case of side crash testing. This pickup truck has an array of standard safety features that assist the driver and make it so reliable, such as:
Forward collision warning system, 
The automatic emergency braking system,
Blind spot monitoring,
Rear cross-traffic warning,
Lane departure warning,
Surround vision 360-degree camera system,
Lane keep assist, and so on. 
Does the Chevrolet Silverado Have Good Performance?
Chevrolet Silverado has been in the top six choices of pickup trucks in the US for years, and with good reason. It's a fierce competitor, and it has great performance ratings, as well as amazing standard features. A lot of people agree that it's such a great vehicle that it's underpriced. 
Silverado Offers Super Cruise
A feature that really sets Chevy Silverado apart and makes it special is the Super Cruise system. It's a semi-autonomous driving system, allowing the driver the convenient option of hands-free driving. Unfortunately, super cruise isn't available on all eight Silverado trims at the moment, just the more expensive ones. 
Engine Power 
The base engine for a Chevrolet Silverado is a turbocharged 2.7-liter four-cylinder. It offers good grunt with a standard 310 horsepower. There are also other options available such as the less powerful turbodiesel 3.0-liter six-cylinder with 277 horsepower, the 5.3-liter V8 with 355 horsepower, as well as the strongest one of them – the 6.2-liter V8 with 420 horsepower. When it comes to transmission, an eight-speed automatic is standard, but the ten-speed automatic is available as well. This powerful vehicle goes from 0-60 mph in just 5.4 seconds, beating the GMC Sierra. 
A Lot of Thought Went Into the Interior Design
The interior design of the Chevy Silverado has improved a lot over the years, it got a fresh new look with updates, and the newer models have truly been designed with the intention of pleasing the driver and his every need, making the drive as comfortable and smooth as possible. It has incredibly spacious cabins with lots of legroom, heated leather seats, and a great entertainment system which includes a GPS system, and not the Garmin 010-02038-02 DriveSmart 65 I have (which is top-notch, I have to admit). The only flaw to the Silverado interior is that the older base models have a cheaper, underwhelming interior. 
The Exterior and Storage Options
A lot of details have been added and perfected on the exterior of all the Silverado trims over the years. But the main goal was to keep the vehicle as practical as possible while giving it a fresh, new look. The Silverado offers a lot of storage space, with the main focus being on the bed, that's available in three sizes – a short bed (5 feet), a standard bed (6 feet), and a long bed (8 feet). The maximum payload ranges anywhere from 1,440-2,270 pounds.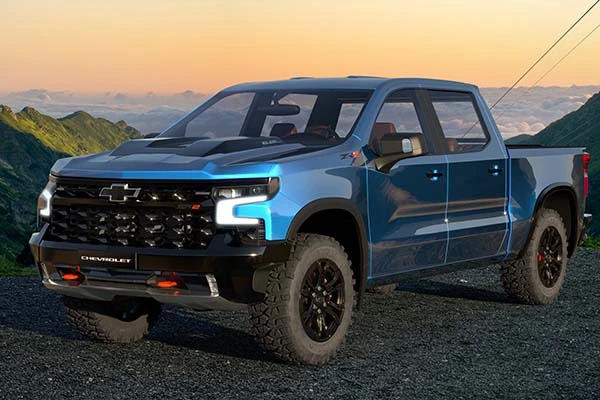 GMC Sierra vs Chevy Silverado – Which One Wins?
Both the GMC Sierra and the Chevrolet Silverado were introduced to the market at the same time, made the same break, and were reintroduced at the same time again. Since the start of the journey, these two pickup trucks were compared, going as far as calling them siblings. Even though the vehicles seem almost identical today, from the very beginning, the Sierra was thought of as the more luxurious version of the Silverado, and in my opinion, that still hasn't changed. I think that GMC Sierra simply offers better quality and stability, not to mention that the vehicle is safer, and that justifies the higher price point.