KIA is asserting itself as a luxurious and practical car manufacturer. This South Korean automotive giant creates aesthetically pleasing and highly functional cars that fulfill users' wishes. KIA Sorento vs Telluride is a standard comparison for those that want a great SUV. Read more about them and see which ride is for you.
KIA Is the Modern Powerhouse of Great and Lasting Vehicles
KIA is the second biggest South Korean manufacturer, just behind Hyundai, but many people don't know they're the same company. They haven't used to be, but Hyundai acquired KIA in 1998 and became its parent company. Since Hyundai got involved, KIA's cars became synonymous with the standard.
Interestingly, Hyundai outbid Ford Motors for ownership in KIA, but it's great that KIA is under the wing of a South Korean company. Although South Korean industries are often connected to the US, the question remains if KIA would be the car it is today had it stayed with Ford Motors.
With KIA, you can buy used cars without worrying about the details. They're long-lasting and highly functional. The biggest problem you'd have to worry about is changing a flat tire or daring to drive your KIA SUV off-road. However, it's always good to have a QWORK removal kit at the back of your truck.
How and When Did KIA Start?
KIA has a long history. Like many car companies, it started as a parts manufacturer specializing in steel tubing and bicycle parts. KIA was the first company to develop the first South Korean bicycle, the Samchully, in 1951.
The company continued to build different licensed cars, from Mazda to Honda. They were mostly the manufacturing center for other brands, putting together light trucks and sedans. In 1986, KIA joined a partnership with Ford Motors and started crafting their vehicles – which were mostly inspired by other models.
The first ever KIA original car, KIA Pride, was based on the Japanese classic – Mazda 121. In 1997, the Asian financial crisis hit this part of the world hard, and Hyundai offered KIA a 51% ownership stake and the chance to make more original vehicles. With this action, Hyundai outbid Ford for major equity.
In 2005, KIA started making vehicles for the European market, hiring the designer Peter Schreyer, who designed the signature "tiger nose" grille. In 2006, the manufacturer got its first US-based outpost in Georgia.
A fun fact about the manufacturer is that Pope Francis was seen riding in a KIA Soul in 2014 while visiting South Korea. This fact brought them lots of international attention and acclaim. KIA is a loosely translated Sino-Korean phrase, "rising from the East."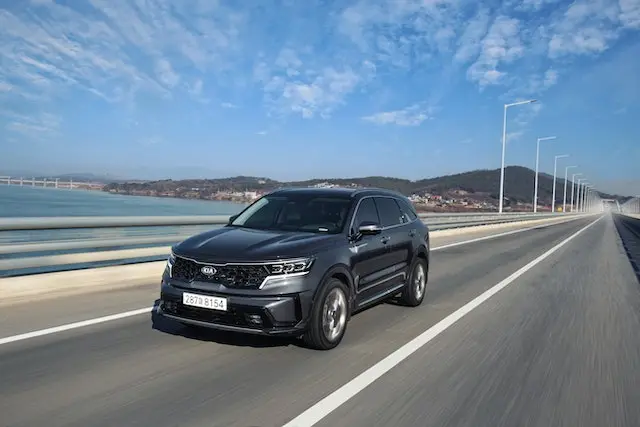 KIA Sorento – What's This Model All About?
The Sorento is a long-lasting model. Its 20-year run places it high on the list of trustworthy SUVs, and the newest 2023 version promises more and better than ever.
The Sorento is one of the only commercial small-scale SUVs with a third row on the market. It's ideal for people who want that big car feeling on the inside and easy parking and steering on the outside.
The luxe exterior provides many great features – from LED lights in the front and back to 18-inch machined-finish alloy wheels. Changing winter and summer tires on this bad boy is adventurous to do on your own, as it seems. 
On the inside, there's top-notch technology that boosts safe driving, monitoring internal and external factors precisely. You'll feel safe with all the driving assistance options available, and it will provide you with a feeling of safety when your family is with you, too.
The driver's seat has lumbar support. This is important for longer driving stints if traveling across the country or driving for hours. Another reason this car is great for families and friend groups is the USB and charging ports placed in each row, including the cargo area.
Technical Specifications
The Sorento seems to have it all, but considering it's a small-scale SUV, one can't help but wonder what that's like – is the size still too big for a regular car, or is it too small for a car in this category? Here are all the technical details of the 2023 KIA Sorento.
| | |
| --- | --- |
| Dimensions (H x W x L) | 66.9 x 74.8 x 189.4 inches (169.9 x 189.9 x 481 cm) |
| Weight | 3,794 pounds (1,720.9 kg) |
| Engine type | Inline 4 cylinders |
| Drive type | Front-wheel drive |
| Displacement | 2.5L |
| Horsepower | 191 hp @ 6,100 rpm |
| Transmission type | 8-speed automatic |
| Fuel type | Regular unleaded |
| Fuel capacity | 17.7 gallons (67L) |
| Range (city/highway) | 425 / 513 miles |
Cost and Maintenance
KIA Sorento is among the most affordable SUVs on the market, which isn't easy to find. A lot depends on the trim you want, but the most popular model is often the S-trim (which I used in the specs and the review).
The S-trim is priced between $32,500 and $33,900, depending on your seller. If you want the Hybrid version, it's best to go with the EX Hybrid rather than the regular EX trim. The EX Hybrid costs about $38,000 – which isn't the biggest price jump for an improvement that's likely to last you a lifetime.
There's no need to include other trim types in your selection, as their prices jump pretty far up from the base cost; additionally, maintenance costs increase in that case. The great part is that KIA has manufacturer's insurance – a 5-year/60,000-mile basic warranty.
Here are some cost-related statistics for a 5-year ownership plan:
Average cost per mile: $0.73,
Fuel: $12,500,
Insurance: $4,500,
Maintenance: $5,190,
Repairs: $540.
Why Is KIA Telluride So Well-Rated Everywhere? Let's Find Out
Telluride has songs of praise written about it nearly daily. Although the Sorento is the OG of the KIA SUV category, the Telluride is taking its title of the best, inch by inch. It's the best three-row SUV on the market right now.
It has a luxurious and enjoyable interior with top-notch tech and controls. Its exterior is reminiscent of Land Rover but feels superior and more beautiful. Land Rover fans will judge me for this statement, but I stand behind it. I mean, have you seen KIA Telluride? It's less boxy and (in my opinion) more luxurious and elegant.
Telluride is a fantastic group car. It has three extremely comfortable rows, in which the third isn't just improvised seating but a comfortable and generous space. The leather wheel and heated seats can win anyone over within seconds as far as the interior goes.
If you're a fan of great big cars, this one will do more than just make you feel safe. The only thing it doesn't do is shop for groceries for you (although it does have an integrated 12-inch screen with navigation to take you to the nearest store).
Technical Specifications
While the KIA Sorento is a small-scale SUV, the Telluride is standard-sized and a stronger vehicle overall. Here are the technical specifications of the 2023 KIA Telluride, S-trim (the most basic).
| | |
| --- | --- |
| Dimensions (H x W x L) | 69.3 x 78.3 x 196.9 inches (176 x 198.8 x 500 cm) |
| Weight | 4,524 pounds (2,052 kg) |
| Engine type | V6 |
| Drive Type | All wheel drive |
| Displacement | 3.8L |
| Horsepower | 291 hp @ 6,000 rpm |
| Transmission type | 8-speed automatic |
| Fuel type | Regular unleaded |
| Fuel capacity | 18.8 gallons (71L) |
| Range (city/highway) | 338 / 451 miles |
Cost and Maintenance
The 2023 Telluride is pricier than the 2023 Sorento by about $5,000. The S trim's basic cost is around $38,000. If cost is integral to your decision, this may be the defining point. A bigger car with a V6 engine and strong engine power will cost more; its leather wheel and heated seats don't contribute to affordability.
Nevertheless, other cars in the same class as the Telluride may not cost much more, but they aren't nearly as good. The Toyota Highlander and Volkswagen Atlas move in the same circles as our KIA, but their lowest price points are nearly $42,000. More than that, their performance isn't the same, and their interior isn't as classy and comfortable.
Here are the five-year cost predictions.
Average cost per mile: $0.75,
Fuel: $14,300,
Insurance: $4,500,
Maintenance: $5,500,
Repairs: $620.
Which Car Elevates the Classic and Beloved KIA Technology?
Since the two cars differ in size and slightly in performance, their value should be determined by looking at all the points individually. If you don't have time for each, I'll overview a few things without attempting to be biased.
Both Have Great Performance and Fuel Economy
Bulkier cars like Telluride are tough to maneuver in tight spaces and parking lots; this one, surprisingly (or not,) doesn't present a massive challenge in either situation. It brakes well and doesn't roll when turning the wheel. 
The steering isn't overly sensitive or tight; the car listens to commands quickly and with a lot of poise. It can reach 60 mph in 7.5 seconds, which is pretty impressive for a vehicle of that size.
KIA Sorento reaches 60 mph in 6.7 seconds, which is fast for a car of its class and stature. Passing other cars is smooth and doesn't cause motion sickness. Additionally, the car has intuitive brakes, which could make it a better choice for less experienced drivers. Both cars have decent fuel economy, although the Sorento may have a slight lead here.
The Telluride Provides Better Comfort
A bigger car will almost always be synonymous with comfort. But KIA Telluride isn't just comfortable because it's massive. It has contoured seats, cushioned padding, and captain's chairs in the 2nd row. The seats are heated, too, and the driver has extra lumbar support. Climate control is intuitive, and the engine is quiet.
The smaller but not less enjoyable KIA Sorento has some minor flaws to look into – the lower-than-average third row and stodgy but still comfortable second-row seats. Telluride was made to win this category, so if comfort is a priority (maybe you travel a lot), this is your winner.
Sorento Sports Better Tech
If you prefer your car to be more intuitive than comfortable, KIA Sorento is the one for you. Although no KIA car will ever ask you to choose one over the other, factually, they did emphasize comfort in the Telluride as much as they did tech in the Sorento.
The Telluride has excellent equipment – the latest and greatest in automotive tech, from navigation and road assistance to driving and lane assistance on long road stretches.
KIA Sorento has something cool – driver attention warning. The car is equipped with sensors that detect your driving style, which can warn you if they notice your attention is decreasing. This system also tells you when the leading vehicle moves forward from a still position.
This tech is great for ensuring you don't drive tired or outside your limits. The smart Sorento can be like your personal vehicle that knows what's best for you in terms of driving.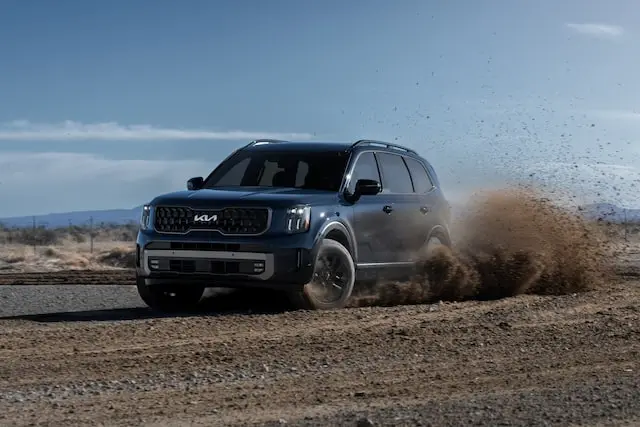 The Winner Is… Hard to Determine
Although many would say KIA Telluride is the definitive winner, it's a tie for me. I don't feel comfortable in massive cars, but this was the exception. Considering KIA Sorento has similar space and three rows, it's not worth rejecting.
If I had to choose, I would go with Sorento just because it took 20 years to perfect, and I believe it reached its peak possibilities. It's also a globally-distributed car, so it's a bit more inclusive in terms of repairs and service. 
The Telluride is made for the US market, it feels like a real American car, so for people that want to stick with that, this is a luxurious SUV that won't cost you nearly as much as a Range Rover. Being luxurious on a budget is no shame; it's kind of a win. 
Consider what you need out of a car and decide. I don't think you can make a mistake here, as both vehicles do what they promise to and look and feel stunning.