If you're an SUV lover and you're about to decide between Ford Explorer vs. Dodge Durango, it will be a really tough decision. Or, at least, it will depend on your priorities and what you're looking for in your four-wheeler.
These two SUVs are quite similar, so it would take a lot of consideration to decide which one suits you better. But if you're placing safety and lower price at the top of your priorities, you should go for the Ford Explorer. On the other hand, Dodge Durango packs a punch and has a lot to offer. With a powerful engine, greater towing capacity, and an overall fantastic road test score, this vehicle seems a better choice. I will go deep into the analysis of both cars, so you can decide whether the Dodge is the perfect vehicle for you.
Why Consider Ford Explorer vs. Dodge Durango?
Whether you already enjoy driving a midsize SUV or you want to upgrade your driving experience from a smaller car to something more powerful, there are a lot of options out there. However, there are several reasons why you should definitely consider getting a large vehicle.
First and foremost, they are a top choice for people looking for extra space in their ride. But the added space for shopping bags or camping gear isn't the only thing that wins people over – these vehicles are built with comfortability for passengers in mind. They also have a great resale value (you can easily resell them as used cars) and fantastic off-road capabilities.
Hunting for a midsize SUV is quite easy – all you have to do is pick your favorite between Ford Explorer and Dodge Durango, as one of these cars is the perfect fit for what you're seeking. Or is it easy to choose? While they may seem really similar at first glance, there are somewhat noticeable differences between the two.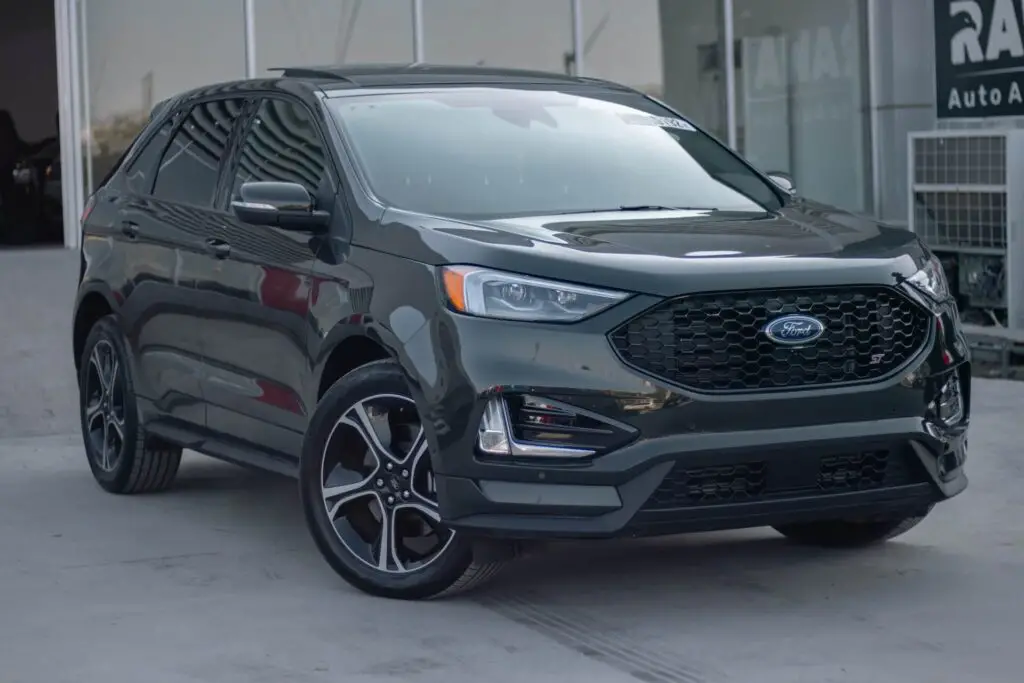 Let's Start With the Exterior and Trim Levels
Trim levels of a car refer to pre-packaged sets of components that come with a certain model of a vehicle. The most affordable option is always the base or basic model, and it's the standard option that comes with the least amount of components. Higher levels include additional components, performance enhancements, and technology, and as such – cost more. The trim of a car is usually displayed as raised chrome lettering or a sticker, or you can find it by the vehicle identification number (VIN). But let's analyze both our contestants and compare the differences.
Ford Explorer Offers Eight Trim Levels
When it comes to the visual impression of the base model of Ford Explorer, this car comes with features that include 18-inch aluminum alloy wheels, a power liftgate, automatic low-beam LED headlamps, and a black door handle. They also provide their customers with eight trim levels, including the Base, ST, ST-Line, XLT, Limited, Timberline, King Ranch, and Platinum. With the highest trim option, you will get a lot, along with a satin finish on the body features.
Dodge Durango Has Seven Trim Levels
Dodge Durango is designed to stand out with its proportions, impressive lights, and high ground clearance. It includes low and high-beam LED headlamps, along with their signature racetrack tail lamps, which all together make you highly visible at night. It comes with seven trim levels – GT, GT plus, SXT, RT, RTPlus, Citadel, and SRT 392. It leaves a great impression on the road, while you can also enhance the wheels as you see fit, even with striking 20-inch aluminum rims.
Bottom line – Ford prioritizes accessible vehicles with plain features, while the narrower Durango might be a better choice for tight parking spaces.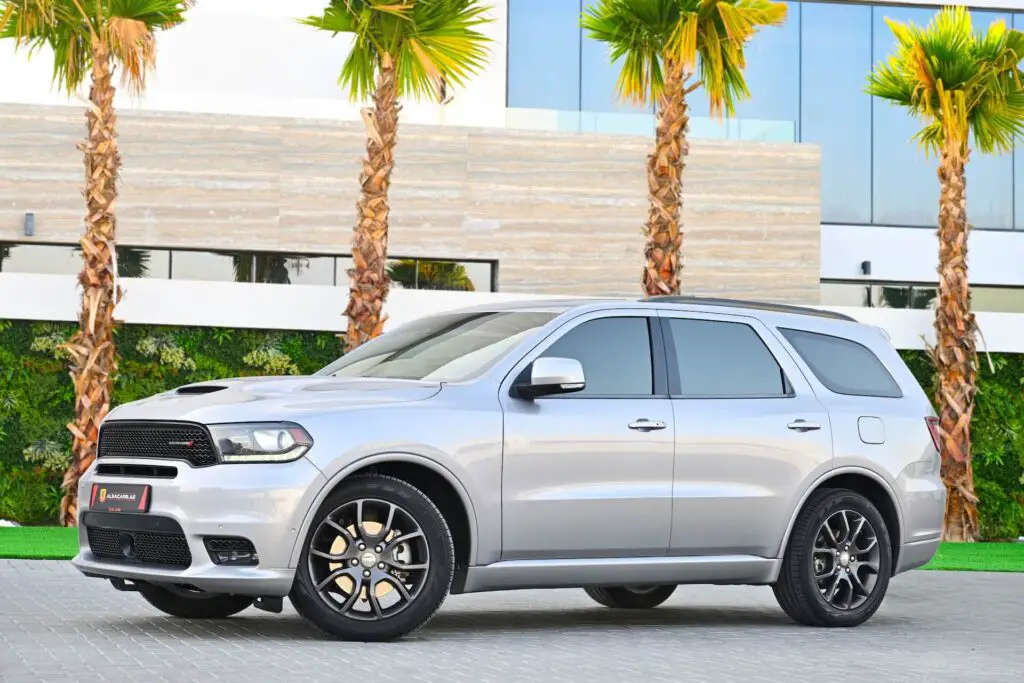 The Space and the Interior
Medium-sized SUVs, the category which both these vehicles fall into, already hold a promise of a large and comfy space. Although most of us are attracted to a model by its exterior design and overall appearance, as we spend time behind the steering wheel, we connect with what's under its skin more. Once we are attracted by its alluring outside, we have the urge to grab the handle, step inside and feel it from the driver's seat. So let's consider how much space and how appealing the interior of both these cars is.
Ford Explorer
If you're in need of a vehicle that comfortably seats up to seven people, Ford Explorer might be up your alley. It has the PowerFold third row that's both easy to accommodate your passengers or your cargo because it's easily foldable. There are available multi-contour seats with the Active Motion feature that offers different lower and upper back massages. There is also an available 10.1-inch LCD touchscreen with a customizable display for your GPS and other features.
Dodge Durango
What first catches the eye on the interior part of the new Dodge Durango is the leather trim seating, along with the performance-inspired designer solutions. It also features a 10.1-inch display, with the addition of the Harman Kardon Premium Audio System for your audio enjoyment. While the third row of seats is easily foldable, you can also fold and tumble the second row, which allows for many different configurations of space for your passengers or cargo.
Let's Talk Power and Compare the Engines
Since performance in many ways depends on horsepower, it is a crucial statistic for shoppers to take into account. For a particular car, an engine with higher torque and horsepower will speed up quickly and provide greater towing reliability. Both of these factors are significant for people who often use highway on-ramps.
Ford Explorer
Here are the main features of Ford Explorer's engine:
It's a 2.3-liter Ecoboost engine,
It produces up to 300 horsepower,
It provides 310 pound-feet of torque as a standard feature.
Higher trims (King Ranch, ST, and Platinum) come with a twin-turbocharged 3.0-liter V-6 Ecoboost engine. This engine produces 400 horsepower on top of 415 pound-feet of torque.
Dodge Durango
Durango has an eight-speed automatic transmission and comes with an offer of three different engines:
The base option has a 3.6-liter V-6 that provides 295 horsepower with 260 pound-feet of torque.
The other option is a 5.7-liter V-8 engine with 360 horsepower and with a 390 pound-feet of torque.
The third, most powerful option is a 6.4-liter V-8 with 475 horsepower and with 470 pound-feet of torque.
Additional Factors to Consider
Besides the obvious factor of cost when you're buying a new car, there are several other elements that influence the buyer's choice. Although we might believe that the exterior and the engine make the biggest influence on the shopper's decision, according to Statista, most drivers look at other factors. A survey of 8,400 US adults says the following – 56% of them look at fuel economy, while 55% of people consider safety and reliability most important.
Fuel Economy

When we're talking about midsized SUVs, one of the greatest considerations is how much gas the vehicle consumes. Keep in mind that if you're mostly driving around town, your car will get lower mileage per gallon – 21 mpg, while on the motorway, it will be 25 mpg. If we look at our two models, we will notice that Ford Explorer has a fuel economy of 23 mpg while in town and 27 mpg on the motorway. Dodge Durango, on the other hand, has a significantly bigger fuel tank, which needs to be refilled much less often.
The Cost of Maintenance

One of the additional factors that could influence your decision is the annual budget you'll have to spare for your new car to maintain it properly. The total cost of annual auto maintenance for the Ford Explorer is $4,028, while the yearly maintenance costs for the Dodge Durango come to $3,527 in total. Overall, the Dodge Durango does have a much lower cost of ownership when compared to similar SUVs.
Let's Compare the Reliability

When it comes to safety features, both these cars are equipped with cutting-edge safety technologies. This includes things like front and rear parking sensors, blind spot warnings, predictive brake assist, and blind spot mitigation.
The Specifications Comparison
Performance specifications give you an idea of how the car will behave while you drive it. Power output, fuel efficiency, and transmission type are a few examples of important specs. You can save time and make sure you buy the perfect car for your lifestyle by comparing the specifications of these two models in the table below.
| | | |
| --- | --- | --- |
| Specifications | Ford Explorer | Dodge Durango |
| Engine power | 300 hp @ 5,500 rpm | 293 hp @ 6,400 rpm |
| Engine torque | 310 ft-lbs. @ 3,500 rpm | 260 ft-lbs. @ 4,000 rpm |
| Engine displacement | 2.3 l | 3.6 l |
| Engine configuration | Inline 4 | v6 |
| Drivetrain | Rear wheel drive | Rear wheel drive |
| Transmission | 10-speed automatic | 8-speed shiftable automatic |
| Tire size | 255/65R18 | 265/60R18 |
| Wheel size | – | 18 X 8.0-in |
| Wheel type | Painted alloy wheels | Painted alloy wheels |
The Starting Prices of Both Models
These two cars are similar in many aspects, but the starting prices are a bit different. The price for the Ford Explorer Base is $33,245 (Manufacturer's Suggested Retail Price (MSRP)), and for the Dodge Durango SXT – $35,475 MSRP. Although the standard features in both vehicles include Bluetooth connectivity, a 60/40 split-folding for seats, and a rearview camera, the Durango provides the performance of a muscle car not found in the Explorer. That's where the higher price comes from.
Check Their Dimensions
When you say midsize SUV, you already know to expect a fairly large vehicle. After all, it's a car that manages to safely transport up to seven comfortably seated passengers or a whole lot of cargo. And although both Ford Explorer and Dodge Durango are similar in size, there are slight differences, so check the table below for a comparison.
| | | |
| --- | --- | --- |
| Dimensions | Ford Explorer | Dodge Durango |
| Length | 198.8 in. | 200.8 in. |
| Overall width with mirrors | 89.3 in. | 85.5 in. |
| Overall width without mirrors | 78.9 in. | – |
| Height | 69.9 in. | 72.1 in. |
| Wheelbase | 119.1 in. | 200.8 in. |
| Cargo capacity, all seats in place | 18.2 cu. ft. | 17.2 cu. ft. |
| Maximum cargo capacity | 87.8 cu. ft. | 85.1 cu. ft. |
| Ground clearance | 7.9 in. | 8.1 in. |
| Angle of approach | 21.0 degrees | 20.0 degrees |
| Angle of departure | 22.0 degrees | 21.5 degrees |
| Curb weight | 4,345 lbs. | 4,750 lb. |
| Maximum towing capacity | 5,300 lbs. | 6,200 lbs. |
| Seating capacity | 7 | 7 |
| Front headroom | 40.7 in. | 39.9 in. |
| Front leg room | 43.0 in. | 40.3 in. |
| Front shoulder room | 61.8 in. | 58.5 in. |
| Rear headroom | 40.5 in. | 39.8 in. |
| Rear leg room | 39.0 in. | 38.6 in. |
| Rear Shoulder Room | 61.9 in. | 57.7 in. |
Both Are Great, but Durango Packs a Better Punch
If you would really like to have a more sophisticated, comfortable, and spacious ride, Ford Explorer is what you should go for. However, if you want to be able to pack a blast down the road with less effort, I suggest you opt for a Durango. The interior is first-class, and the engine is powerful, while you also have more maneuvering ability in narrower spaces.